Epic family road trip ideas: best road tips with kids in Europe, the US and beyond for a family road trip to remember.
Family road trips are my favorite type of family vacation and 2021 promised be a particularly good year for them.
Local regulations permitting, road tips are a great way to avoid crowds, reach off the beaten path places and stay flexible and, if you choose the right road trip destination, they can bring you to truly unforgettable places, as near or far as they may be.
We have taken many road trips with the kids and we have planned many more that are just waiting for boarder to reopen to happen.
This is my selection of the best road trips for families, based on our experience and travel dreams.
How we choose these road trip ideas for families
When choosing the road trips to showcase in this article, we took into considerations:
Overall beauty and interest of the destination
Child friendly attractions on the way
Reasonable distances
Lack of valid transport alternatives: we could think of many more family road trip ideas however, especially in Europe, we avoided recommended the car for areas that are best travelled by train. So if you are wondwering why we don't recommend Spain or Italy, the answer is: we do! But we recommend you explore them by train instead 🙂
Best road trip destinations for families in Europe
Europe as a whole has an excellent train system however some areas are better explored by car.
These are our favorite road trip destinations for families with kids in Europe.
Family road trip in Ireland
Ireland is the perfect country for a family road trip in Europe.
The country is famous for stunning, remote landscapes, windswept cliffs, abandoned castles and green lawns and there is no better way to reach the most beautiful places in Ireland than to hop on your car and follow the road.
There are plenty of family friendly places you can reach with your own vehicle. Some we highly recommend you seek out are:
Dublin, Ireland's capital and a fun place to visit with kids. I recommend you use it as a starting point for your road trip or an end one, since the car is useful to get here but a bit of an hindrance to explore the town.
Find here our Guide to Dublin with kids | Best things to do in Ireland with kids | Tips for planning a family trip to Ireland | Tips for driving in Ireland
Glendalough: a fantastic historical monastic site with also lovely hiking routes perfect for hikers of all ages. Find our tips for visiting Glendalough with kids here
Blarney Castle, a beautiful castle with stunning family friendly grounds. You can read about it and all our favorite castles in Ireland here.
The Cliffs ofMoher, among the os famous cliffs in Ireland, very impressive and surprisingly easy to visit with kids. Find our tips for visiting the Cliffs of Moher with kids here.
Killarney, the stunning National Park in the West of Ireland. kids of all ages will love. Find our guide to Killarney here.
As well as stunning locations, an Ireland road trip is perfect for families thanks to the short distances, which means you don't need to subject the kids to crazy long hours in the car each day and still see much of the country.
To top it all, the family friendly attitude of the Irish will make feel your kids welcome anywhere you go!
Kid-friendly Portugal road trip
Portugal is another fabulous destination for a family road trip in Europe.
A family road trip along Portugal has much to offer to its visitors and since many of its attractions and small towns and beaches, having the freedom to go with your own vehicle will allow you the maximum freedom and held the maximum satisfaction.
There are many places to visit n Portugal with kids, but some we recommend are:
Lisbon, a stunning city with amazing art, atmosphere, food and a plethora of kid friendly atarctiosn to keep even young kids busy and entertained. You can find our guide to Lisbon with kids here.
Porto, wonderful and fun for kids thanks to its lovely parks and impressive river
Cascais, a lovely coastal town with one of the best family resorts we have ever visited
The Algarve, the spectacular southern coast of Portugal, famous for spectacular beaches and also well equipped se and sun holiday resorts that are great for families.
The best place to relax after days driving!
Loire Valley, Brittany and Normandy road trip for families in France
One of the best family road trips I have ever taken was a trip that saw us traveling across the Loire valley and Brittany in the North West of France, some of the best places to visit in France with kids of all ages.
It was a road trip so varied, so easy and so successful I have actually taken it more than once and it never disappointed me.
Here, the distances are reasonably small, there is a huge variety of landscapes and attractions (small villages, castles, wild coastlines), you will have a nice mix of warm and cold weather and you have the abundance of delicious for that France does so well.
Some of the best places to include in this northern France road trip with kids are:
Paris – the starting point of our loop, a place that needs no introduction and that is, as they say, 'always a good idea'.
You can find here our favourite things to do in Paris with kids | The best hotels for families in Paris
Blois, a lovely town and a great base to discover the stunning Loire Valley castles with kids. I particularly love the castles Chenoncenau, Chambord, Azay-le-Rideau and indeed Blois itself, all easy to visit with kids and very beautiful
Belle Ile en Mer, lovely island off the coast of Brittany with stunning beaches, pretty villages, stunning lighthouses and a lovely cycling loop easy to cycle with kids too
Brittany lighthouses – the wild and beautiful coast of Brittany is full of fabulous lighthouses, some perched in the middle of the stormy sea, some at the end of easy, family friendly coastal paths and all very scenic!
St Malo, stunning Brittany historical towns with pretty streets, a nice coast and family friendly atmosphere.
Le Month saint Michel, one of the most incredible places your kids will ever see and one that will make them feel like the stepped into a storybook!
The D-Day drive in Normandy, a beautiful and daunting drive to some of the most important locations of the II World War, perfect for school-age kids and kids who love history.
Roadtripping with kids in Iceland
I have only been to Iceland in the winter and even with the challenges posed by less than idea weather conditions, the place strikes me as one of the best in Europe for a road trip with kids.
Iceland is stunning, scenic, varied and has plenty to offer especially to outdoorsy families: here you can see stunning waterfalls, bathe in in hot springs, ride Icelandic horses and see cute animals like puffins!
Places we loved are:
Reykjiavik – a family friendly town with a beautiful city center, kid friendly museums, excellent family hotels and a lot of outodoor space for kids to run around and get the road tripping tiredness offf their legs!
You can find my guide to Reykjavik with kids here | What to see in Reykjavik in one day
Waterfalls – Iceland has many scenic waterfalls that you can reach by car. Many have well equipped viewing areas and access points that make them easy to enjoy with kids
Geysers – what can be more exciting for kids than to have pit stop while road tripping at an erupting geyser?
Þingvellir National Park – stunning a historical national park famous for having had the first Icelandic parliament and where you can see the meeting point or tectonic plaques: incredible for kids (and adults!)
Vik and its black beach – one of the most scenic and impressive beaches and sceneries you will ever see, and an easy drive from Reykjavik you can easily do with kids
With all of these kid friendly attractions, good roads and short distances between landmarks, Iceland is one of the best road trip destinations in Europe for families with kids.
You can find our itinerary in Iceland in winter here
Devon and Cornwall UK road trip for families with kids
Devon and Cornwall are among the most beautiful areas of the UK and a delight to vista by car.
This area of the UK is blessed by a lovely coastline, delightful small towns, stunning castle and some of the best weather in the UK, meaning if you road trip here in summer, you may have lovely opportunities for days at the beach as well as sightseeing!
Like in other itineraries recommended in this best family road trip roundup, the distances here are not vast, they can easily be negotiated even with small kids in tow or toddlers and there is plenty to see.
Among the many things to see and do with kids in Devon and Cornwall there are:
Devon beaches – did you know the UK has stunning beaches? It does: have a look at this list of the best beaches in Devon and tell me: aren't they simply wonderful?
Tintagel – stunning, scenic castle associated with the legends surrounding King Arthur, a magical place for kids and a stunning one for parents too.
Land's End – a fun landmark for kids, marking the Most Westerly point in the UK
Dartmoor National Park, an area of great natural beauty that is so easy to explore with kids, it is considered one of the best family vacation destinations for families in the UK.
Lots of adventure parks and National Trust properties, perfect for mixing sightseeing and fun times playing!
The distances in this area are not vast, perfect if you want to avoid long car drives with kids, and the area is very well equipped to welcoming tourists and families.
This area is simply perfect for a family road trip but there are ma y more places you can also add to your adventure if you have the time. You can find here more wonderful road trip ideas in the UK perfect for all tips of visitors.
Tuscany road trip for families
Tuscany is probably my most favorite family destination in Europe and the absolutely perfect destination for a family road trip.
This region of central Italy is blessed by a variety of attractions and landscapes like no other: within a short driving distance you have rolling hills, hilltop villages, art cities and even the sea!
On top of this, you also have a vast selection of children activities and children friendly accommodation options that make it absolutely perfect for road tripping with kids big and small
Places I recommend you include in your family road trip t tuscany are:
Siena – stunning, UNESCO World Heritage town with a family friendly city center and an absolutely wonderful park for kids, Orto de' Pecci. Find my guide to Siena here.
Pienza – lovely, family friendly small town with a car free city center great for small kids, nice playgrounds and lovely farmhouses perfect for animal encounters! Find my guide to Pienza here.
San Quirico d'Orcia – another small town with a lovely kid-friendly town center, a nice park, playgrounds and plenty of opportunities for sightseeing, good for all ages.
Saturnia and Bagno Vignoni – two small and stunning hot spring destinations in Tuscany, where you can soak in hot thermal water with your kids!
The Etruscan Coast – beautiful stretch of coast in Tuscany with kid-friendly beaches and lots of outdoor activities for kids. Find my family guide to the Etruscan Coast here.
Lucca – lovely, historical family friendly town with a wonderful thing for kids: the opportunity to cycle along its impressive city walls! Find my guide to Lucca with kids here
Florence – a powerhouse of art and beauty and a surprisingly family friendly city, that you can use as a starting point for your family road trip. You can find my guide to Florence with kids here.
Tuscany has well kept road and many scenic drives that make it perfect for a relaxing and beautiful road trip with children.
I recommend you check out our tips for planning a Tuscany itinerary and our guide to the best things to do in Tuscany with kids.
Southern Italy road trip vacation with kids
We went road tripping around Southern Italy with the kids last year and it was one of the best family roads tips we have ever taken.
The area is slighly lesser visited than others in Italy and has a lot to offer: here, you find lovely small towns and villages, beautiful Unesco World Heritage Sites, stunning beaches and a lots and lots of kid friendly food, served to you with the typical family-first attitudes Italians are known for!
Places we recommend you visit while road tripping in Puglia and the south of Italy with kids are:
Trani and Castel del Monte, respectively a lovely town and beautiful castle, a short drive from each other, guaranteed to spark the curiosity of kids of all ages. Find my guide to Trani here.
Locorotondo and Martina Franca, two adorable white towns in Italy that are easy to reach by car and to explore with kids, thanks to their gif-friendly town centres.
Alberobello – the home of real hobbit-like houses, i trulli, which are a delight to see with kids as they seem out of a fairytale!
Matera – stunning UNESCO World Heritage Site that will make your kids feel like they stepped into a different world, thanks to its incredible history and cave houses
Paestum – a fantastic archaeological park with incredible Greek temples on large lawns, one of the easiest historical places to visit in Italy with children and one of the most beautiful!
Good to know! While we do not recommend driving to the Amalfi Coast, it is possible to explore it by ferry leaving the car in one of the getaway towns even just a couple of days. You can find our tips for visiting the Amalfi coast with kids here.
You can find our recommended Southern Italy itinerary by car here.
Road tripping in Sicily with kids
Road tripping is also the best way to visit Sicily, one of the most beautiful destinations in Italy and a place that will conquer the heart of both adults and kids.
Sicily is a world and a road trip here can be as short or as soling as you want: basically, you will not run out of things to see in Sicily!
Some of the best places we recommend you plan to see during your family road trip in Sicily are:
The beaches of the Riserva dell Zigaro area, easy to reach by car from Palermo and perfect even for little kids. You can find a list of our favorite in this post about Scopello, one of out favorite places and the perfect first stop on an island rod trip adventure!
Taormina and the area of Mount Etna – a lovely area in the east of Sicily that is easy to visit by car and with lots of beaches and kid-friendly towns and localities. You can find my guide to Taormina here.
Siracusa – a stunning town and one of my favorite places to visit in Italy with kids, thanks to a kid-friendly city center, a very beautiful and interesting archaeological park and the proximity of nice family friendly beaches. Find my guide to Syracuse Sicily here.
You can find our recommended itinerary in Sicily here and our guide to Sicily with kids.
European capitals road tripping with kids idea
European capitals are usually better discovered by train and on foot however you can easily use the car to move between Amsterdams, Brussels and Paris, adding to these powerhouses of European chair also side trips to lovely country locations and villages nearby.
These places have need fo little introduction but art a glance, what we love about them is:
Amsterdam – stunning city center, relaxed atmosphere, lovely parks and a lots of of children attractions such as kids museums, a stunning zoo and many cycling opportunties. You can find our favorite things to do in Amsterdam with kids here.
Brussels, a fun city with nice parks, a compact city center and super fun places for kids such as Mini Europe, where you can see the whole of Europe in miniature size! You can find our favorite things to do in Brussels with kids here.
Paris – one of the most beautiful cites in the world and one of the places that picks children imagination thanks to incredible landmarks like the Eiffel Tower and Versailles. You can find our favorite things to do in Paris with kids here.
Continental Greece road trip with children
Our family road trip to Greece was about to happen when border closures happened however, we had it all planned down to the last detail and we will use that sae plan to go as soon as possible.
Like other places on this list, Greece strikes us as perfect for families road tripping as it has short enough distances, a very varied offering in terms of attractions (sea, mountains, archaeological sites) and a friendly, relaxed atmospheres.
Places we have on our Greece road trip itinerary are:
Athens – powerhouse of history with the unforgettable acropolis, a sight that I believe should be in any child travel bucket list and one of my favourite European cities to visit with kids.
Mount Olympus, Deplhi and Olympia, beautiful and and meaningful archaeological sites that are guaranteed to get your kids hooked to Greek history and mythology
Meteora an dit incredible looking monasteries, places not necessarily easy to visit with kids but that are the perfect overnight stop while road tripping continental Greece, super scenic even just from below!
Kalamata and the Peloponnese, an area with wonderful family-friendly beaches, perfect to relax after all the driving.
Good to know! If you want to mix road-tripping and time on the beach, you can also opt for a Greek island such as Crete, one of the best Greek islands for families – the car will be invaluable here and you will find a mix of sightseeing opportunities and beaches the whole family will love.
Best Road trips for families in the US
Driving California Pacific coast highway with kids
Driving the Pacific coast highway way from San Diego to San Francisco had been a dream of mine for ages and when we finally did it, this road trip delivered all I had expected, and more!
The area is simply stunning and truly deserves its fame as one of the most scenic drives in the world and the perfect road trip for families and not just!
The landscapes here is incredible and there are plant of things that make this road trip great for kids.
The first part, Southern California, is full of kid find attractions.
Depending on how many days and stops you want to take, you can visit here Disneyland, the pirate tower of Laguna beach, Santa Monica and its fun pier, Venice Beach and its cycling path or you can even use th area to explore LA with kids (the city requires a car anyway)
The middle park, the area of Cambria and Big Surprise, has landscapes so expansive the children (and you) won't believe your eyes and once you get to San Francisco wow, there is so much to see an do with kids the problem won't be how to entertain them but how to get them away!
On top of this, you can also plan side trips around California, that can be mini road trips great even for small kids.
We loved for instance exploring Joshua Tree National Park from LA and we adored our road trip from San Francisco to Yosemite.
Grand Canyon and Monument Valley Arizona road trip for kids
If you want to treat your kids to a road trip to two of the most iconic places in the USA then you can follow our itinerary for they southern US road trip that ad us Las Vegas, Grand Canyon and Monument valley.
This road trip can be done in a handful of days, like we kid, however, there is a bit of long driving involved especially to get to Monument Valley so my advice is to mix days in the car with more relaxing one exploring the great outdoor that, in this area, is stunning.
You can find our full South West USA road trip itinerary in this area here.
Not to be missed are:
Gran Canyon South Rim, National Park, one of the most beautiful places I have ever visited and one that is perfect for kids thanks to the excellent junior programme offered by the park rangers, that gives them plenty of ways to exolore and learn about the park in their own time. Find my guide to Grand Canyon with kids here.
Monument Valley, stunning, and a great place for kids to take in scenery and also learn about the Navajo people who own and live in this land. This is the quintessential American road trip destination! Find my guide to Monument Valley and where to stay in Monument Valley.
Sedona, fantastic place with red peaks and lovely hiking opportunities for the whole family
Flagstaff, a nice town with an outdoorsy feel fun for kids big and small
Utah and Arizona road trip for families
Utah and Arizona are two perfect states for a family road trips thanks to large beautiful roads, plenty of opportunities for kid-friendly stops and well equipped National Parks, offering endless entertainment opportunities for kids of all ages and scenic drives.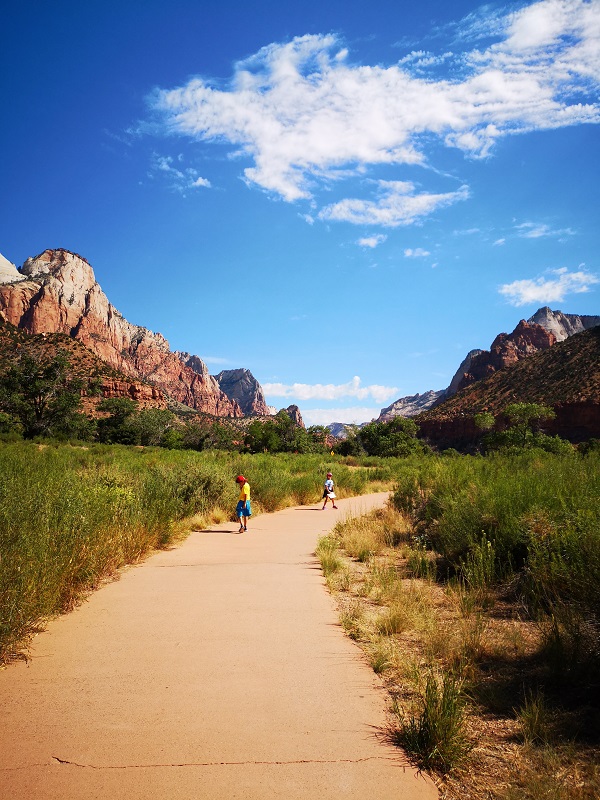 Places we fond of particular interest were:
Bryce Canyon, a stunning canon with increible rock formations and many kid friendly hikes.
Zion National Park one of the most beautiful nations parks we have ever seen, packed with kid friendly hikes.
You can find our full recommended itinerary for a road trip in Utah and Arizona with kids here.
Other epic road trip ideas for kids
Sidney to Melbourne family road trip in Australia
I always though that when I finally went to Australia I didn't want to have to choose between Sydney and Melbourne so I was delighted when I discover it is possible to drive between the two!
Distances in Australia are huge so when road tripping with kids here, you need to make sure you don't over stretch your days and set aside plenty of time to get from one place to the next and take all the pit stops you need.
This area od Australia is particularly good for roadtroppping with kids as you can see a good few kid-friendly places without exhausting yourself or the kids.
My must have stops here include:
Sydney – a fun city to explore with kids, with landmarks such as the Sydney Harbour and the opera house and kid friendly attractions like Taronga Zoo. You can find recommended things to so in Sydney with kids here.
Melbourne – a super fun city with plenty of things to do for all ages and perfectly located also to explore the Great ocean road, if you have the time for additional driving and wan to experience on e ofht emost scenic drives in the world. You can find recommended things to do in Melbourne with kids here.
Koala spotting locations – basically the one reason my kids want to road tip here! You can find a selection of great koala spotting locations in Australia here, so you can sure you add them to your Australia family road trip itinerary.
Road tripping in Jordan with kids
I close this list of epic family road tip destinations with a road trip in Jordan, one of the trips I am most eager to take and one I believe would bring me to one of the best family trip destinations of all.
Places I am longing to see in Jordan with kids are:
Petra – I have been dreaming of visiting Petra since my own childhood and I know my kids would adore its red rocks, the depth of its incredible history and playing explorers here!
Wadi Rum desert – one of the best places to have a desert adventure with kids
The Dead Sea – a place that even in photos create such excitement in my kids, I am sure would make a wonderful road trip family destination!
I hope you enjoyed this selection of epic family road trip ideas and it sparked your family wanderlust. Safe travels!
Inspired by these road trips but worried about long car rides with kids? We can help with:
Best road trips with kids and epic family road trip ideas pinnable image: