Fun and interesting facts about the trulli houses of Italy. What they are, how to visit them, the history of trulli of Alberobello and the surrounding area.
Trulli is a peculiar construction characteristic of the Itria Valley (Val d'Itria) in Puglia, the South of Italy.
Have you ever seen photos of villages in Italy with small hobbit-like houses, with white walls and pointy gray roofs?
Those are trulli!
Trulli are mortarless constructions and unique to Puglia.
They are one-of-a-kind constructions and, because of this uniqueness, UNESCO made them Unesco World Heritage Site in 1996.
Trulli are pretty, photogenic and have a fascinating story. They are also very easy to visit!
In this guide, we share fun and curious facts about trulli houses and tips for visiting.
All the info and photos in this article are based from my personal experience of the area and the information I got from local guides while in Puglia.
The photos are my own.
No time to read now? Pin this for later!
What are trulli houses
Trulli are drywall huts with whitewashed walls and pointy grey roofs typical of the Italian region of Puglia.
More precisely, they are characteristic of the area called Val D'Itria, in the province of Bari, where you see them as isolated constructions on rural land or gathered in small clusters.
Trulli usually have a circular shape and whitewashed wall.
Small doors and windows allow air and light in, while keeping the inside shaded and protected from weather extremes.
On top fo the curved whitewashed walls, trulli have pointy roofs in the shape of a cone, made with grey corbelled limestone tiles and often crowned by a pointy rooftop decoration.
Trulli are all different from one another, hoowever, they all tend to have some characteristics in common.
The most common shape for a trullo is a circular base and therefore curved external walls.
A small door allows to enter into the main area of the trullo, where all family activities would have happened, and small windows let light and air in.
The shape of the trullo keeps its inhabitants warm in winter and cool in summer.
Val d'Itria can get incredibly hot and the shaded interior and pointy roof took care of the thermal balance, allowing for the perfect airflow.
Indeed, staying inside a trullo is remarkably cozy!
What does trullo mean
The word 'trullo' (singular form of trulli) seems to come from the Greek term 'tholos'.
Tholos originally indicated a burial chamber with vaulted ceiling but, according to linguists, it is plausible it then developed to indicate any dwelling with a tools-like shape.
Following the natural evolution of language, the original word tholos seems to have then transformed into Tholo > throlo > thrulo > trullo, which is the word we still heat in use today.
It is interesting to notice that while the word trullo is now widespread, linguists believe inhabitants of trulli commonly referred to their houses as casedda (Apulian for casetta, small house).
This seems to suggest that the two words, one more generic and one more descriptive, coexisted for a long time. and one
What is the history of trulli
The history of trulli is a long one.
Archaeologists tell us the first example of a trullo can be traced back to the 1000s however, the majority of those we know are from the XIV century (14th century).
At that time, king Roberto D'Angio' gifted this land to the Counts Acquaviva of Conversano, who quickly moved here with his people.
The movemebt of a large number of workers came with a need for new builds; however, the Counts weren't keen in getting a lot of constructions going on, as htis would have caused them to pay hefty tax to the King of Naples.
So, they came up with a plan.
They asked all the builders to put up dwellings that were so easy to dismantle, they could have swiflty come out in case of an inspection!
The locals tapped into the resources of the land and ancient local building tecquinques and came up with trulli.
Despite the original semi-permanent nature of these stone huts, the trulli resisted up until now and are still very much in use today.
The first conglomerations of trulli in Alberobello are said to have come up in 1610 and in 1797 the town was recognized as 'regal town' and give the name 'silva arboris bellis' aka Alberobello.
Where and how you can see trulli
The most famous place to see trulli is the small town of Alberobello, in Puglia, in the south of Italy.
The town has the biggest concentration of trulli and visitors can see them in the two village neighborhood of Rione Monti and Aja Piccola, adjacent to each other.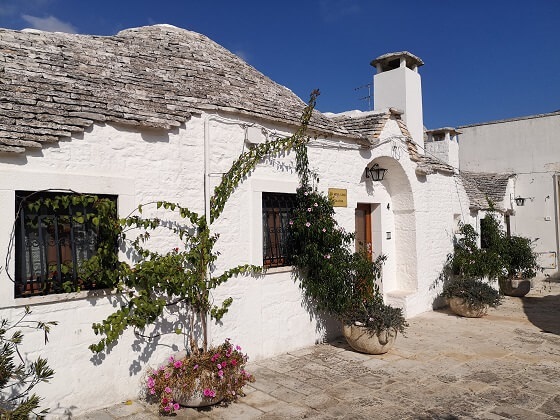 In Monti, most of the trulli are now shops, cafes and museums.
In while Aja Piccola, just in front, they are still very much in use as private homes.
The Alberobello belvedere, overlooking Monti, is the most popular photo spot for a bird-eye view of them!
As well as in Alberobello, you can see trulli in many localities nearby.
Among the most famous, they are in Locorotondo, Castellana Grotte, Noci, Putignano, Monopoli, Martina Franca, in the araa of Cisternino and Ostuni.
Outside of Alberobello, however, trulli tend to be isolated structures. In Alberovello however, they make up a whole town, a characteristic that makes it unique!
Where you can sleep in a trullo
Many trullo owners have refurbished the trulli to a high standard and now offer them as tourist accommodation.
Starting in a trullo is comfortable, fun and easy!
You can book a night in a trullo like you book any accommodation and you can expect all the comfort of a normal house, plus an added element of charm!
I have stayed in a trullo with family during our last trip to Puglia and had a lovely time.
The one we chose was called Trulli Anti, and was right in Alberobello, the capital of trulli. We booked it via booking.com and had a lovely say.
Trulli of notice
Among the many Alberolbello Trulli, some are worth a special mentions
Trullo sovrano: this is the biggest trullo of all (sovrano means 'sovereign'): it develops on more than one floor, has a back yard and is now an interesting museum of the land
Church of Alberobello (trullo church): at the top of the Monti area, this is a large trullo with the typical whitewashed external walls and several pointy roofs, used as a church.
As well as the peculiar outside it is worth visiting the unique inside, where you can admire ancient frescoes as well as the peculiar construction technique of this unique building.
Trulli gemelli: the 'twin trulli' are in the Monti area of Alberobello and a peculiar site. As the name suggests, they are attached to each other with the two pointy roofs fused at the base.
Italian trulli are a peculiar sight and one worth visiting for its historical uniqueness but also their beauty.
Alberobello is one of the prettiest places in Italy!
Love to learn about unique towns in Italy? Then you may also like our post about colorful towns in Italy