The best European cities to visit with kids: a handpicked selection of the most family-friendly cities to add to your Europe itinerary. Article updated November 2021.
Family city breaks in Europe are my great addiction.
I love hopping on a plane and arrive in a brand new city.
I crave that very special feeling you get when you disembark in a new city, that moment when your heart fills with anticipation and excitement before getting swept away by the crowds of locals of which now you can pretend to be part of.
It is a feeling I have always cherished and that I haven't given up seeking out now that we travel with kids: I simply turned solo city breaks into family city breaks!
Over the last few years, we have been lucky to be able to visit many European cities with the kids.
We liked all, love many and adored some and today, I decided to put together the list of the very best of them.
So here it is!
Our top picks of the best cities to visit in Europe with kids.
Worried about tackling a big city with kids? We can help! Find here >>> my complete guide to planning a perfect family city break with kids.
Please note: this articles want to inspire you and help you plan your trip to what we believe to be the most family friendly cities in Europe when it is safe to do so. Always check official travel advisory and travel regulations that may affect your trip before making any bookings.
The best European cities to visit with kids
Rome, Italy – fantastic family friendly city in Europe for history lovers
Rome is wonderful to visit at any age and one of my favorite cities in Europe to visit with kids in particular.
There is just so much to see here you can easily live whole your life in the city without getting bored and the variety of things to do for kids, teens and adults is out of this world.
For little kids, you have the wonderful Rome parks and the city's piazzas, which seem designed to run around, as well as the children museum, a full-on children paradise with hands-on exhibits and workshops.
Older kids are guaranteed to be mesmerized by the Colosseum and the many vestiges of ancient Rome and adults will not know where to turn they can do so much here: aperitivo in the piazza? Shopping? Museum binging?
Rome has something for everyone and one of the best cities to visit in Europe with kids if you want a big city feel with plenty of attractions for the whole family.
Rome has many excellent accommodation options for families. Find our guide to the best areas to stay in Rome with family and favorite family hotels here
Amsterdam, Netherlands – family friendly city in Europe that looks out of a fairytale!
I go to Amsterdam so often, the city has effectively become a second home for me and I adore how child-friendly it is.
The city center is beautiful, compact and easy to explore on foot and a perfect place to mix sightseeing with relaxed family time.
Adults will find here world-famous museums, stunning architecture and a plethora of restaurants and bar options (many family-friendly) while kids are guaranteed to love the many city parks and Amsterdam attractions for children.
Nemo Science Museum and Artis zoo are a guaranteed hit with all ages!
Amsterdam is the perfect family city break in Europe if you are looking for a medium-size, easy city to explore on foot.
For the best experience, find accommodation inside the canal ring, the Unesco listed city center: it is one of the best areas to stay in Amsterdam with kids.
Lisbon, Portugal – perfect for a family city break in Europe in spring
If you are looking for a family-friendly European city with wonderful weather, a relaxed atmosphere and kids' attractions, then Lisbon fits the bill.
The capital of Portugal is absolutely stunning and once again a city with something for everyone.
Enjoying Lisbon with kids is as simple as taking a stroll around the old town.
Here you have wonderful architecture, a stunning castle, beautiful parks and charming yellow trams, usually a great hit especially with toddlers!
Older kids can enjoy the Oceanario, one of the best places to visit in Lisbon with children, and the whole family is bound to love the fresh and delicious Portuguese food.
Head to relaxed Belem for Lisbon's famous custard tarts or indulge in a long dinner in the wonderful Time Out market (see how can include both in your Lisbon itinerary here)
Lisbon is very family-friendly but if you are traveling with very small children some areas are a little trickier than others, mobility wise. You can find our list of favorite family hotels in Lisbon here.
Dublin, Ireland – perfect for a weekend with the kids in a thriving European capital
You may say I am biased, Dublin is our current home, but Dublin with kids truly is a lot of fun!
The capital of Ireland is compact and family-friendly and has a lot to offer to families with kids of all ages
If you are in Dublin with a toddler, you will adore Imaginosity, the wonderful Dublin children museum: this is an extravaganza of soft play areas, role-play opportunities, discovery areas and workshop kids always adore.
Older kids will be fascinated by Dublinia, the Viking museum of Dublin which reconstructs the city as it would have looked at its origins, and adults and teenagers alike will fall in love with the stunning Long Room and the dynamic vibe of Dublin city center.
You can visit Dublin is as little as three days and the best way to do it is choosing accommodation in the city center or in one of Dublin's most family-friendly areas.
Find here our selection of the best hotels in Dublin for families.
Geneva, Switzerland
I love Geneva and while I know it is not as popular as other destinations, I actually find it one of the very best European cities to visit with kids!
There is plenty to do here.
In summer, the lake is an absolute delight and you can spend days lunging along its shores, cycling around the many green areas around the city and exploring the city parks.
Winter in Geneva is fun too: the city park hosts a lovely Christmas market and the old town has a fun light show that turns its ancient architecture into a picture-perfect fairy village!
Geneva is the perfect city to visit in Europe with kids if you want a small-town feel, nice city sightseeing opportunities and easy access to mountains for skiing and hiking.
I believe Geneva is one of the best winter destinations in Europe for families with kids!
Brussels, Belgium – the family friendly capital of the EU
Brussels is a lovely city to visit with kids and one with a surprising amount of things to do for all ages, adults included!
The city has a compact, beautiful city center with a stunning central square, the Grand Place, so unique it is alone worth a trip and very many child-friendly museums, that are guaranteed to pick the attention of children of different ages.
Autoworld is perfect for car lovers and the comic strip museum is fun and a great place to learn about comics, a form of art very dear to the city of Brussels.
Older kids are also likely to enjoy a visit to the European Parlament while little ones can engage with Europe in a very different place – taking a stroll around a miniature version of it: Mini-Europe!
We called Brussels home for over a year, and you can find all our tips for visiting Brussels with kids here.
Barcelona, Spain – best European city for families looking for pleasant weather all year round
Beautiful weather, beautiful beach, beautiful architecture and a wonderful, relaxed yet dynamic vibe: all of this and more makes Barcelona perfect for kids!
There are many things to do in Barcelona with kids, some specifically for families, such as the Aquarium, and others that are not for kids as such but are kid-friendly (Parc Guell or Montjuic being the perfect example of the latter).
Our favorite of all is probably the Poble Espanyol, which is a historical park with a reconstruction of several areas of Spain.
It is wonderful for kids and just uphill from the 'magic fountain' and its wonderful summer nights light show – a must for toddlers in Barcelona!
Barcelona gets very busy and we found that, for families, staying a little away from the city center helped. You can find our favorite family hotel in Barcelona here.
Florence, Italy – best European city for families who love food and history
Florence is one of the most famous cities in the world for arts and heritage but it is also one of the best European cities to visit with kids!
The city has a compact city center that is easy to explore on foot without getting exhausted and has very many family-friendly attractions for kids of all ages.
In Florence with kids, you can stroll in the city center (there is a wonderful carousel right in the center of town), you can enjoy the stunning Boboli gardens, among the most beautiful in Europe, and you can, of course, explore museums to your heart content.
Florence has many of them and most are family-friendly!
Among the many child-friendly things to do in Florence, our favorite is participating in an art class in an artisan workshop.
They are a great way to engage and learn about the city's history in a hands-on, fun way!
Stockholm, Sweden – the best family city break in Europe for nordic feel
Beautiful Stockholm is a wonderful family-friendly European city, perfect for a city break with kids.
The city is built on water and is a vision of beautiful architecture, canals and sea views.
It has a relaxed atmosphere and the efficient services Sweden is famous for, which makes it a fun and easy place to explore even with children in tow.
Among the many highlights, some worth mentioning are the old city, wonderful and car-free, the lovely Junibacken (the children museum), the fun postal museum and the stunning Vasa, which is guaranteed to have a jaw-dropping effect on both children and adults alike!
You can find all out tips for visiting Stockholm with kids here, as well as all the reason and why we think it is one of the best European cities to visit with kids big and small!
Venice, Italy – magical European city on water the kids won't believe is real!
Venice is unique in the world and this uniqueness is part of what makes it wonderful not just for adults but for kids too.
Seriously, how can you beat the fascination and wow factor of a city built on water?
Visiting Venice with kids often worries parents of toddlers however, this worry if often excessive.
While you will need to pay attention in all the areas opening onto water (of which there are many) several parts of Venice are not on water at all and offer many opportunities even for young children to run around freely.
The fact that the city has no cars helps too!
There are many things to do in Venice with kids, some that are specific for them (such a city treasure hunt) and some that can easily be enjoyed by parents too: climbing the Fondaco de' Turchi and visiting Burano are my favorites of this last type!
The best way to visit Venice is to spend 1-3 days in the city and choose accommodation in a family-friendly area. You can find our favorite family hotels in Venice here.
Reykjavik, Iceland – perfect city in Europe for nature lovers
Reykjavik, the icy capital of Iceland, may not come to mind as an obvious family destination but actually, Reykjavik with kids is a lot of fun!
The city is small, easy to explore and in a beautiful location, right one sea and with stunning mountains just in front.
Enjoying it with kids s as easy as taking a stroll along the waterfront.
Here, in the space of few hundred meters, you have the stunning Harpa Concert Hall, plenty of opportunities for kids to run around (part of the promenade is car-free) and you sill soon encounter the Sun Voyager, a peculiar sculpture with a distinct insect-like quality that is a hit with kids.
In the city, you also have the wonderful Perlan Museum, which is excellent for families.
You can see most of Reykjavik in one day and combine a stay in the city with a trip to the Golden Circle or even the south of the country. Both are easy to visit even in with few days available (you can see how much we visited with three days in Iceland here).
Hamburg, Germany – perfect European city escape for families in summer
Hamburg is one of the most beautiful cities in Germany and a wonderful city to visit with kids.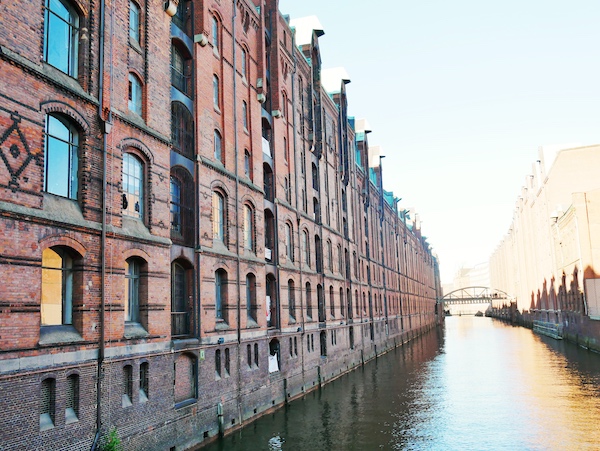 Perched in the very North of Germany, Hamburg is famous for a stunning UNESCO World Heritage Center, an interesting port, and beautiful parks, some with state of the art playgrounds.
However, it has one thing that catapulted it at the very top of our children's favorite cities list: a massive reconstruction of the world made of… lego bricks – Miniatur Wunderland!
Enjoying Hamburg with kids is easy: we stayed at the lovely Appartello apartments (lovely for families) and explored the city over the course of a couple of days.
For a short family city break, Hamburg is simply ideal!
Berlin, Germany – perfect city break for families who love history and architecture
Berlin is a city of incredible history, beautiful architecture, world-famous museums and a legendary zoo, so is it a surprise that visiting Berlin with kids is a bit of a treat? I am sure it isn't!
There is plenty to do here and the variety of attractions and sights is awesome.
If you love culture in the most traditional sense, the museum island will be your personal slice of heaven (that what the Pergamon Museum is for me).
If you want play centers and play spaces, Berlin has a wonderful Lego center and the fabulous Berlin zoo (it has pandas!), which also has a lovely area for toddlers.
Finally, if you want to make the most of a trip to Berlin to tap into World History, well the city truly is generous of options.
With our children, we visited Check Point Charlie, the East Side Gallery with the remainders of the wall and the Holocaust memorial.
These are not the easiest places to explain to young kids but important ones to visit and Berlin does a splendid job at making them accessible to visitors, even very small ones.
Paris, France – perfect city break for the whole family
Paris is always a good idea, they say, and this also applies to Paris with kids: the city is a stellar place to visit as a family!
There is so much to do here the challenge is not what to see but rather what to leave out: can you come to Paris and not see the Eiffel Tower? No, not an option!
And what about the Centre Pompidou and its weird and wonderful exhibitions? And the fabulous parc del la Villette, with its science museum and wonderful gardens?
And Disneyland Paris, can you really go to Paris and leave it out?
As the list of things to do in Paris with kids gets longer, all we can say is: pick a great family hotel and stay 2 days – or two months! Paris will never have you bored!
Seville, Spain
If you are looking for gorgeous weather, beautiful architecture, a relaxed pace, and amazing food, then Seville is the place for you.
Located in wonderful Andalucia, in the South of Spain, Seville is compact and easy to explore but rich in things to do for all ages.
The city center has a wonderful cathedral, the world-famous Alcazar, a lovely ancient quarter and a Star Wars and Game of Thrones pedigree that is sure to impress many children… and adults!
You can find our recommendations on what to see in Seville with kids here: we are sure you will love it as much as we do!
Madrid, Spain
One of the easiest and most interesting destinations for a family city trip in Europe is beautiful Madrid.
Located right in the center of Spain and well connected to the rest of Europe by a great network of trains and an excellent airport, Madrid is a large city with a selection of family-friendly activities to match.
The city has many wonderful parks (El Retiro alone can make your holiday, it is so beautiful), a fun and dynamic city center with lively street performances at every corner, many family-friendly museums and even theme parks.
A trip to Madrid with kids is perfect is you want to explore a big European capital but can also be combined with day trips around Spain. Toledo and Segovia are both nearby and great fun with children!
Milan, Italy
Did you know Milan is a great city to visit with kids? If you didn't, don't worry, you are not alone!
Milan is one of those cities that seem to never quite 'make it' as a mainstream family travel destination but it is actually lovely for families and has a lot of things for kids.
The city has a compact and beautiful city center, an excellent public transport system that makes it easy to explore, very many museums including cool children ones and parks, including one with a wonderful castle!
You can see Milan in one day if you only want to see the highlights, but I recommend you stay a little longer and use it as a base for day trips too.
Between the many things to do with kids and stunning nature within easy reach for the city, Milan truly is a perfect family destination in Europe!
London, England
I close this list with a bang, a city so beautiful, so interesting, so rich of things to do for kids and adults it is almost impossible to even start putting into words how amazing it is: the city is of course London!
London was my first city love and a place you can explore all our life without getting to the bottom of it: there are just so many things you can do in London with kids!
We adored Trafalgar Square (the lions, the fountains, the history: you can spend an afternoon here, there is so much to see!), the Natural History Museum and its dinosaurs, the stunning Tower Bridge (see if from an evening cruise if you can!) and the interesting Camden canals, which are super special for kids as they are where Paddington 2 was filmed!.
We also fell in Love with London's wonderful parks, especially the large Hampstead Heath, and the city's bright lights, shops, theaters, quirky characters, tube stations…
Seriously, if you are considering a city break with the kids, there is so much to do in London the only problem will be trying to peel yourself away at the end of the trip!
I hope you enjoyed this list of the best European cities to visit with kids and it inspired your 2021 travel plans. Safe travels!