How to spend one day in Bryce Canyon with kids: Bryce Canyon one day itinerary for families. What to see in Bryce Canyon in one day, best hikes, how to get around and Bryce Canyon must see sites from a family friendly angle. Updated 2021.
Bryce Canyon, Utah, is one of the so called Mighty 5, 5 National Parks of beauty so exceptional, they stand out among the already off the charts gorgeous US National Parks
Many tourists visit Bryce every year however, in most cases, Bryce Canyon is a brief stop en route to its larger and more famous neighbor, Zion National Park.
Bryce is small enough for you to visit in a matter of hours however, I highly recommend you spend at least half a day here (more if you want to hike properly).
We visited over the summer during our Utah road trip and Bryce Canyon was so jaw-droppingly beautiful and so rich of things to do, viewpoints and hikes, we couldn't get enough of it.
We only had a day in the park and we had kids with us, so planning what to see in Bryce and making an itinerary for our day in the park was paranount.
This is is our one day in Bryce Canyon with kids itinerary, made on the basis of our experience there.
The kids set the pace and the type of hikes we were able to tackle however, this itinerary for a day in Bryce works for anyone who wants to see the park without strenuous hiking.
This is our guide to the best things to do in Bryce Canyon.
For updates on trail accessibility, park closured and safety measures, please check the official park website here.
Please note: this post contains affiliate links and, should you make a purchase through them, we might make a small commission at no extra cost to you.
Where is Bryce Canyon
Bryce Canyon is in Southern Utah, in the South West of the USA and more precisely on Route 63, south of Utah highway 12 (National Scenic Byway).
It is a natural amphitheater carved out of the Paunsaungut Plateau and it is the uppermost step of Grand Staircase Escalante National Monument
You can easily reach it from Salt Lake City, about 4.5 hours away by car, and is well equipped with tourists services, clustered immediately outside the park and its surroundings.
The park can also be easily reached from its neighbor Zion and the city of St George, less than 2 hours away by car.
To explore the area you need a car however, insider the park between April and October, you can avail of the excellent park shuttle system (more about it later)
How to fit Bryce Canyon in your Utah itinerary
Bryce is in an area of great natural beauty and it is usually easy to add to any Utah itinerary. To give you an idea of distances by car
Salt Lake City – 4.5h
Zion National Park: 1.5h
St George: 1.5 h
Moab: 4.5h
Our itinerary saw it as a one night stop between Salt Lake City and Zion National Park.
How many hours to spend in Bryce Canyon
How long to spend in Bryce canyon depends on what you want to get from your visit.
With 1-3 hours in Bryce Canyon you can visit a couple of view points and take a short stroll along the rim trail
With 4 hours – one day in Bryce Canyon you can see more viewpoints and take longer hikes (see below our table with the best hikes in Bryce and their duration/difficulty).
If you have kids, this is also a good length of time for them to participate in the excellent Junior ranger program of the park
If, like us, you wan to explore even farther, a full day this is a good amount of time to drive to the nearby Koakhrome basin too
How to get around Bryce: car or shuttle?
Getting around Bryce is easy and you can choose between driving into the park or use the shuttle (April -October).
If you drive into the park with a private car, you pay for vehicle entrance at the station at the park gates: the ranger will give you a receipt to attach to your windscreen and you can then explore the park at your leisure.
Several parking areas are available next to the park's most popular and famous areas and parking, once in, is free.
If you prefer not to drive, you can avail of the excellent summer shuttle system of the park, something I highly recommend.
The shuttle picks up from local hotels at the park entrance and also from the main car park at the park gate.
This last solution is the one we used: we parked the car at the main car park, paid for a day stay and hopped on the shuttle.
The shuttle is excellent. Is goes frequently, it brings you to all the most famous points in Bryce, it comes with a quick commentary about the park and its stops and it is clean and well kept.
We opted for it for convenience but also to help the park stay free from congestion: this is a magical place and the more we can help to keep it car free, the more we can contribute to it protection.
Bryce Canyon one day itinerary: kid friendly stops
Your day in Bryce will change significantly if you go for a hike or you prefer to see the main sites.
Since we were traveling with the children and had only one day in the area, we opted for sightseeing and added a short hike in the afternoon.
If you are going for a longer hike, please contact the rangers to get their tips on the best time to go and safety need-to-know.
Spend the Morning walking along Bryce Canyon Rim
I recommend you spend your morning in Bryce discovering the area around the rim from where you get amazing views of the Bryce amphitheater.
You can catch the shuttle at the park entrance and pretty much follow its itinerary: our first stop was Bryce Point.
This is one of the most scenic stops in the park and it gives you a first glimpse of those incredible red rocks formations that make Bryce so special.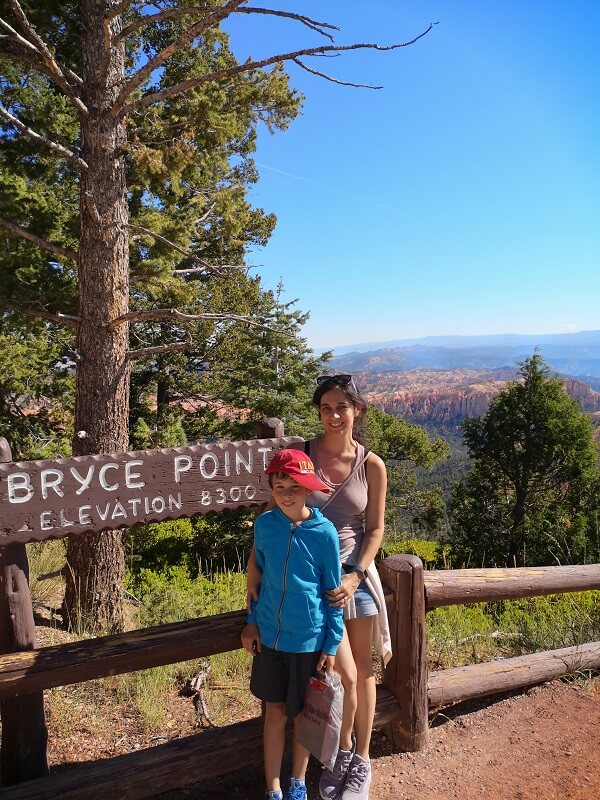 The view point is easy to reach from the bus stop and while high, doesn't pose excessive issues even to people who are afraid of heights (like me!).
From here, you can follow the rim trail or get onto the next shuttle to reach Inspiration point.
This second stop was even more beautiful than the first one, if possible.
Here you have a very different view over Bryce canyon and you start to understand why they say it is a natural amphitheater.
The landscapes here really creates a theater type of basin and the work of water erosion plus the red color of the rocks made into a breathtakingly beautiful site. It is mighty indeed!
After inspiration point, you can follow the easy rim trail to Sunset point one more stunning vantage point worth seeking out.
This is an easy walk and one we highly enjoyed with the kids who kept busy looking for plants and finding answers to the questions in their junior ranger booklet
From here you can easily keep walking to Bryce Canyon lodge and then Sunrise point, the last one of the rim viewpoints.
Lunch
For lunch in Bryce you have several options.
For casual dining, you can go to the nice Bryce lodge (it also has a pizzeria and coffee shop) or you can get groceries at the general store and have a picnic on one of the designated areas.
Spend the Afternoon at Mossy cave, Bryce Canyon National Park
In the afternoon we got back to our car and we drove to a different part of the park, to hike the Mossy Cave Trail and Waterfall
You access this area from a little bit further down the road and parking is limited, so you may have to wait a little to find a spot.
However, if you do, the hike is short and lovely and will reward you for your patience.
Unlike in the main part of the canyon where you are at the top of the rim, here you are at ground level and you can see the rocks from below.
This is an easy hike made pleasant by the river running down the valley. Just be aware that being at the bottom of the valley it does get significantly hot here: make sure you bring water, proper footwear and seek shade
Later afternoon: Kodachrome Basin
Later in the afternoon, we decided to explore even farther afield and drove about 40 minutes to Kodachrome Basin State Park.
This is not inside Bryce but it is close enough to make sense as an extra stop and its peculiar landscape helps you put Bryce in the context of this wider region
The basin takes its name from the distinctive colors of the rock here and is a place of eerie silence.
You can spend as little as 30 minutes here and then go back to Bryce for the sunset, you can spend the night in the campsite or, like us, visit as a detour on the way from Bryce to Zion.
You can find our tips for visiting Kodachrome Basin here.
Evening in Bryce Canyon
In the evening, it is worth going back to Bryce Canyon to see the sunset and even better to stay out late and see the starts.
Stargazing in Bryce is incredible and you can do it by yourself or join one of the astronomy programs run by the park
Best hikes in Bryce
There are several hiking trails in Bryce Canyon, from easy to moderate.
Easy hikes in Bryce Canyon NP
Mossy cave, 1h
Sunset to sunrise, 1 hour
Rim trail, 1 to 7.7h
Bristlecone loop, Rainbow point, 1h
Queens garden trail, 1-2 h
Moderate hikes
Navajo loop trail, 1-2 h
Queens/ Navajo loop combination, 2-3h
Tower bridge, 2-3 hours
Hat shop, 3-4 hours
Sheep creek/swamp canyon 3-4 hours
Strenuous hikes
Fairyland loop, 4-5 hours
Peekaboo loop, 3-4 hours
Navajo/Pekaboo combination loop 3-4 hours
The figure 8 combination 4-5 hours
Bryce amphitheater Traverse 3-4 hours
Best sunrise and sunset spots in Bryce Canyon
Because of its orientation, sunrise is wonderful from most viewpoints in Bryce.
However, the best places to see the sunrise in Bryce according to the rangers are Bryce Point and Inspiration Point
Despite their names Sunrise and Sunset points are not considered the best for photographers (Inspiration Point and Bryce Point usually take the cake) although they do offer excellent views and magical colors.
Best things to see in Bryce Canyon
There are many things to do in Bryce Canyon, to suit all ages.
Take in the views from the Rim (see all most scenic points above)
Drive the scenic drive, 18 miles of scenic road across the park
Take a hike
Go photo crazy
Go stargazing
Visit Bryce on horseback (inquire at Bryce Canyon Lodge)
Go wildflower and wildlife viewing
Join a ranger led activity (for adults and kids)
Take a aerial tour (inquire at Bryce Canyon airport)
Go cross country skiing and snowshoeing (seasonal)
Visiting Bryce Canyon with kids
You can find our full guide to visiting Bryce with kids here.
This is a quick overview.
Visiting Bryce Canyon with kids is easy and wonderful.
The park has many easy trails that an be tackled with children of any age and it also has an excellent junior ranger program that is fun and educational for kids
The junior ranger program is an activity kids can do at their own pace and consists of a booklet of activities that, once completed, allows the children to take a pledge as 'junior rangers'.
You can pick up the booklet at the park entrance and at the visitor center or you can get them in the that is specifically for children, set up near Inspiration point.
The activities in the booklet are organized by age and all encourage first hand exploration of the park.
Should the kids wish to get the help with the tasks, they can sit with a ranger who will go through the booklet with them and explain and encourage them forward.
The presence of a junior ranger center is something we hadn't experienced in other parks (we have also visited Grand Canyon and Joshua Tree) and made our visit to Bryce with children even easier.
If you are visiting with toddler, I recommend you bring an all terrain stroller or a baby carrier to have a wider choice of trails.
For all their day essentials, our kids used their favorite backpacks, that we also use during the school year. You can find our selection of favorite kids backpacks here.
In terms of shoes, the Rim Trail can be done in sneakers but I do recommend proper walking shoes for all hikes. Here is our selection with our favorite hiking shoes for kids
Have a kids who loves to hike? Or the opposite: one who need a little motivation? Then you may like our selection of hiking gifts for kids – ours walked much more willingly with the right gear!
Best place to stay in and near Bryce Canyon
The best place to stay to visit Bryce is inside the park: here you have Bryce Canyon lodge or camping opportunities at North Campground and sunset campground.
Outside the park but near Bryce Canyon you can find several accommodation options at the park entrance and in the nearby towns of Panguitch and Tropic.
We stayed in Tropic at the Pioneer Village and can highly recommend it.
Cheap, beautiful and pleasant, it has simple well equipped rooms, an outdoor pool and a restaurant on site with live music perfect for the whole family. The drive to Bryce from here takes minutes and is beautiful, which is an added plus.
Planning a trip to the US South West?
I hope you enjoyed this guide to visiting Bryce Canyon National Park. Safe travels!