Spain with kids: the best places to visit in Spain with children and practical travel tips for families.
Spain is a wonderful destination for a family holiday as it seems to have something for all ages and style of travel.
If you are looking for family sightseeing and city breaks with kids, Spain has some of the best cities in Europe for kids, offering endless museums, parks and cultural sites.
If you are looking for a sea and sun family holiday spot, Spain has lovely kid-friendly beaches.
Wonderful, family-friendly resorts are on the long Spanish coastline as well as on the Spanish Canary Islands and the Balearic islands, popular destinations for families also thanks to their beautiful nature and pleasant temperatures.
Last but not least, Spain has delicious food that is sure to please even the fussiest of eaters (Find our favorite Spanish recipes for kids here).
The concept of tapas, small plates available at almost any time of the day / night, is ideal for families as it allows children to get small portions even in standard restaurants, limiting the need for strictly family-friendly establishments (kids are welcome almost everywhere in Spain)
All this and a wonderful welcoming attitude towards kids make Spain one of the best destinations for a family holiday.
We have been to Spain with the children several times and these are our top tips for visiting Spain with kids and Spain with kids' travel guides.
I recommend you read this article in conjunction with these travel tips for Spain, to make the most of your time.
Please note: always check travel advisory and current travel restrictions. Some resources to start with US Travel Advisory | UK travel advisory | Ireland travel advisory
Where in Spain is good for families? The best places to visit in Spain with kids
Spain is a large country offering several types of vacation options to families, depending on the experience you are looking for.
In our experience, the best places to visit in Spain with kids are:
Madrid – great city break in Spain with kids of school age
Perfect for a family city break, Madrid is a large European capital with plenty to offer to adults and children alike.
Culture loving families will relish the many city museums: most of them are well equipped with family-friendly tours and activities for kids and they are set up in such a way even small kids can engage with beautiful art.
The city has excellent parks to that make it easy to break up sightseeing and allow the kids a good run around.
El Retiro Park is the most famous and it is so big it is pretty much a destination in itself however, there are very many more with large spaces, ponds, playgrounds and one of them even has an Egyptian temple open to explorers big and small!!
Madrid also has many child-friendly attractions such as the famous Football Stadium Bernabeu, home of Real Madrid which can be fun for older kids who love football.
Madrid is the best place to visit in Spain with kids if you are looking for an easy and culture-filled city break in Europe.
You can find our guides to Madrid here: Things to do in Madrid with kids | Best areas to stay in Madrid for families | Kid-friendly restaurants in Madrid | Where and what to eat in Madrid | 2 days Madrid itinerary | Hotel Reina Victoria Review | Madrid Hammam Review (older kids only)
Barcelona – best family city break in Spain with kids
Barcelona was the first city we visited with our kids and still now one of our favorite thanks to its family-friendly vibe and the variety of child-friendly attractions on offer.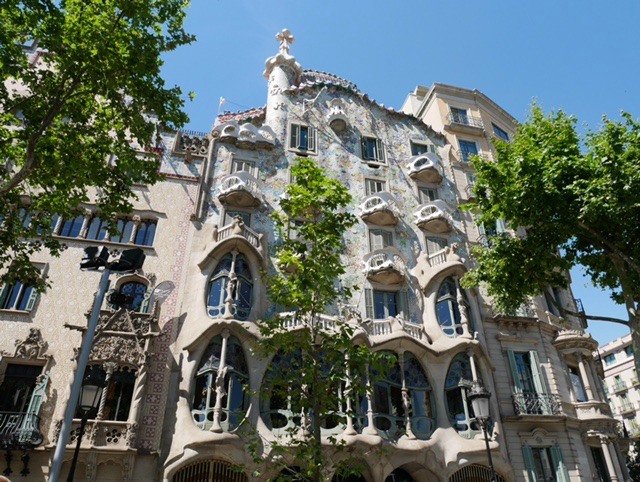 Famous for imaginative and colorful architecture by Gaudi, Barcelona is one of those cities where sightseeing and family fun go hand in hand.
Parc Guell is lovely to visit at all ages: the monumental part with the terrace and the colorful tiles and passageway is wonderful and fun for kids and the rest of the park has play areas and vast spaces that are easy for them to enjoy.
Other attractions such as Casa Batllo' and Sagrada familia are also easy for kids to enjoy and we found the lesser known Recinte Modernista to be an excellent place to enjoy architecture in a family friendly environment.
The city has many other parks, including the Ciutadella Park that also has the zoo, and a very nice city beach, Barceloneta, which has nice sand, a playground and lovely beachside restaurants that are also family-friendly.
On top of this, Barcelona has a nice historical park called Poble Espanyol that is wonderful for kids as it is educational, fun and safe, the famous amusement park of Tibidabo, as well as the nice area of Montjuic and its magical fountain that is always a hit with kids big and small
You can find our guides to Barcelona here: Barcelona with toddlers | Things to do in Barcelona with kids | Hotel Diagonal Barcelona Review
Mallorca – great family vacation destination for a sea and sun holiday
Mallorca is an island off the coast of Barcelona and the best place to holiday in Spain with kids if you are looking for a sea and sun vacation, resorts and the options of some sightseeing.
It has wonderful beaches, some with white sand and shallow waters that will make you feel like you are in the Caribbean plenty of family-friendly resorts and hotels to choose from and a lovely city, Palma, with an impressive cathedral and old city center.
We first visited Mallorca when our kids were toddlers, 1 and 3 respectively, and we found it one of the easiest holidays we ever had.
Palma is a beautiful town, with a pleasant city center, many resorts and hotels, both central and along the coast, and with a historical center that is pleasant for adults and children to explore. It has a beautiful church, lovely cobbled streets, pretty shops and cloisters and a wonderful historical feel.
Outside of Palma, you can get a small train reminiscent of Thomas The Tank up to the coastal town of Soller or even stretch up to Alcudia, which has white sandy beaches and palm trees that will make you believe you are in the Caribbeans.
Mallorca is very well connected to the rest of Europe with regular and reasonably priced flights.
This is a wonderful destination for a sea and sun family holiday in Spain with kids: you can read about our time in Mallorca with kids here.
Andalucia: best destination in Spain for families who love culture and sun
Andalucia, in the South of Spain, is a wonderful region to visit with kids.
Andalucia has some of the most beautiful cities in the whole of Spain, including stunning Granada and the Alhambra, Cordoba and its incredible Mezquita and Seville, which has the amazing Alcazar and wonderful locations of Star Wars fame.
As well as cities, Andalucia has some of the most developed coastlines in the whole of Spain when it comes to sea and sun holiday, the Costa del Sol.
Built-up, busy and well equipped, this is the best place to holiday in Spain with kids if out are looking for all-inclusive resort and plenty of entertainment for the kids.
Some places to explore in Andalucia with kids are:
Seville – beautiful, relaxed, sunny, with gorgeous food, this is maybe the city that most excited kids and a very easy one to visit with them too.
Plaza de Espana wows absolutely everyone but the Alcazar and its wonderful gardens are also incredibly impressive and great for kids to explore.
This is another one fo those cities where sightseeing and family fun go hand in hand. You can find our guide to Seville with kids here.
Cordoba is another wonderful town and perfect for families who love UNESCO sites thanks to its wonderful Mezquita.
The town has a compact city center that is easy to explore and lovely small streets that are scenic and lovely for kids and adults to explore.
Granada is home to the Alhambra, a palace so elaborate and elegant it feels like stepping onto a movie set!
The palace has wonderful architecture and gardens and a fantastic Moorish appearance that is beautiful and a good opportunity to tap into the history of this time.
The Alhambra is a show stopper and Granada's jewel in the crown. However, there are many other things to do in Granada with kids that will keep you busy for a few days, including parks, children attractions and shows.
The city is just perfect for a weekend away with the kids!
Cadiz is in the very south of Spain and we found it a great and easy place to enjoy with kids. With some of the best beaches in Andalucia, many blessed with wonderful soft sand and clear waters, this is a good town if you want to have a sea and sun vacation without going for the full all-inclusive option
Bilbao, San Sebastian and the Basque Country: great location in Spain for families looking for not too hot climate
The Basque Country is in the North of Spain and it is the best place in Spain for kids if you are looking for a beautiful summer destination in Spain that is not too hot.
This area has wonderful cities and nice beaches and it is also equipped with nice family camping sites with several activities and packages for families with kids of all ages.
San Sebastian is a wonderful small city with a historic center and a beautiful beach.
It is a place famous for food and a lovely town to base yourself in if you are looking for both sightseeing and easy child feiendly fun.
Bilbao is also wonderful and it also has the Guggenheim museum which is wonderful and worth seeing at all ages.
This is an easy city to visit with kids and once again a great place to call home for a while if you want to experience a well organized, not too hot yet beautiful city break
The Pyrenees – great sky location in Spain for families
Spain may not immediately come to mind as a skiing destination, however, it has lovely family friendly slopes that make it best family destinations for a snow holiday in Europe, especially if you are looking for a great value for money option.
Toledo – best destination for culture loving families
Toledo is a small, historical, beautiful town in the heart of Spain and an important Unesco world heritage site.
Located about 1h from Madrid by train, the town has a stunning Alcazar, a beautiful cathedral, several museum and a plethora of beautiful historical areas easy to explore on foot.
Visiting Toledo with kids is easy: the town is very well served with hotels restaurants and shops, it has many small streets, some car free, and very impressive sites such as the Alcantara bridge, which is sure to leave an impression on kids and adults alike!
You can read our travel guide do a day in Toledo here.
Segovia – perfect Spain destination for families who love history
Segovia is a beautiful small town close to Madrid and an important UNESCO site in central Spain.
The town is often mentioned for its impressive Roman aqueduct which is indeed unique but it is also worth visiting for its stunning and historical city center and Alcazar: the whole town is basically a cluster of architectural marvel!
Segovia is great for families with kids: the town is small enough not to be overwhelming, it has many car free streets and a castle that kids will recognise as the one that inspired Disney's Cinderella's one!
Easy to reach by train from Madrid, Segovia is a great place to call home for a few days and also a good day trip from Madrid for families with kids who want to explore a little beyond the city limits.
You can find our travel guide to Segovia here
The best time to visit Spain with kids
The best time to visit Spain with kids depends on what you want from your holiday in Spain and how you deal with hot climate.
The best time to visit Madrid and the central part of Spain is the spring and the autumn.
At this time, you have usually dry weather and mild temperatures perfect for sightseeing. The summer is unbearable in Madrid and I would recommend against planning time here.
The winter is usually dry but it does get cold during its landlocked location so you would need to pack accordingly.
The best time to visit Andalucia for sightseeing is outside of the summer.
At this time, you avoid the scorching heat and, especially in the winter, you will find the lowest crowds.
The best time to go to Andalucia with kids for a sea and sun holiday is the summer. Despite being hot and crowded, this is the time when you have all activities in full swing and will benefit the most for being close to the water.
The best time to visit the Basque Country with kids is the summer, when the weather tends to be good yet doesn't usually get excessively hot.
The best way to travel around Spain with kids
Spain is vast and the best way to cover long distances with kids is either by train or plane.
The official train travel website for Spain is Renfe.es – the best trains, if available between your destinations, are the high speed AVEs, which connect several cities in a flash and have excellent on board service.
We have used them extensively and always found them excellent.
Good to know: for last minute tickets, go to the station and speak with the person at the counter. Often, we found they were able to sort tickets for us on trains that were marked as full on the web.
What to pack for visiting Spain with kids
What to pack for Spain depends on the season of your trip and the exact location.
You can find some useful packing resources at the following links:
I hope you enjoyed this quick guide to planning a trip to Spain with kids and you will agree with us Sain is a wonderful destination for families. Safe travel planning!