What is there is to do in Flagstaff? Is it worth a visit? Find out in our visitors' guide to the best things to do in Flgstaff, Arizona
Our trip to the American South West brought us to the historic town of Flagstaff, Arizona.
Located amidst a beautiful forest, Flagstaff often appears in travel publications as a getaway town to the South Canyon South Rim and our Lonely Planet Guide described it as full of 'many laid back charms', adding mentions of vintage neon and 'buskers playing bluegrass music on street corners'.
Unable to resist such an introduction, we stopped in Flagstaff on our way from the Gran Canyon to Sedona, and we found Flagstaff to be a cute town with a nice outdoorsy vibe and a pleasant historical main street.
We only had limited time to visit the city but it was a nice stop and one I recommend considering even if you happen not to stay the night in town. These are our top things to do in Flagstaff, Arizona.
Please note: this post contains affiliate links and, should you make a purchase through then, we might make a small commission at no extra cost to you.
What are the top things to do in Flagstaff, Arizona?
Soak up Route 66 history
Flagstaff is crossed by famous Route 66 and it is a fantastic place if you want to experience a taste of this most iconic of roads. We visited with our kids, one of them absolutely obsessed with Route 66 since we saw its end point in Santa Monica, and it was easy for both him and us to tune in with this piece of Flagstaff history.
Route 66 signs are easy to spot and just as you imagine them, a perfect prop for an american road trip photo shoot!
While Route 66 takes a spacial place among the things to do in Flagstaff worth a mention, it is also true the opposite: Flagstaff has a special place in the history of Route 66.
Flagstaff Arizona was the city with the highest elevation on the historic Route and the Route passes right though it.
Visit the Observatory that discovered Pluto
Pluto may not be a planet as such any more but this doesn't mean that its discovery wasn't important or that it doesn't deserve our attention.
A great place to learn about the dwarf planet and the history of its discovery is in Flagstaff and specifically the Lowell observatory. This is the place where Pluto was discovered and where they identified that our universe is expanding!
The observatory is still in operation and it is open to the public, day and night for visits.
Check out the site of the Lowell Observatory here
Enjoy the 750 species of plants of the Flagstaff Arboretum
Flagstaff is in the world's largest contiguous ponderosa pine forest and you can learn about it and enjoy it joining one of the many events regularly held at the Flagstaff arboretum.
The arboretum hosts over 750 species of plants and a butterfly house and can be visited during the warmer months (spring to autumn, it stays closed in winter, check their site here). You won't see me in the butterfly house but if you don't have an awful butterfly phobia like me, I hear it is amazing!
Go Ziplining
If you want to get active in the trees that are so special to Flagstaff you can do so at the Flagstaff extreme adventure course.
They have over 30 lines you can zip along in the Flagstaff ponderosa forest and an adventure course with over 70 elements: we had to keep this one a secret from our son or we would have never been able to leave!
Learn local history in the city museums
Flagstaff is a great place to learn about local history and in particular hosts two museums that you may want to check out on your first visit to Flagstaff: the Museum of Northern Arizona, and the Pioneer museum, both featuring exhibits about the historical developments of the region and traditional lifestyle.
Another great place to get surrounded by old time living is the Riordan Mansion historic park, a lovely local mansion filled with original furnishing.
The mansion was designed by Charles Whittlesey, designer of the Grand Canyon's El Tovar Hotel and it is a nice place to see if you are coming from there, so you can notice the similarities in style.
Go for coffee… or juice
Flagstaff town centre has great coffee and lunch places offering a good variety of snacks and food options.
Here you can find a little bit of everything, from steak houses to Italian restaurant and far East options and we were pleasantly surprised to find many healthy shops and cafes with 'free from' alternatives such as gluten free cakes, non dairy milk such as almond and soy milk etc.
I cannot recall the name of the cafe we stopped by but it made for a lovely stop: we perched ourselves on the cushion in its bay window watching life go by and I will never forget their gluten free lemon square, with light dusting of sugar on top: delicious!
Take a stroll in downtown Flagstaff
Most of our time in Flagstaff went leisurely walking along the town's old streets which are a real pleasure to discover. Small, green and lined with shops and restaurants, they are easy to enjoy even on a rainy day, as it happened on our visits, and they are full of beautiful buildings giving the town a peculiar historical charm.
Things to do in Flagstaff with kids
We visited Flagstaff Arizona with our two young children and discovered a family friendly town with several things to offer to families.
In particular, we discovered many family friendly hikes that would be perfect to enjoy the outdoorsy scene of Flagstaff even with little explorers in town. The most popular family hikes in Flagstaff are these ones.
For quieter days in the city, Flagstaff offers many parks, cinemas, aquapark, a nice public library with children section and events and several opportunity to enjoy the outdoors, whatever the weather.
Day tours from Flagstaff
Flagstaff is a great base for outdoor pursuits. We had too little time in the area to test these tours, but for reference, there are the ones that receive the most and more regular positive reviews from Viator and TripAdvisor users.
Grand Canyon day tour from Flagstaff AZ
The Grand Canyon is a short drive away from Flagstaff and an absolute marvel to explore.
You can decide to explore it on your own (read how we did it here) or join one of the many yours available such as this one.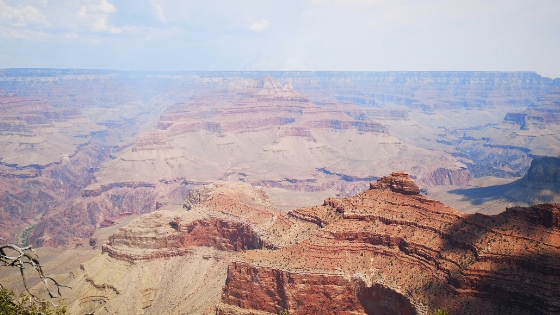 Visit Walnut Canyon National Monument
Just 10 miles Southeast of Flagstaff, Walnut Canyon National Monument holds memories of the Southwest's earliest history, in the form of ruins from the time of the Sinagua cave dwellers in the 12th and 13th century.
The site has preserved their homes and gives visitors an up close look at the past while enjoying the beautiful natural landscape of this area.
Explore the Lava tubes
Adventurous types may want to explore the Coconino Lava tube, volcanic tube like formations 700,000 year old!
The lava tubes are open to the willing explorer but you need to be prepared rather than just gingerly show up: as well as sturdy shoes, you want to have with you several sources of light, warm clothing and possibly a helmet. Please check safety information with the relevant authorities before visiting.
Visit Sunset Crater
Another volcanic related thing to do in Flagstaff is to take a hike in the area of Sunset Crater.
This is a crater like structure of cinders and lava flows in the Flagstaff ponderosa pine forest and you can explore its area hiking or driving along the crater loop.
Montezuma Castle National Monument and Montezuma Well
The Montezuma Castle National Monument and Montezuma Well are an archaeological site with a 1,000 year old Sinaguan cliff dwelling ruin, smaller cliff dwellings, an ancient pueblo, a pit house and an irrigation ditch.
The best way to visit this area is to devote a little bit of time to it to make sure you catch one of the regularly held ranger talks, that explain about the history and the significance of the area.
Marvel at the Petrified National Forest
Petrified Forest National Park is 108 miles east of Flagstaff but it is said to be a wonderful day trip.
The park features one of the largest concentrations of petrified wood in the world and has historic structures, archaeological sites and displays of 225 million-year-old fossils, for which the forest is famous.
You can find information on the location and how to visit here
Explore the Antelope slope canyon
If long day trips do not put you off, Flagstaff is also a base to get a tour to Antelope Canyon. The canyons are very popular and especially in the high tourist season they see a high influx of people so the best way to get there is via an organised tour that included a local guide to the Canyons. One that gets regular good reviews is this one
Where to stay in Flagstaff
There are several accommodation options in Flagstaff. This is a selection of the best hotels in town according to independent reviews on booking. com. We selected only those who scored 8 or higher out of 10.
Little America Hotel(booking.com score 9.3 /10): Great 3 star hotel with nicely designed rooms sets amidst the wonderful Flagstaff ponderosa pine forest. The hotel has free parking onsite, an on site restaurant and swimming pool, a fitness centre and offers access to the free airport shuttle.
La Quinta Inn and suites Flagstaff (booking.com score 9.2 /10) Good 3 star accommodation option offering both rooms and larger suites with both sleeping and living area. This is a good value option and offers free parking onsite, swimming pool, free wifi and a fitness centre. This hotel is pet friendly.
Holiday Inn Express Flagstaff (booking.com score 8.8 /10) Good 3 star hotel part of the Holiday Inn chain offering well kept rooms for up to 4 people (two adults and two children). The hotel has local restaurants nearby (walking distance) and on site delivery is possible. Hot breakfast is served in the hotel. The hotel offers free parking onsite, swimming pool and fitness centre.
Hilton Garden Inn Flagstaff (booking.com score: 8.7/10) excellent 3 star hotel with the feel and amenities that are peculiar to the Garden Inn name. The hotel has rooms suitable for up to 4 guests. Its has free parking on site, on site American grill restaurant, swimming pool and free airport shuttle.
Best Western Pony Soldier: (booking.com score: 8/10) 3 star hotel offering clean rooms in convenient location. The hotel has several types of rooms including accessible rooms and larger family room, a swimming pool, 24h front desk, tour desk and offers free parking onsite. This hotel is pet friendly.
I hope you found this overview of this are useful. Safe travels!
Please note: we included in this post attractions that we believe are worth seeing. The selection is based on our opinion only and we received no compensation or incentive for their inclusion.