Our buying guide on how to choose the best lightweight stroller for travel in Europe and tackle those charming (and bumpy) cobbled streets! What to look for when choosing a pushchair for cobblestones, must-have travel stroller specs and the best travel strollers for Europe for 2020
One of the questions that I receive more often, from readers who love to travel with kids, is a recommendation for the best stroller for traveling in Europe and I can easily see why.
A good travel stroller is one of the best investments you can make, when it comes to family travel gear, but it is also an expensive one people can often do without.
And so the conundrums begin:
Will my normal stroller do well sightseeing in European cities?
Do I need a special stroller for Italy's cobbled streets and Paris' busy restaurants?
And how about the flight: do I need a pushchair that fits in the overhead compartment of the plane, so I can be sure it arrives intact?
The answer depends on the stroller you already have back home but I have found that having a travel stroller really helped us on our European travels (we live in Europe but Dublin is super stroller friendly so the issues you may have visiting Rome or Lisbon with family don't apply here).
In this post, I am going to share what strollers worked for us and what to look for when looking for a lightweight stroller for travel that can handle Italy's cobblestones while keeping your baby comfortable and your back safe. 
This post has single travel strollers: if you have two young children, you may want to check out our recommendations for double travel strollers for travel instead.
No time to read the post? Check out our favorite travel stroller here
Please note: This post contains affiliate links and if you make a purchase through them we might get a small commission, at no extra cost to you.
Do you need a lightweight stroller for Europe? Reasons to invest in a traveling stroller
The first time we flew to Italy with my then 2 month old son I was adamant: the coveted pushchair I had selected as main carriage for my baby would come with Italy with me, no additional money spent or space to be taken in the house.
I was optimistic: the stroller had large inflatable wheels (great for cobbles) and was car seat compatible (great for taxis) and in my books these were the two only things to look for.
As it turns out, these two characteristics are excellent in a travel stroller but they are not alone sufficient to make an excellent stroller an awesome travel one especially if the destination is a historical city in Europe.
The issue I found is that continental Europe tends to have some specific characteristics that can be challenging for larger strollers and in particular:
Restaurants
Many charming restaurants and cafes are short on space and you may be unable to wheel the stroller in or even keep it beside you while having your meal. With a big stroller, your dining options shrink fast!
Public transport
Catching public transport can be challenging with larger pushchairs: in many cities (like Rome) you need to close the buggy when hopping onto a bus and in other cities (like Paris) you need to lift it to pass turnstiles to access the metro – not something you want to do with anything but a lightweight stroller!
Sightseeing
Many historical sites and sightseeing places do not allow strollers in and may require you leave them at the entrance, unattended. A smaller lightweight stroller you can easily carry with a shoulder strap will take away all the worries attached to this scenario! 
During that trip I learned what to look for in a travel stroller and had a mental list of what worked and what didn't.
These findings are what I am sharing with you today.
Buying for travel? Then you may also like our guide to toddlers beds, toddler backpacks and kids headphones!
What makes a great travel stroller for Europe?
When looking for the most convenient traveling stroller for European travel, I now take into account.
In Europe, you want a stroller that is Lightweight
How heavy is it?
Make sure the travel stroller is lightweight enough that you can easily lift it when needed.
This may happen when catching the metro (Madrid is a nightmare for accessibility, Paris not much better, Rome… don't even get me started!) and also in older AirBnB properties and other establishments that may not have a lift.
has a sturdy frame
Lightweight travel strollers are often synonym with cheap frames that resemble dolls prams rather than real strollers but they won't get you far on Europe's bumpy streets!
While a light frame that doesn't strain your back is important, a stroller that is too light or too flimsy will not survive cobbled streets (let alone the occasional walk in nature you may want to take if you are visiting a countryside location or the gardens of a royal palace) and will literally fall apart in your hands!
has big wheels
The one thing that really worked for us when we brought our normal stroller to Italy was that it had big wheels.
They provided excellent cushioning for your baby on ancient roads, worked really well on uneven terrains such as the beach and historical sites and they saved my back – smaller wheels tend to catch on bumpy roads and the first thing that suffers is your back, something you seriously do not want to have to deal with on travels (or ever, truly).
Big wheels are not always easy to find on a lightweight stroller. In this list, I included also small wheeled buggies when they scored high on all other items on my list.
Reclines fully
Especially for babies and young toddlers, this is an important feature for comfortable naps and dinners out as it means you can stay out longer and enjoy the Southern European later dining habits like a local
With a large enough basket
Lightweight strollers don't often come with large baskets but there is quite a variety out there and it is worth checking especially if, like me, you consider the stroller and extension of your bag or you will also have a baby carrier with you (something I highly recommend in Europe)
folds easily, ideally with one hand folding system
My first stroller was easy to fold but I needed two hands to collapse it and this quickly became a problem on travels.
From security checks in airports (read our guide to flying with kids here) to quick bus rides, the lack on one hand fold mechanism meant we always needed two people to get the stroller down, something that got very tiring very fast and would make a stroller unusable if you were out with baby in Europe on your own, even just for the day.
has large canopy / proper rain protection accessory
To protect from the sun/rain during long days sightseeing so you can make sure you don't need to give it time to dry should it get wet
Safety harness
Ideally 5 point so you know your child is secure no matter what.
I find this is always needed on a stroller but even more on a travel one when your child is likely to be even more stimulated by their new surrounding and will lean forward to see as much as possible!
Sufficient padding in non plasticky material
Many travel strollers compromise the quality of the seat padding in an effort to keep the size small and this can quickly become a problem on a long day out.
I find the best travel stroller for Europe has a reasonably padded seat that can cushion some of the bumps on the road and is also made of good quality material that allows perspiration and doesn't get your child to overheat in the Southern European sun!
Fits in the overhead bin of the airplane
As well as delivering once in Europe you also want your lightweight stroller to be good when traveling by plane.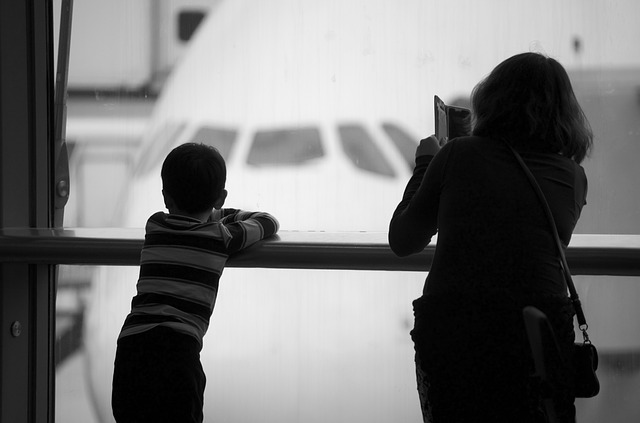 I don't believe you actually need your stroller to fit in the plane overhead compartment.
I take this more as a nice to have rather than a hard constraint, but if you can keep the stroller with you at all times, you definitely have some advantages, not last the certainty that it will get to your destination with you intact! 
Flying to Europe with a stroller: Lightweight Travel Stroller Airline Policy
Airlines don't have consistent policies when it comes to travel strollers.
In the vast majority of cases and unless otherwise stated, strollers are not allowed passed the boarding gate.
You will be able to pass security with them and get to your gate but they will then be taken for check in and returned to you either outside the aircraft or at luggage reclaim (this depends on the airport, not the airline).
The exception to this rule are travel strollers that are marketed specifically for plane travel.
If you travel by plane often and this is a concern for you, I would highly recommend you put this as a high priority must have for your travel stroller for Europe.
You can get an overview of airline stroller policies here but always check with your airline as rules and allowances change often.
If planning on bringing your stroller on a plane, make sure yo protect it: find here a selection of gate check bags to keep them safe
Best lightweight strollers for European travel: top picks 2020
Considering all the asks I have for the perfect stroller for Europe you may be wondering if there is one that I swear by and that I consider the best of the best, the one to buy for tackling cobbled streets and stairs while in Italy and other similarly wheels-challenging destinations in Europe.
The short answer is: no.
I have not found one stroller I can say is the perfect lightweight stroller for Europe but I have found a few that tick the most important boxes.
Some score higher for plane travel, some do better on cobbled streets and you are likely not to find absolutely all that you want in just one model.
However, all the ones in the table below are great travel strollers for Europe so you know they are a worthy investment. I tried to mix several budget bands to suit most buyers but for prices and specs, check the links so you get updated info right from the seller.
Best compact stroller for Europe: GB Pockit lightweight travel stroller
I start with list with the GB Pockit stroller as this an excellent stroller for Europe and one you have probably encountered over and over again on travel forums as a recommended buy.
Indeed, it is excellent for travel.
It is the world's smallest folding stroller and as such is excellent for travel in Europe as it means you can carry it easily pretty much no matter where you are going.
This is a compact stroller which means it folds differently from an umbrella stroller and much smaller (dimension when folded: 11.8" x 7" x 13.8")
Despite its size, it is a strong and durable stroller built with good materials and has a generous storage basket that is perfect for supplies on long days sightseeing.
GB Pockit specs that make it an excellent travel stroller for Europe:
Folds really small and stands on its own, making it perfect for restaurants and small spaces

Has a generous basket to hold all your essentials

Stows away easily in any plane overhead bin

Has a secure, adjustable harness system

Works with one-hand pushing and steering

has a sliding back panel with adjustable torso length, lockable front swivel wheels, overhead canopy, rear wheel parking brake and padded handlebars
Uppa Baby Minu lightweight stroller for Europe
I discovered Uppababy strollers thanks to a friend who raved about it. For travel, the best Uppa baby model is the Minu.
Lightweight and very easy to fold, it has the added advantage of standing on its own when folded, which I find handy in restaurants and hotels.
It has a large seat and easy recline option and the wheels work well on uneven surfaces such as cobblestones, making this a great stroller for European travel and city sightseeing in general
Main specs:
Suitable from 3 months to 50 lbs
Dimension when folded: 20.5x23x11.5
Multi-position recline
Shock-absorbing, all-wheel suspension
Extendable, pop out UPF 50+ sunshade
Large, easy-access basket with 20 lb weight limit
Baby Jogger City Tour lightweight stroller for travel
Traveling parents forums buzz with the name baby Jogger city tour.
It always comes up as the best travel stroller of all especially for its small size when folded which makes it handy on planes and road trips.
If fits nicely even in a smaller car, which is great if you are renting a car in Europe where you may not necessarily want a massive vehicle with trunk to match (city driving calls for smaller cars).
Please note that despite the name this stroller is not intended for jogging! It is marketed for city parents and urban travel.
Main specs:
Dimension when folded: 56cm x 45cm x 23cm
Weight capacity: Suitable from 6 months 20.5kgs
Stroller weight: 14.21 lb
One hand quick fold
Cabin approved: yes
BabyZen Yoyo+ (perfect stroller for flying too): great travel stroller for Europe city travel
Baby Zen Yoyo+ caught the attention of traveling parents as one of the first (possibly the first!) stroller to fit in the plane overhead bins.
It gets exceptional reviews especially for city travel since the wheels hold very well on cobble streets, something that our travels to Rome have often shown as quite a test for lightweight strollers!
This regularly features as one of the best travel strollers for Europe for overseas families who fly long haul into Europe.
Fits current airline regulations for carry on luggage
One hand folding system

Suitable from birth (needs adapter)

Large basket

Comes with storage pouch
Very lightweight: about 6.6Kg
Mountain Buggy Nano lightweight travel stroller
Another stroller with a misleading name (it is not for hikers!) but that is excellent for European adventures is the Mountain Buggy Nano
The main selling points for the Mountain Buggy Nano are its exceptional lightweight and the fact that is it so compact it is easy to transport when traveling.
This is one of the best travel strollers for Europe if you are planning on moving around by train or bus especially.
Product weight: 5.9kg / 13lbs Maximum Load: 20kg / 44lb

Car seat compatible (needs adapter)

Cabin approved: yes
Shoulder carry strap.
Multi point safety harness
Good size seat despite the compact size when folded
Good size sun canopy
2 step folding system
Summer Infant 3D lite travel stroller
The Summer Infant 3D lite is a good value for money options parents love for its compact size and lightweight, which make it handy for everyday errands and car journeys in particular.
Aluminum frame (13 pounds) with large seat area

4 position recline with 5 point safety harness

Anti-shock front wheels

Adjustable and removable canopy with flip out sun visor

Storage basket and rear storage pocket

Compact fold, it comes with a shoulder strap for easy carrying

Need to know: parents often notice the buggy will tilt when empty if you have a heave bag attached to the handles.
Maclaren Quest – one of the best travel strollers for Europe's cobbled streets
I am closing this list with our very first travel stroller, the Maclaren Quest.
This is a model that doesn't get as many mentions in forms anymore, probably because so many other strollers have come onto the market offering smaller folds and cabin approved sizes.
However, we found it excellent in Italy, so much so that we quickly graduated it to main stroller even back home here in Ireland.
An excellent lightweight stroller in terms of comfort and features, our kids used it from baby age to toddler years.
Maclaren quest main selling points are:
Easy to fold and with a generous basket and large canopy.
Sturdy wheels
Suitable for newborns and children up to 55lbs

Basic weight of 5.7kg / 12.6lb

Fully recline multi-position seat

Extendable waterproof + sun canopy and built-in sun visor

Good size hood and shopping basket

Lockable front swivel wheels
I hope you enjoyed our overview of lightweight strollers for travel in Europe and it helped you pick the best travel stroller for your European adventure. Safe family travel!
Please note: We are a participant in the Amazon Services LLC Associates Program, an affiliate advertising program designed to provide a means for us to earn fees by linking to Amazon.com and affiliated sites
This post was originally published in 2017 and has now been fully updated with the best travel strollers for Europe currently available.