Our selection of fun and educational family vacations on the East Coast you and your kids with love.
The US East Coast is packed with fantastic vacation spots for families.
Fantastic cities, National Parks, beaches, small towns, family resorts, natural wonders: no matter what type of vacation your family is looking for you, the East Coast is likely to have a spot that is just what you have been dreaming of!
We love the East Coast of the USA so much, as a family destination, we have already devoted some articles to it.
If you follow us, you have already know our selection of East Coast beaches for families and this list of breathtaking East Coast National Parks for kids.
Today, we are going to expand on that selection and cover more fabulous vacation spots we believe you and your kids will love.
These attractions are kid-friendly and can be enjoyed by all ages.
Here's a list of the best East Coast vacations for families.
Please note: this post contains affiliate links and, should you make a purchase through them, we might make a small commission at no extra cost to you.
Get inspired – Family Vacations on the East Coast Map
Our top-rated spots for awesome family vacations on the East Coast
New York City, New York
The ever bubbling New York City is one of the best places to have family weekend getaways on the East Coast.
It is filled with every fun activity you and your family could ever imagine.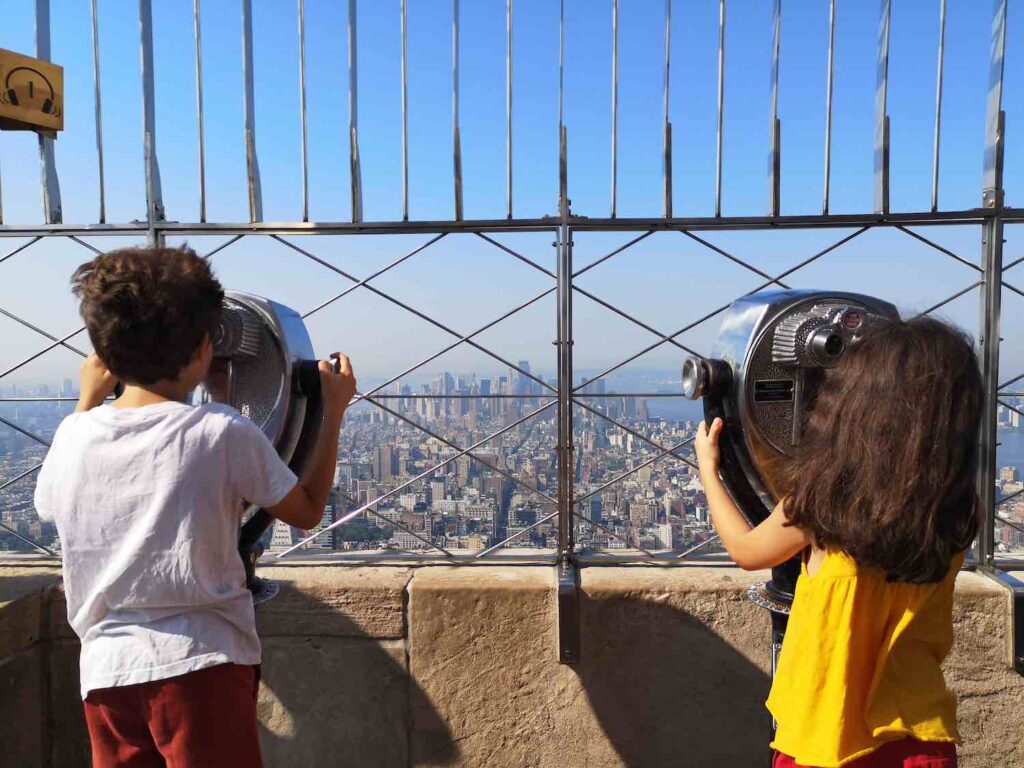 Think countless museums, Broadway shows, Central Park… then Brooklyn Bridge, Time Square and how not to mention the view from the Empire State Building?
It is hard to overstate how fun and exciting New York City is with kids: the city is like a candy factory of kids entertainment and if your children are old enough to have seen any movie set in NYC, they will feel the magic of a place that is the ultimate movie set!
I love NYC in all seasons, even the hot summer temperatures not being enough to taint the beauty of the place. However, some seasons are more magical than others.
When planning family weekend trips from New York City, be sure to schedule them around the holiday season.
That way, your kids can enjoy the full New York experience.
Have your kids experience the magic of New York City at any of the numerous ice skating rinks or the Thanksgiving Parade at Macy's.
You can enjoy NYC with kids in as little as a day or as long as a week or more. If you plan of packing in a lot in a short amount of time, consider getting the NYC Pass: it offers excellent savings on tons of city attractions.
You can read here >>> our favorite things to do in NYC with kids in a day (perfect if you are looking at a weekend getaway!)
Green Mountains, Vermont
Located in Green, Vermont, the Green Mountains is an excellent location for an East Coast vacation for families.
Whether you want to enjoy a cool, laid-back family vacation or an active adventure-filled holiday, Green Mountains has the right number of activities for you.
In the fall, this is a fantastic place for a family road trip to admire the Vermont foliage.
If you have ever dreamed of stepping into one of those photos with breathtaking fall colors, evocative bridges and pretty towns, this is the place for you!
Your family will also love exploring the food scene in Vermont via cheese and food tours, lovely for the colder months.
Snow lovers will adore the snow vacation opportunities of this area too!
In summer, you can also spend quiet time lounging on the shores of Lake Champlain while having a family picnic or spend the day swimming or hiking through the numerous trails.
The many mountain resorts in the region also offer a good choice of family lodging with activities that are sure to please kids of all ages.
A fantastic family hotel in Vermont perfect for an East Coast vacation with the kids is:
The Lodge at Spruce Peak – fantastic Vermont resort for families with stunning views, pool, spa for the grownup and a plethora of family activities ranging from zip lining to kayaking, snowshoeing and ski-to-door!
Washington D.C.
Having your kids learn about the Nation's history while touring the museums and monuments around the city is a fun and educational way to spend the holidays.
The city is simply packed with things to do for kids and children of primary school age and up are sure to get inspired by such an important and inspirational city.
A family visit to DC must include the city's many museums, famous for their wonderful collections and, in many cases, for their generous free admission policy.
The Smithsonian, National Mall and of course tours of the White House and the Capitol are a must-do while in DC with kids and will be interesting for both children and adults.
More fun activities to do with the kids in Washington DC are fat tire tours, fantastic at any age, the International Spy Museum, the Newseum (if you have a broadcaster in the making, this is not to be missed!).
With so many things to do in several parts of the city, you may want to consider a hop-on hop-off bus tour like this one: a fantastic way to cover a lot of ground without stress and always fun for kids of all ages!
Family Hotels in Washington DC you may love are:
Courtyard by Marriott, with great family rooms: perfect also if you are tagging along a business trip!
Willard InterContinental Washington, an IHG Hotel, a great family hotel on Pennsylvania Avenue, with family rooms, babysitting services (extra charge) and kids board games/dvd. The hotel is also pet-friendly.
Boston and Havard
Boston is one of my favorite cities in the world.
I will never forget my first trip there.
The city parks, Little Italy, the whale watching tours and the visit to Harvard are among my favorite memories: if you are looking for a family vacation on the East Coast with some city excitement, Boston is simply perfect!
Boston is rich in American history and an excellent place for families and kids.
A fun way to familiarize yourself with the city is to get the Old Town Trolley Tour, which is fun also for little ones or you can dive into the history of the city with a freedom trail tour.
The Boston Omni Theater< new England Aquarium and children's museum will also be perfect for colder days.
A short metro ride away, you also have the Harvard Museum of Natural History: here, you can explore over 12,000 specimens, fossils, gemstones and meteorites from around the world.
At the museum, your kids will have a close up look at a vast array of animals, giant whale skeletons and an incredible amount of birds.
Also, don't miss the 3,000 Glass Flowers exhibit, which shows stunning models of fruits and flowers.
Harvard is magical at any age: make a day out of your trip here and take in the wonderful atmosphere of the campus!
This is by far, one of my favorite destinations for family vacations on the East Coast with kids of school age and up.
To explore Boston with kids, consider staying at:
Residence Inn by Marriott Boston Harbor on Tudor Wharf – a fantastic family hotel in Boston in a perfect location for sightseeing and with the added bonus of a heated pool your kids are sure to love!
Sheraton Boston hotel – an excellent location for a hotel to meet all your family's needs (their pancakes will be a hit!)
Martha's Vineyard, Massachusetts
Martha's Vineyard is another excellent location for family getaways on the East Coast: it is not by chance if families who can go pretty much anywhere in the US choose it for their vacations!
An all-island tour is a great way to familiarize yourself with the place and will allow adults and children to start compiling a list of things they'd love to do while here.
Fantastic family-friendly things do to in Martha's Vineyard with kids include going to the beach (Martha's Vineyard has miles of sandy beaches, exploring the area's lighthouses, visit the local alpaca farm or spend time at Oak Bluffs Arcade, a classic game arcade kids adore!
For a great stay, consider the beautiful Harbor View Hotel in Edgartown, a lovely family hotel overlooking the Edgartown Lighthouse, with a seasonal pool and rooms and cottages for families.
White Mountains, New Hampshire
Are you thinking of outdoor East Coast vacations for families?
The White Mountains in New Hampshire may just be the place for you.
There, your family can take in the stunning landscape of this area by hiking, rock climbing or you can have a fantastic winter vacation enjoy the many cold-weather activities on offer.
Not to be missed are Loon Mountain, a fantastic mountain resort for families, the incredible Mt. Washington Auto Road (also available as a tour), Ice Castles in North Woodstock, the Mt. Washington Cog Railway, dog sledding and Santa's Village, Santa's summer home in the Mountains!
Great Glen Trails offer outdoor family activities all year round.
Fantastic family accommodation in the White Mountains is the InnSeason Hotel Pollard Brook, a fantastic family-friendly resort in the White Mountain Forest with a pool, games room and great suites for families.
Niagara Falls, New York
Niagara Falls is a popular family road trip destination on the East Coast and a fantastic one for kids and adults alike.
The first time we visited Niagara Falls we went from the Canadian side (you can read about our Toronto to Niagara Falls day trip here) but you can easily visit them without crossing the border too.
The star of the shown in Niagara Falls are obviously the falls themselves, but there is a surprising amount of things to do here to keep you occupied well beyond the time it takes to see the falls (even if I admit: it is never enough: they are so spectacular!)
A trip to Niagara falls with kids can only start with a Niagara Falls Cruise, guaranteed to be welcome with screamed of laughter and awe.
Other family-friendly activities in Niagara Falls, American side are: Niagara Falls Observation Tower, from where you catch the best views of the American and Horseshoe Falls, the Niagara Falls Boardwalk and Crow's Nest, also a great place to catch views of the tumbling water, and of course the Niagara Falls State Park, the oldest state park in the US, with Bridal Veil Falls and Cave of the Winds.
A great family hotel in Niagara Falls NY is the DoubleTree Hilton, which has good facilities and location, a restaurant on site and a swimming pool.
Philadelphia, Pennsylvania
If you are looking for a fun city break and an educational vacation to take with the kids, then look no further than Philadelphia.
First, take your family on a tour of Independence Hall and Liberty Bell then and the Philadephia Museum of Art, without which no trip to Philadelphia would be complete.
Your kids may also enjoy a Horse-Drawn Carriage Tour of Historic Old City, a fun way to see the city without incurring into tiredness-induced meltdowns.
Other non-historic attractions you can explore with your family include the Art Museum, the Franklin Institute, a fantastic science museum with lots of exhibits for kids, the 'Please Touch' Museum, lovely for little ones especially and of course the Philadephia Zoo and John Heinz National Wildlife Refuge, perfect for animal lovers.
Philadephia Observation Desk and Franklin Square with its mini gold are also not-to-be-missed.
Depending on your exact plans, a Philadephia Pass can be a convenient way to explore many city attractions in a convenient way.
A good base to explore Philadephia with kids is Loews Hotel, a great family-friendly hotel in a historical building that welcomes kids with a small gift, nice rooms, a restaurant onsite and even baby gates for safety (ask in advance)
Kennedy Space Center, Florida
If you or your kids are interested in space exploration, the Kennedy Space Center is a great destination that is sure to have your kids hopping with excitement.
You can easily spend the entire day exploring the complex and it makes for a fantastic day trip if you are vacationing on one of Florida's beautiful family beaches and are looking for something a little different.
You can start your visit at the Atlantis Shuttle exhibit and then proceed to the Apollo/Saturn V display but these are only some of the infinite things you can do here: Imax theater, playground, rocket rooms, even meet and greet with astronauts… this is not a place you want to explore in a hurry!
The place is huge and you need a full day to really take it all in.
A cool family hotel you may like close to the center is Westgate Cocoa Beach Resort, with a fantastic pool for kids they are guaranteed to love.
I hope you enjoyed this overview of fun and educational family vacations on the East Coast of the US and it helped you find the perfect weekend getaways for you and your kids. Safe travel planning!