Easy family friendly hikes in Zion National Park suitable for families with kids and no hiking experience.
Zion National Park is where our kids fell in love with hiking.
We have been going on hikes with them since they were babies, with hiking carriers first and with them walking next however, it took them a while to really develop a love for it.
Then, on a hot summer day in Zion, it happened: my hiking-reluctant daughter, at the end of a day on the trails said: 'mamma, can we go hiking all the time?'
This declaration of love for hiking is a testament to how amazing Zion is for kids.
The landscape here is both wild and soothing, the mountains are so perfect you feel like you are in a kids' drawing, there are lots of things to do for kids and the family hikes are numerous, easy and beautiful.
I cannot imagine a better place to go hiking with kids, even those without experience, so if you have a week or even just a day to see Zion, I highly recommend you come and get a taste for this wonderful place!
Easy and best family hikes in Zion National Park
In Zion, there are 6 main hikes marked as 'easy' and kid-friendly.
Riverside walk trail – the best family hike in Zion
I open this list of the best family hike in Zion with the hike we loved most of all, the Riverside Walk.
This walk is one of the most iconic in Zion as it is the access point to the famous Zion Narrows.
We went on it curious to see the entrance to the famous hike, wondering how far we would go, and we weren't expecting the trail itself to offer much.
However, it is a wonderful trail with some of the best views of Zion!
The trail starts from the Sinawava temple shuttle stop and it is a well kept trail suitable for all levels of fitness and even stroller friendly if you are visiting Zion with a baby.
The path follows the Virgin River and it is marked as having small drop offs but they pose not difficulty even if, like me, you are afraid of heights.
At times, you have access points to the river and you will see loads of people cooling in the water – this is a fantastic spot and very tempting not just for a walk but also for a rest!
Farther along the trail, you eventually get to an end-of-trail sign and access to the river itself!
Here, you will see the more adventurous going up in the river to hike the Narrows but also many, like us, who just cooled their feet in this wonderful life-giving waters.
Top Tip! Bring water shoes so you can enjoy the river without getting hurt on the river bed rocks!
Out of all the family friendly hikes in Zion, this was the most scenic and the most exciting for us. If you can only do one hike with the kids, this would be our top pick!
The Grotto Trail – 30 min kid friendly hike near Zion Lodge
The Grotto Trail is the first walk I took with my daughter in Zion.
We woke up super early due to jet lag and since the walk starts right at Zion Lodge, where we were staying, we went exploring bright and early, while my husband and son were sleeping.
The walk is nice and short.
The path starts wide from Zion Lodge and in about 30 minutes brings you to the Grotto which is a scenic picnic area (and shuttle but stop should you decide to go back that way)
The trail is mostly flat, you won't really notice the small elevation gain, and brings you through trees first and then opens up to reveal nice views of the back of the canyon.
Out of all the family friendly hikes in Zion, this was the best morning walk we could ask for.
If you come here before the crowds, it is a great first hike for kids: we went on two more walks the same day so this walk is easily combined with others and can make a good start of the day if you are staying in the park.
Lower Emerald Pools Trail
The lower emerald pool trail is another family friendly short hike from Zion Lodge bus stop.
The walks takes about an hour, longer than the grotto trail, has minor elevation change and gets to the lower emerald Pool and waterfall via an easy, stroller friendly paved trail (like above, if you can, bring an all terrain one, to protect your wheels and back).
Good to know: this is a very popular trail. It is accessible from the Zion Lodge Stop which is one of the most trafficked so, if you can, come here early or later in the day if staying in the park.
Pa'rus Trail – wonderful kid friendly trail with museum stop
The Paru's Trail is a wonderful easy walk in Zion Canyon with some of the most incredible views you can get without hiking at high elevation.
The trail is large and stroller friendly and follows the Virgin River, which is beautiful and so significant for Zion, it makes a great talking point with the kids too.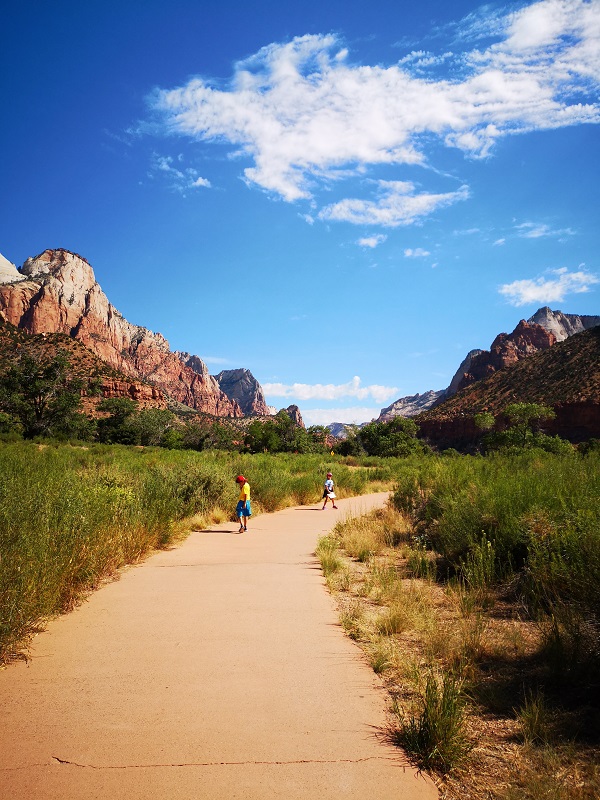 The trail starts at the Visitors Center, passes the South Camp Ground and gets to the museum and then Canyon Junction.
It poses no difficulties and can be done in about 2 hours but I would recommend taking your time for a couple of reasons: one is the heat. The trail is in the sun and if you are visiting Zion in summer, it gets very hot (bring water).
The second has not to do with the trail but with the museum: it is absolutely wonderful for kids and adults and it is also where you often find rangers giving talks, something I highly recommend you do!
The talks we took was about mountain lions and the ranger showed us the skin of a real one: we were all amazed by the talk, we learned a lot and the talk counted towards the kids junior ranger badge, so they got an extra nice kick out of it!
This is one of the easiest family friendly hikes in Zion and a great one if you want to stay close to the Visitors Center yet still catch some wonderful views of Zion Canyon and Mountains.
Read all about walking the Pa'rus Trail with kids here.
The Archaeology Trail – short but steep kid friendly hikes form the visitors center
During your time in Zion you will sure pass by the visitors center and, when you do, you can easily stretch your legs along the short yet steep archaeology trail, which quickly brings you to a nice viewing point.
The trail takes its name from the many artefacts archaeologists found in the area that suggests this was an ancestral Pueblan food preparing spot.
This is a nice hike to take with the kids, has an information panel at the top and a great way to see the wonderful Zion red rocks and valley.
Weeping Rock Trail
The Weeping Rock trail is very short (30 mins) but steep trail starting from the Weeping Rock Zion Shuttle Bus Stop.
The walk takes its name from the pack that the mighty rocks you see at the end of the trail drip with water, which is fabulous to see for the kids and also allows for lots of flowers and plants to grow here – if your kids love to a scavenger hunt while hiking, they will love this place (it is a great education trail).
The path has a steady but moderate incline and what makes it special for adults is how close it brings you the rocks: it reminded me of the hike to Mossy Cave in Bryce, another beautiful easy hike I highly recommend.
Tips for hiking with kids in Zion
All these hikes in Zion are doable with kids however, some preparation is a good idea.
Always check with the rangers before setting off on a trail, even easy ones. Closures are possible and weather warnigns are often in place – make sure you respect them as nature here is powerful
Bring water on all trails, especially in summer
Stock up with trail appropriate snacks
If hiking with a baby, make sure you get a suitable hiking carrier
Bring suitable hiking shoes for the kids and you, trail runner or full hiking shoes are best
Bring water shoes to get into the river
Dress for the weather and don't overestimate the heat in summer. Make sure you have water, sun hat sunscreen, breathable clothing and do make sure you take breaks in the shade.
You can find all our tips for hiking with kids here.
Where to park in Zion and how to get around with kids

Accessibility rules change in Zion depending on the time of the year. In general, be aware that private vehicle traffic is limited and access to the canyon is via the Zion Shuttle. You can find official info here
The shuttle is the perfect way to get around Zion: it goes regularly up an down the main canyon road, it has good seating and an informative tape plays explaining what you see and what you can access from each stop.
A lot of the educational tidbits we learned in Zion were learnt on the shuttle!
The wait is usually short enough however and they put up several buses at peak times however, be prepared for having to wait as at busy times, Zion gets pretty crowded!
How to participate in the Junior Ranger Program at Zion
Zion runs the Junior Ranger program, one of the many reasons why we adore to go to American National parks with kids.
To take part, all you need to do is to get the booklet at the Visitors Center and follow the instruction for the age of your child.
The booklet has a series of tasks for them that range from animal bingo/scavenger hunt games to identifying animal tracks and plants to questions to the history of the park and the area.
To get your junior ranger badge, older kids are asked to participate in a ranger talk – we have done several in several parks and they are interesting and fun for adults and kids so I highly recommend them!
To complete the Junior Ranger program in Zion if you are 8 or older it will take a good few hours, so I recommend you take your time.
At the end, rangers will check parents didn't cheat and answered the questions for you (don't worry, they ask questions you will be able to answer) and then they will reward your efforts with your ranger badge!

Recommended Accommodation in Zion for families
I highly recommend you stay in Zion Lodge, which you can book here.
The lodge is very popular and finding a room is not easy however, keep trying as cancellations do happen.
We book 6 months early so advance planning is a must. You can find our recommended alternative accommodation recommendations near Zion here.
I hope you enjoyed this overview of family friendly Zion Hikes and it will help you find a day hike (or several!) you can take with your kids. Safe travel planning!
Pin this!