A handpicked selection of the best beaches in San Diego for families: kid-friendly beaches in San Diego and surrounding area to swim, surf and family fun in the sun.
San Diego has wonderful family beaches and is one of the best places in California for a sea and sun vacation with the kids.
Laying on the Southernmost coastal stretch of California, right before the border with Mexico, San Diego is blessed with beautiful sandy beaches, swaying palm trees and, in many areas, shallow ocean waters that are great for beginner swimmers.
However, San Diego is also an area of rugged coastline and dynamic nightlife so if you are visiting San Diego with kids, you want to know what beaches in San Diego are great for families, so you know you will get the experience you are after.
We adore San Diego for a family vacation and this is our selection of the best family beaches in San Diego for kids big and small.
Best San Diego beaches for families map
Best beaches in San Diego for families: our top picks
Coronado Beach – the best San Diego beach for toddlers
Coronado Beach is located on Coronado Island, a family-friendly island in San Diego, with an upscale vibe and relaxed, kid-friendly atmosphere.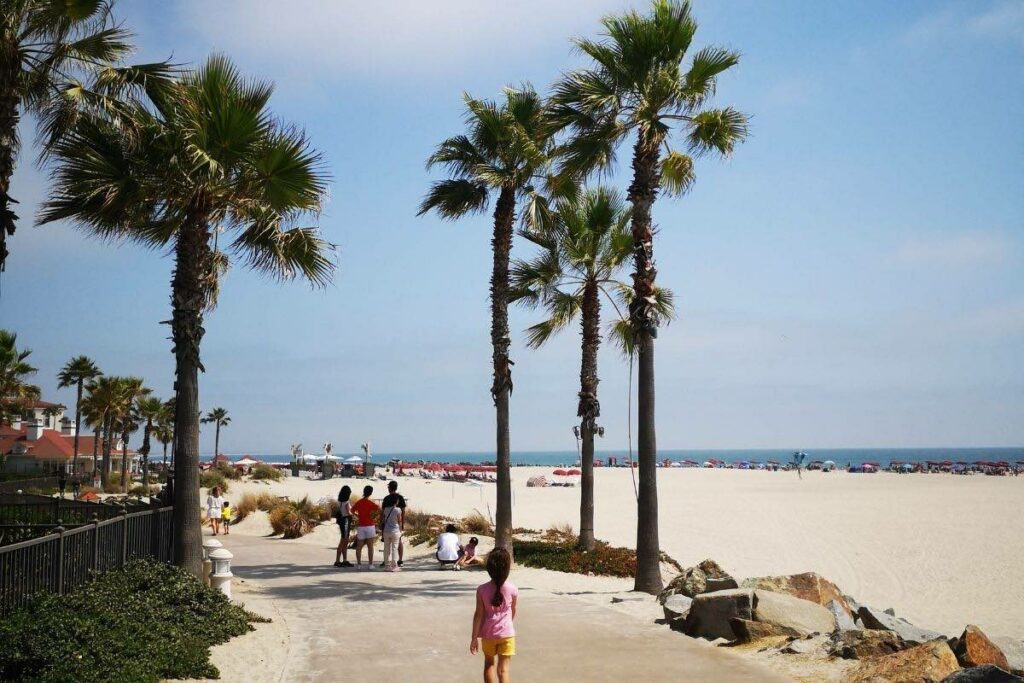 It is a fantastic beach destination for families and has some of the best and safest beaches in the area for toddlers especially.
Coronado Central Beach is a long stretch of soft, clean sand that is simply perfect for toddlers and young kids.
Access to the beach is free and you can bring your own umbrella and beach gear or you can get a day pass for the wonderful Hotel Del, right on the coast, and make the most of their beautiful seafront facilities and beach access.
The beach in Coronado is large and never feels oppressive, even on busy days, and the waters here are relatively calm and warm, which means this is a popular place for families with young kids especially.
This is also a wonderful place to make and admire sandcastles!
Just beside the beach runs a stroller-friendly beachside path and you can easily leave the car along Ocean Boulevard, which means access to the beach with small kids is super easy.

Coronado itself has several play areas, parks and many shops that have all you may need for the day, should you have left something at home,

>>> You can find our full guide to Coronado with kids here<<<
Mission Beach – beautiful family beach in San Diego for kids and teens
Mission Beach is another wonderful family-friendly beach in San Diego.
The beach is a very long stretch of soft sand lined with tall palm trees and has a stroller-friendly boardwalk popular with walkers, runners and rollerbladers.
The southern end of the beach is an area with sports pitches for volleyball and basketball and it is the most family-friendly part of this beach.
This is also where you find family-friendly rentals too: this is the best area for a quiet beach vacation enjoying the ocean.
The northern area of Mission Beach is also family-friendly but has a different vibe: here you have Belmont Park, a seaside amusement park with wooden rollercoaster and a giant dipper, so it is perfect for families with older kids who want to mix time on the beach with theme park rides and don't mind a busier atmosphere.
The whole area of Mission Beach is well equipped with family friendly restaurants and cafes so you have all the facilities you may need always nearby.
La Jolla Shores
La Jolla shores is a stunning family-friendly beach to the north of San Diego, in beautiful La Jolla, one of the best places for a family vacation in while of the US!
La Jolla has many beautiful beaches, most of them small and framed by beautiful rocky promontories, but La Jolla shores is a large, sandy beach with areas for both swimming and surfing and it is a great all-around beach for all types of families.
The Southern end in particular has gentle waters perfect for kids and it a place where they can splash about but also try out snorkeling and kayaking, two popular activities here.
The beach is just beside Kellog park withies wonderful for families and a great place for a picnic and is perfect for kids to run around and play on the grass.
>>> You can find our guide to visiting La Jolla with kids here <<<
La Jolla in general is a lovely place for kids, a town with a beautiful coastline, a very pleasant upscale atmosphere and a plethora of services for families.
Mission Bay – perfect family beach in San Diego for small kids
Mission Bay is a large man-made park along the shores of the Pacific in San Diego city and it is simply perfect for families: here, you find absolutely everything you may wish from a San Diego family beach!
The park stretches for over 4000 acres and has playgrounds, areas for running, cycling, kite-flying and of course wonderful beaches and access to water so that kids can splash, swim or try their hand at watersports such as stand up paddle boarding.
The water here is among the safest in the area and this, plus the nice parks and facilities, make Mission bay particularly popular with families with small kids.
This is one of the best family beaches in san Diego for babies.
The area is perfect for a family day out but can also be a location for a full-on family vacation since here you find several family-friendly resorts, perfect to enjoy the beach but also enjoy all the family attractions in San Diego that are among the best and numerous n the country.
Carlsbad State Beach and Tamarack Beach
North of San Diego lies the wonderful Carlsbad State beach, one of our favorite California family vacation spots.
Carlsbad State Beach is huge and has several parts that are suitable for families, some closer to Carlsbad village and some farther South closer to San Diego.
Two areas our family particularly enjoyed are the area of the beach just beside Carlsbad Village and Tamarack beach, immediately to its South.
Carlsbad main beach is a wonderful place for kids, blessed with golden sands and clear waters.
The waves can be strong here and we found them great for kids' bodyboarding – a very popular pastime here for locals and visitors alike!
The beach is equipped with showers, there is good parking just above and very many restaurants and cafes nearby, with all the facilities you may need.
The surf shop right beside the beach entrance has nice beach gear for sale and it is also where you can book a surfing lesson for children. We did and it was one of the highlights of our summer!
Further south along the same stretch of sandy coastline you also find Tamarack beach, which is very popular with local families and has a designated area of surfing and swimming.
Several family-friendly restaurants and cafes are nearby and there are good parking options along the road, which make Tamarack Beach a great family option.
>>> You can find our guide to Carlsbad with kids here <<<
Moonlight Beach Encinitas – wonderful family beach in San Diego with playground
Encinitas has another wonderful family-friendly beach in the San Diego area: Moonlight Beach.
Here, you find a beautiful sandy beach that slopes gently towards the ocean, many family-friendly cafes and restaurants and something younger children are sure to love: a fabulous playground!
The ocean has a swimming-only area and another area open to surfers which also is good for families in terms of supervisions and risks.
The local shops offer all you may need in terms of food and watersport gear rentals if you have adventurous kids who want to hit the waves.
The only downside of this beach is how popular it is. Parking can be an issue so coming early in the morning, in the high season, is best.
As well as the beach, there are several fun things to do in Encinitas that are fun for kids and parents alike: we highly recommend you visit!
Silver Strand State Beach – fantastic family beach in San Diego for nature lovers
The Silver Strand is the thin strip of land connecting Coronado Island to mainland San Diego and is a long stretch of beach with beautiful sand and beautiful waters.
Compared with Central Coronado Beach, Silver Strand beach feels more remote and is a great place not just to swim and play but also to enjoy nature.
The beach is very long so even when many people come here, it doesn't feel too crowded.
If you want to enjoy the quiet areas of the beach, you need to bring tour won equipment however, it is also possible to get chairs and umbrellas as the Loews resort, that caters to own guests and day visitors alike.
>> Find info on this family beach in San Diego and day packages here <<
Del Mar City Beach
Del Mar City Beach is a nice, family-friendly beach in San Diego, popular with families due to its beautiful sand and easy access, close to all the beautiful shopping and dining del Mar has to offer.
Del Mar Beach has several grassy areas nearby perfect for a beachside picnic, restrooms and lifeguards and it also has a lovely playground for toddlers with slides and baby swings.
The beach is very popular at the weekend so the only downside can be parking: bring coins for on-street parking and be ready to walk to reach the sand. If you have a beach stroller, this is a good place to use it – access to the beach is via a concrete ramp.
South Ponto Beach with kids – cool family beach in San Diego along Highway 1
South Ponto Beach is a beautiful family-friendly beach in the north San Diego area, where the Batiquitos Lagoon meets the sea.
The beach is sandy and pretty, there are lifeguards on duty and it is a good all-around beach for swimming and surfing.
The area is less developed than others so you may want to bring your own gear and picnic. You may want to bring your own beach snacks and a baby sun tent for a most comfortable day in the sun.
The beach is just off Highway one, so if you are on a family road trip along Pacific Coast Highway, this can be a good pit-stop!
La Jolla Cove and children pool La Jolla – best San Diego beach for kids who want to see sea lions!
All the family beaches in San Diego I have mentioned so far are for fun in the sun however, San Diego also has beaches where you can see beautiful wildlife such as sea lions!
Some of the coolest beaches in this sense and firm family favorites are La Jolla Cove and La Jolla Children's Pool where, in the right season, you can see seal pups up close!
From the street, all you need to do is look down and you will see furry seals catching the sun on the golden sand – one of the best beach experiences in Sa Diego for kids and adults alike!
Please note that Children's Pool despite the name is not a beach for swimming.
Torrey Pines State Beach and State Reserve
If you are looking for a family beach in the San Diego area where you can rest after hiking, then you will love Torrey Pines State beach.
This sandy stretch of coast is just beside Torrey Pines State Reserve, one of the best hiking spots for families near San Diego, and it is perfect to catch some sea air after a family walk.
This kid-friendly beach in San Diego beach is over 4 miles long and it is a good beach for playing in the water: bring water shoes so the kids can enjoy also the rockier parts of the shore.
Tips for visiting San Diego beaches with kids
If you are not used to California beaches, these are some practical tips for visitors that may come in handy:
Always watch out for surfing areas / swimming areas signs.
While many beaches allow both activities, others have designated areas for each – they are usually well signposted. If you have kids who want to do both, you are likely to be able to find a spot where the two areas meet.
Do not give lifeguards for granted
Not all beaches have lifeguards on duty all the time or at all. Make sure you are comfortable with the level of water safety of the beach you choose, especially if you are used to calmer waters (we are used to the Mediterranean and the Pacific is a very different beast!)
Bring your own gear
Unlike most of southern Europe, California beaches have wonderful, free areas of sand with no beach clubs. This is wonderful and kind on the budget but it means you need to bring your own beach gear! Find our recommended gear for a beach day with a toddler here.
I hope you enjoyed this quick overview of the best beaches in San Diego for families with kids and it inspired you to plan a family vacation in this stunning stretch of California. Safe travel planning!
Best beaches in San Diego for families: pin this!