14 incredible ideas for a perfect family vacation in Northern California and family weekend getaways in Northern California that are perfect for kids and their parents.
Northern California is one of the most beautiful places we have ever visited as a family.
Blessed with jaw-droppingly beautiful nature, picture-perfect coastline, amazing cities and tons of family attractions, it is a place both the kids and us adored and one we simply cannot get enough of.
If you are planning a family vacation in Northern California, you are in for a treat!
These are our top picks among the best family vacation spots in Northern California, fun things to do in Northern California with kids and our tips for visiting.
Whether you are planning a weekend getaway in Northern California or a longer stay, we trust you will find a vacation idea you will love.
Please note: this post contains affiliate links and, should you make a purchase through them, we might make a small commission at no extra cost to you.
Family weekend getaways in Northern California Map
Best family vacations in Northern California: our top picks
Visit San Francisco with kids
San Franciso is a fantastic city to visit with kids.
In a scenic location that is sure to stop on their tracks kids and adults alike, San Francisco has many kid-friendly attractions typical of a big city but also wonderful opportunities to relax in nature.
A perfect mix for a family vacation!
Things to do in San Francisco for kids include the incredible Exploratorium children museum, a visit to the sea lions at Pier 39, a ride on the cable car, a trip to Alcatraz and of course time admiring the Golden Gate Bridge and enjoy the many kids' attractions in Golden Gate Park.
Go to Chrissy fields for a day on the beach with views of the bridge and then get the car back and enjoy the incredible cuisine of this international city for the perfect experience.
This is a fantastic family weekend getaway ideas if you want your kids to enjoy the thrill of an exciting big city.
Find family-friendly hotels in San Francisco here
Plan a family weekend getaway in Berkeley
Berkeley is a delightful university town immediately north of San Francisco and a fantastic place for kids of all ages.
Berkeley University Campus is wonderful and inspiring and the city has many attractions for kids and adults alike.
Small kids are sure to love the Berkeley Aquatic Park, Habitot children's museum, Shorebird Park Nature Center and the fantastic slides at the rose garden, which also has beautiful views parents are sure to love.
Adults will enjoy the restaurants and dynamic feel of Shattuck Avenue and everyone will be able to enjoy pretty Berkeley Marina.
Pretty, walkable and interesting, Berkeley is the perfect California family getaway and also a great base to discover Northern California and wine county, should you have more time to explore.
This is a lovely weekend getaway in Northern California for families who love the atmosphere of a beautiful and stimulating university city.
Stay at the family-friendly Double Tree Hilton Marina Berkeley for a lovely location on the water and a kid-friendly welcome
Marvel at mystical Muir woods
Muir woods national monument is a wonderful place to visit with kids and one of the most child-friendly spots in Northern California.
A forest of giant redwoods, in Muir Woods you find yourself walking along boardwalk among the 'tallest living things' and the impression is magical.
The trees are incredible and kids can learn about them and the place getting the fun junior ranger booklet at the entrance.
Muir Woods can be easily visited as a day trip from San Francisco but the whole area is wonderful and the whole Marine County area can be a wonderful getaway idea
Find our tips for visiting Muir Woods with kids
Find family accommodation in Marin County here
Enjoy Napa, Sonoma and wine country with kids
If you think you have to skip wine country because you are vacationing with the kids, you want to think again.
Wine country is super family-friendly and one of the best places to visit in Northern California with kids.
Pretty and with beautiful weather, wine country has many wineries that are family-friendly and are well equipped to welcoming children: some have a garden for picnics, others have a pool, others again are a full-on castle!
They are fun to visit for a day or a weekend getaway if you love wine but, maybe unexpectedly, even if you don't.
The place is so beautiful, you will enjoy it even if wine is not your thing.
Families with small kids should not miss Traintown in Sonoma, a cute amusement park for kids with a train theme while families with older kids will want to visit Mission San Francisco Solano, a wonderful mission in the heart of Sonoma town.
Find our tips for visiting Sonoma with kids
Wine country is the perfect family vacation in Northern California if you want stunning scenery and the upscale, relaxed atmosphere of a wine region.
Stay at the elegant Fairmont Sonoma Mission Inn and Spa for a northern California resort experience or find family-friendly hotels in Sonoma here.
Visit the fantastic and kid-friendly Monterey Aquarium
Monterey is one of the most kid-friendly places in California thanks to its incredible aquarium, one of the best in the world.
The aquarium in Monterey is vast and wonderful for kids: here you can see super cute sea otters, jellyfish so bright they look from another planet, banks of sardines and you have tons of play area for kids big and small.
Outside of the aquarium, Monterey has beautiful ocean views, lovely restaurants and shops and it is close to some of the most scenic drives in California highway one and 17-mile drive, both scenic and easy to tackle with kids.
This is a great weekend getaway in Northern California for kids, no matter the weather.
Stay at the elegant Monterey Plaza Hotel and Spa Resort, or find family-friendly hotels in Monterey here.
Explore otherworldly Lassen Volcanic National Park
Lassen Volcanic Park is one of the lesser-visited yet best National Parks on the West Coast to visit with kids.
Made up of volcanic land, this is an incredible place to see geothermal activity and have the experience of walking on a real volcano!
For kids, the park offers a good junior ranger program.
The park has lovely camping options too, which are great for outdoorsy families who want to be close to nature and have a Northern California adventure.
This is the best family vacation in Northern California if you want to get off the beaten track and see something truly unique, a great destination for outdoorsy families.
Find info on camping options in Lassen Volcanic National park here.
Have fun in Fort Bragg, home to incredible Glass Beach and the Skunk Train
Glass beach is a beach entirely made of rounded, colorful glass debris and one of the most peculiar places in California and one of the best Northern California attractions for kids.
The beach formed by the accumulation of glass waste and thanks to the action of the sea, now this debris has lost its sharpness and it is smooth and safe to touch.
It is an incredible place at any age and incredible for kids who won't get over how cool the colors are and the bragging right to say they walked on broken glass!
Close to the beach you also have the Skunk Train – together, they make this area simply perfect for a getaway with the kids.
The train is an old machine that got its name from the distinctive smell that, history tells us, announced its arrival and it is a fun ride for families.
Their journey brings you through beautiful redwoods, the quintessential NorCal scenery, and they have themed seasonal events that are magical for kids such as the pumpkin train and the magical Christmas train.
As well as the train, here you can catch the railbikes which are super fun for kids and visit the model railway. Basically, the perfect Northern California getaway for kids who love trains!
A trip to Fort Bragg and the Mendocino Coast is the perfect Northern California family vacation if you love rugged scenery and fun kids attractions.
Find all the info about the Skunk Train here
Go cycling on Angel Island
Angle island is an island in front of San Francisco and a fantastic place to go hiking, biking and sit in nature.
A day here starts with a cool ferry ride to the island and then you have your choice of things to do: you can stay on the beach, go hiking, rent bikes, visit civil war era Camp Raynolds or get a tram tour – a good option if you have little kids who may get tired.
Angel island is also a great camping spot in northern California so if you are looking for a fun camping getaway with kids near San Francisco and the Bay Area, this is a good spot!
this is the perfect camping getaway in northern california for active families
Let yourself and the kids fall in love with Yosemite National Park
Yosemite national park needs no introduction.
One of the most beautiful, famous and family-friendly parks in the USA, Yosemite is a natural playground for nature-loving families, with something to offer to kids of all ages.
Yosemite Valley is the main area of the park in terms of facilities and the starting point of many family-friendly hikes.
Here, you can easily see waterfalls, co biking, float and splash in the river, visit a happy island center and learn about bears and take the fantastic junior ranger program, all while surrounded by some of the most incredible mountain scenery you have ever seen.
You can find all our tips for visiting Yosemite National Park with kids here.

Yosemite has several lodging opportunities that make it great for a northern California getaway with the kids no matter your travel style. You can stay in a historical property or camp, being sure the kids will never be bored here.
This is the best family vacation spot in Northern California if you love nature.
Stay at wonderful Tenaya Lodge for a Northern California resort vacation or find our guide to the best places to stay in Yosemite with kids here.
Disconnect in Big Sur
Big Sur is the most scenic area along the famous Highway 1 coastal drive and a fantastic destination for families with kids.
The area is rugged and beautiful and what you have here is the opportunity to truly tap into the wild coastal scenery of California.
Here, families can camp or stay in one of the several secluded lodges available, hike in Limekilkn state park, go tide pooling, see the incredible McWay falls in Julia Pfeiffer Burns State Park and spot wildlife including sea lions!
This is a wonderful drive and a perfect family getaway in Northern California when you want to feel disconnected and immerse yourself in nature and jaw-droppingly beautiful ocean views.
This is a perfect Northern California getaway for families who want to put away their phones and immerse themselves in nature.
Have fun on the cool Santa Cruz boardwalk
Santa Cruz is a beautiful city on the Northern California coast famous fie a good university and something that is great fun for kids of any age: a boardwalk with vintage roller coasters!
The Santa Cruz boardwalk is great fun for kids: depending on their age, they can go with m on small or big rides or even just enjoy the snack stalls and carnival atmosphere.
If the boardwalk is not your thing, Santa Cruz also has a large beautiful beach and it is a premier surfing spot: must make sure you equip tour kids with a wetsuit as the water is cold.
this is great vacation sport in northern California for kids who love to surf.
Find family hotels in Santa Cruz Here
Get outdoorsy on the shores of Lake Tahoe
Lake Tahoe is a premier Northern California vacation spot for families, with lots to do for kids all year round.
If you visit Lake Tahoe in summer, you can can enjoy many family-friendly camping opportunities and lots of hiking spots suitable for kids and beginner hikers.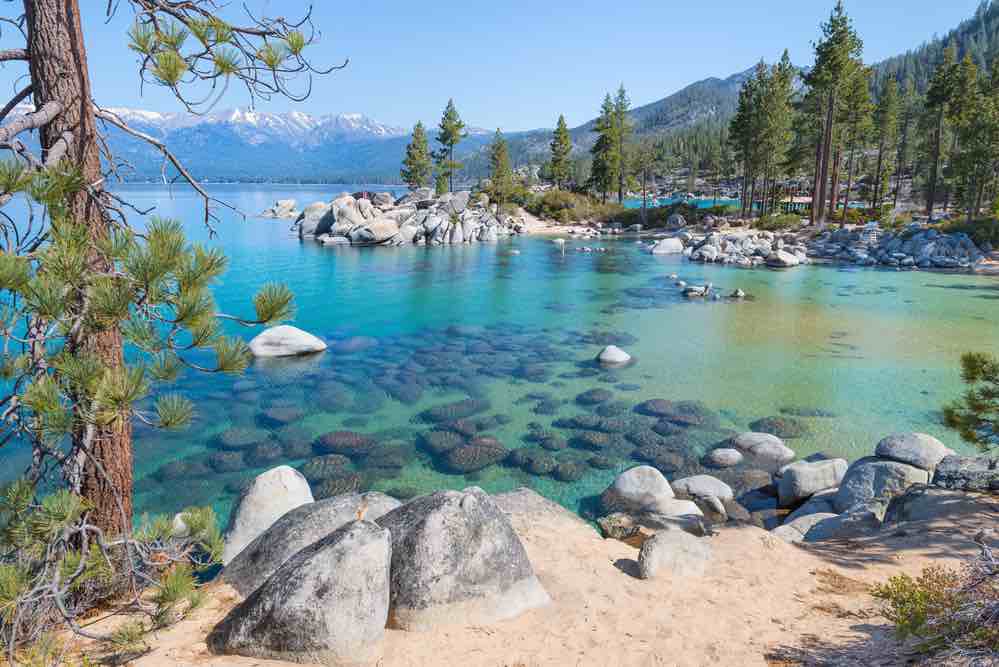 This is a great hiking spot in the US for families with small kids.
You can go boating, which is stunning here with those views, while in the winter you can come here for family friendly skiing.
Basically, the perfect recreation area in Northern California with some of the most beautiful waters and mountains to act as your background!
Top tip: if you are new to hiking with kids, you can find useful tips and recommended gear in our hiking guide for families
Where to stay during your Northern California Family vacation
Northern California has family accommodation options to suit all travel styles.
The most scenic and impressive hotels and resorts tend to be on the higher end of the budget spectrum (but are properly fabulous if you can afford it) but you also have a good choice of rental properties and campsites to choose from.
For family-friendly Northern California camping, you can look at Angel Island, Elk Valley, Lake Tahoe, Yosemite and Lassen Volcanic National Park, all wonderful for camping with kids.
If budget is not an issue and you are looking for is a Northern California family vacation during which you can just relax, then you should look at the many wonderful family resorts in Northern California.
Depending on the temperature you are hoping for and your budget, you can choose between wonderful options such as Carmel Valley Ranch, the elegant and kid-friendly Ritz Carlton in Half Moon Bay or the already mentioned Tenaya Lodge in Yosemite.
For a mid-range vacation, we had great luck with the many mid-range hotels and inns available statewide, which we usually book via booking.com
What to pack for a family vacation in Northern California
Northern California has many different microclimates so you will need to pack layers.
Unless you are staying in one spot, for instance, enjoy one of the beautiful Northern California family resorts mentioned above, you are likely to find yourself in shorts during part of the day and reach for a jacket a minute later – never underestimate how cold it can get even in summer!
To make the most of the great outdoors in this area, we highly recommend you bring a wetsuit and water shoes for the kids, an all-terrain stroller and a baby and toddler carrier.
A car is a must so also make sure you are equipped with all you need for long car rides with kids, from snacks to car games for the whole family.
Family vacations in Northern California: pin this!