30 fantastic educational vacations for families. Educational trip ideas kids and adults will love.
I believe travel is hugely educational and all travel experiences can be transformed in learning opportunities about the world.
However, if you have children who are studying a special time in history, a certain ancient civilisation or are particularly interested in a culture other than their own, then some destinations are better than others.
As the name of this site may have already given away (we are called 'learning escapes'!) we have more than a couple of ideas on what constitutes a cool educational vacation for families.
These are out top vacation spots for families who love learning though travel!
These trips are based on our experience, we will add to them as we keep exploring, there are still so many things we haven't even touched up yet!
Pin this image and come back to our educational vacations for families list often to see updates!
Educational vacations for families in Europe
Immerse yourself in history in Rome, Italy, and the Vatican
Rome doesn't need any introduction as an educational destination.
With a history spanning over 2000 years and some of the most famous historical landmarks in the world, the city is a dream for history lovers and a super fun place to explore with kids!
Where else in the world can you learn about the Romans while walking in the sun, eating gelato and pizza?
As cliche' as this may sound, it truly is hard to imagine a better place for a learning holiday with kids and the fun doesn't stop there.
There are so many family attractions in Rome, you can mix visits to historical sites with fun classes for kids, time in the park, a visit to the children museum and of course prolonged moment of rest and play in the stunning city's piazzas and playgrounds.
Spend at least 3 days in Rome to see the main historical landmark, a week or more for a more significant learning experience.
Rome with kids travel resources (didn't you know? I am from Rome!)
With this much to see, it simply had to open our list of ideas for educational vacations for families!
Explore Paris and Normandy, France
Paris is one of my favorite cities in Europe to visit with kids and one with amazing learning opportunities for kids of all ages.
Whatever type of learning is most suited to your kids, the city delivers.
If they are Kinesthetic learning and interested in science, then the Par de la Villette is a real treat, full of interactive installations and experience to stimulate the mind and the body.
If they love museums, the Louvre is one of the best museums in the world even for kids (the ancient part is stunning) and a visit to Versailles is the best possible way to feel the inequality that eventually sparked the French Revolution.
Paris and the north of France are also wonderful to learn about the Second World War.
The D-Day beaches and memorials are very touching and powerful and learning opportunities like few others to appreciate the magnitude of the tragedy war can bring.
Stay at least 3 days in Paris and an additional 3 or more for the Normandy beaches. One of the best educational vacations for history lovers.
Find our guide to Paris with kids here and out selection of the best places to visit in France with kids here.
Learn about Art, the War and the Cold War in Berlin, Germany
Few places in the world bear the scars of the events of the 20th century and embody the resilience of people as much as the city of Berlin.
A place not to be missed at any age, Berlin is wonderful and full of educational opportunities.
In the Museum Island, you can visit stunning vestiges of ancient civilisations and marvel at the lions of Ishtar's Gate and the immerse Pergamon altar.
Outside of the museum halls, you can see what remains of the Berlin Wall, Checkpoint Charlie, the inner city checkpoint separating the American and the Russian sector during the Cold War, the touching memorial to the victims of the Holocaust and, more in general, experience and city that has experiences destruction and found the strength and creativity to stand back up.
This is one of the best educational vacations you can take with school age kids with a grasp of history.
Spend at least one weekend in Berlin to see the main landmarks. You can find our guide to visiting Berlin with kids here.
Discover Brussels, Waterloo and the I World War Battlefields
If Berlin is one of the best places in Europe to learn about the II World War, Belgium is one of the best to learn about the I World Was as well as older history such as the conquest and then the demise of Napoleon.
Places not to be misses in Belgium are Waterloo, the battlefield where Napoleon got defeated, now an interesting monument, Ypres and the I World War trenches and Brussels, a city now hosting the European Institutions that preside over peace in the EU block.
Spend at least 1 week in Belgium to tap into the many learning opportunities in this country – you can find inspiration in our guide to the best things to do in Belgium with kids and our guide to Brussels with kids here.
Learn about the Greek Civilisation with a road trip in Continental Greece and Southern Italy
Western civilisation as we know it wouldn't exist without the influence of the Ancient Greek culture, which gave us, among many other things, the concept of democracy.
You can spend a lifetime studying the Ancient Greek world but even if you only have a vacation to devote to it, there is plenty to learn, all wrapped up into one of the most beautiful countries you can ever seen for landscapes and see!
An educational vacation to learn about the Greek can only start from Athens and the Acropolis, but should also include stops in Delphi, home of the ancient Oracle, Olympia and Crete, some of the most important cultural centres in Greece.
Spend at least one-week road tripping in mainland Greece, or opt for an island vacation in one of the best Greek islands for families, which offer a mix of educational visit and great beach fun.
Don't forget to also follow the footsteps of the Greeks as they brought colonies in Asia Minor (now Turkey) and Southern Italy.
Ephesos, Syracusa, the Valley of the Temples and Paestum are all localities not to be missed on an educational trip to the Mediterranean region.
Spend at least 7 days in Sicily and one full day in Paestum.
This is one of the best educational vacations for people who love the idea of a family road trip in historically significant locations.
Travel guides to the region:
Learn about daily life in Roman times in Pompeii and Ostia Antica
A wonderful and educational way to see history come to life is to walk along the streets and and peek into the houses of ancient cities, something you can do in two very special places in Italy: Pompeii and Ostia Antica.
Ancient cities dating back to Roman times, they are incredibly well preserved examples of ancient architecture and are sure to be interesting and educational for kids.
Pompeii is also rather spooky, something may kids tend to enjoy! Spend one full day in each archaeological site to enjoy them without rushing.
You can find our guide to Ostia Antica here
Learn about art, music and the era of discoveries in Lisbon, Portugal
The era of maritime explorations is interesting and significant and a wonderful place to learn about it is Lisbon, home to may explorers and departing port to many expeditions across the Atlantic and beyond.
A wonderful city with a very interesting history, Lisbon is easy to visit with kids and has plenty of additional learning opportunities about the era and much more.
In Belem, you can visit the monument to explorers, the wonderful Jeronimos monastery, Unesco worldfd heritage site, while in the city you can explore the ancient quarter of Alfama and learn about azulejos (tiles) and fado (music), two of the many artistic wonders of Lisbon.
To top it all, you can visit the many educational museums of Lisbon such as Pavilhao de Conoscimiento and the electricity museum for a European educational trip that is fun for all ages.
Spend at least a weekend to tap into the city's rich culture
Lisbon Travel resources:
Explore Barcelona and its architecture, Spain
Barcelona is one of our favorite destinations for an educational trip for kids as it is not just interesting but also varied, colorful and immensely enjoyable.
The main attractions in the city for children and adults is the incredible architecture of Gaudi', world famous.
This visionary architect created buildings in the city that are like no others: round shapes, colors, and unexpected lines come together in creating designs that are unique and easy to appreciate at all ages.
Park Guell, Casa Battlo' and the Sagrada Familia church usually get all the attention but Recinto Modernista is also worth a visit.
Fantastic museums such as the Picasso Museum and the historical center Barrio Gothic are also beautiful and the Catalan culture of the city will also be a wonderful learning opportunities for kids who will be able to tap into the complexity of this area.
Spend at least a weekend in the city to see the main landmarks.
You can find our guide to Barcelona with kids here.
Explore Madrid, Segovia and Toledo, Spain
If you want to learn about the history of Spain, then you should consider a history filled educational vacation in central Spain.
Madrid, Segovia and Toledo are all close to the each other, well connected by train, and form a powerhouse of historical significance
Segovia has the remains of an impressive Roman aqueduct and a wonderful jewish quarter, Toledo has a beautiful Alzacar (castle) and many interesting churches and Synagogues telling the interesting story of this city, and Madrid is home to some of the most beautiful art museums in Europe.
Blessed with good weather and delicious food, a family trip to Spain is perfect if you are looking for a family destination that is educational and fun.
Spend a week to discover these 3 locations. Central Spain travel resources:
Explore Andalucia, Spain
Andalucia is a beautiful region in Southern Spain with a distinct character nd a very interesting cultural history, shaped by the influence of the Arabic civilizatin, which used to call this area home.
The result is mesmerising, the architecture and culture richness of Andalucia are inebriating and easy to experience at any age.
Among the best and most famous places to visit there are Seville, Cordoba and Granada, howe respectively to the Alcazar (castle), the Mezquita (Mosque, turned church) and the Alhambra, amongst the best examples of Arab architecture in Europe you can find.
Add the delicious food of the area and you have the perfect educational vacation spot for the whole family!
Spend at least a week discovering the area.
Find:
Visit Amsterdam, Netherlands
Amsterdam is one of the easiest cities in Europe to visit with kids and a place with a plethora of learning opportunities for all ages.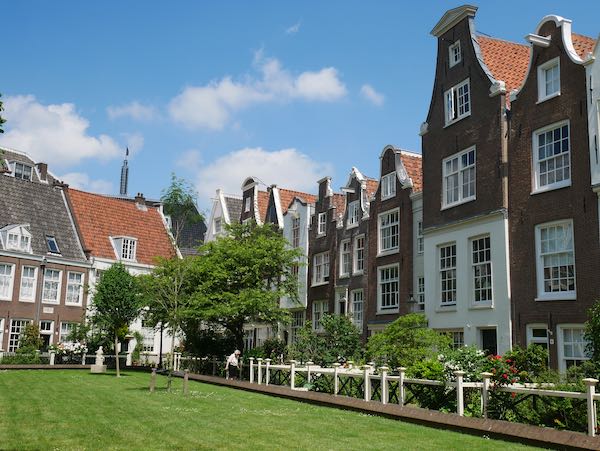 As you walk around Amsterdam, curiosity will let you learn about the city's canals and teh peculiar history of the struggle to gain land from the sea, which shapes Dutch history and society.
If you enter the city's museums, you will find the most incredible art, displayed in such as way kids will easily enjoy it and connect with kid (even standard museums here have plenty of kids activities on offer) and older kids will be able to tap into the tragedy of the prosecutions during the II World War visiting Anne Franke's House.
nearby, you can also see Keukehnoh garden and the tulip field, which are steeped in history as the centre of what is usually called 'Tulipomania', an economy driving passion for tulips the Dutch exported to the world.
Spend at least one week to visit the city and the tulip fields.
Travel resources for Amsterdam and the Netherlands:
Explore prehistoric Newgrange, Ireland
If your kids are interested in prehistory, then I highly recommend you visit one of the only two Unesco World Heritage sites in Ireland, the prehistoric tomb of Newgrange.
This is a place like no other.
In the middle of the countryside, stands what looks like a domed chamber covered in grass and that is one of the most ancient monuments in the world: a tomb dating to neolithic time, so well preserved we can actually visit inside!
The tomb is famous for its antiquity but also for a peculiar astronomical reason: the one window it has, allows light in only one day of the year ,the day of the winter Solstice!
When in the area, you can also explore the locations and monuments to the battle of the Boyne, of the most significant events in Irish history.
Spend at least a week in Ireland to include this area in your itinerary or plan a full day trip from Dublin if you are local.
Travel resources:
Discover Stockholm, Sweden
Sweden is one of the most beautiful cities in Europe and a place full of learning opportunities for kids.
the city center as a whole, Gamla Stan, is Unesco World Heritage Sites thanks to its sheer beauty and the peculiar architecture, reflecting on to the many city canals but the city also has stunning museums that are wonderful for kids and adults.
One of the most impressive is probably the Vasa Museum: here, you can a galleon from the 1600s that sank in Stockholm waters and is not perfectly preserved for us to see!
As well as the Vasa, Stockholm has wonderful art museums and the fun Post Museum, which is educational and great fun for little kids especially.
Canal cruises and organised tours for the whole family also abound, for visitors of all ages to tap into the history of they important and regal town.
Spend at least 3 days in the city to see its main landmarks.
Find our guide to Stockholm with kids here.
Explore Florence, the cradle of the Renaissance, Italy
Florence is often described as an open air museum and indeed, it is hard to pint-ion a city with a larger concentration of monuments, all free to enjoy!
Florence was originally a Roman town however, it is its history during the Middle Ages and specifically renaissance times that made it that work of art that the city is now.
Its city center is recognised as UNESCO World Heritage Site and is a place where you can walk though history and soak up the Middle Ages and visit some of the best art museums in the world. All while enjoying he family frist attitude of the Italians and, of course, while licking gelato!
Spend at least 2 days in the city not to have to rush. Florence Travel resources:
Explore Vienna and Salzburg, Austria
Austria is wonderful destination to visit with kids and place where learning happens everywhere.
Two of our favorite places of all are Vienna and Salzburg: home to Mozart, Freud, the opera, the Imperial palace and some of the best museums in Europe (the Albertina is wonderful!), they are beautiful, easy to visit and have something kids are sure to love: cafes with some of the best cakes in Europe!
Find our guide to one day in Vienna here
Educational vacations for families in the USA
Visit Muir Woods National Monument, California
Muir Woods national Monument is one of the first places we visited in California with kids and one of our favorite.
The Monument has both natural and historical significance and it is stunning to see.
The Woods are home to the Sequoia SemperVirens, the tallest living thing (!) and they are also the place where, in 1945, delgates of the UN COnference then held in San Francisco met to honor F.D. Roosevelt 'hirty-first President of the United States, chief architect of the United Nations, and apostle of lasting peace for all mankind' as the plaque in the Woods still recalls.
The place is educational, powerful and so beautiful, it has a magical quality to it both adults and kids will adore.
Spend a day at the monument as a fun and educational day trip from San Francisco.
You can find our guide to visiting Muir Woods with kids here.
Experience the mighty nature of Yosemite National Park, CA
Another place where to experience the beautiful nature of the United States is Yosemite National Park, a park with mountains so beautiful and Unique to be now a Unesco World Heritage Site.
Yosemite is a wonderful place to learn about mountain ecosystem, get active, learn about trees and conservation and especially about bears!
Yosemite has a wonderful bear population and the learning center at Happy Isle teaches you all about them.
A wonderful learning opportunity and a stunning American National Park to add to your US travel bucket list!
Spend at least 3 days in the park to experience its hikes, waterfalls, museums and to participate in the park junior ranger program.
Find our guide to Yosemite with kids here.
Learn about the Navajo Nation at Monument Valley, AZ/ UT
The most remote places in the US we have even been to is the wonderful Monument Valley, a place of outstanding natural beauty and perfect for learning about the Navajo Nation.
Located in the border between Arizona and Utah, this is native land and the only guided tours of the are are by Navajo Guides. The experience with them is wonderful!
While Monument Valley is often associated with Western Movies and Forrest Gump (both fun), taking a tour with a Navajo guide allows you to learn about the history and lives of the people of the area and learn what life as a native American in this area means.
Wonderful and powerful for adults and kids.
Spend one of two days in the area to make the most of the learning and hiking opportunities.
Travel guide to Monument Valley:
Explore the cultural melting pot that is San Francisco
San Francisco is one of the best cities in the world to visit with kids and a wonderfully educational one too.
If you are looking for structured learning, the city has wonderful museums (kids museum but also The Presidio, The Museum of African Diaspora, The Golden Gate Bridge Museums just to name a few) and animal attractions that are excellent for kids, the most famous and exciting of all being the wonderful Exploratorium.
Alcatraz is easy to visit with kids and has programs just for them and the city as a whole is so culturally rich, it is like a trip around the world.
Take your time to experience the different areas and foods and take the opportunity to talk about inequality when faces with homelessness, something kids from other cities may have never seen in this scale.
The have fun enjoy the wonderful landscape of the Bay, cycling on the Golden Gate Brigde (there is a cool visitor center too) and get the kids excited about academic pursuits with a visit to inspiring Berkeley!
Stay at least a week.
Find our guide to one day in San Francisco with kids here.
Visit the many kid-friendly museums of Los Angeles, California
Los Angeles is mostly associated with movies and beaches however, there is a lot more to the city than this!
As we discovered during our several home exchanges in the city, Los Angeles is also full of wonderful museums and learning opportunities for kids.
Among the many, our children loved the Tar Pits (prehistory), the outdoor installations at LACMA, the wonderful Getty Center and California Space center as well as the interesting areas of Olvera Street and Old Pueblo Los Angeles and Japan town.
All this is wrapped up in a city with attractions, movie references and beaches so beautiful, kids won't know where the learning ends and the fun begins!
Stay at least a week.
Find our favorite things to do in Los Angeles with kids here.
Learn the history of Southern California in Old Town San Diego Historic Park, CA
If you are in the San Diego area, then I highly recommend you spend a day or at least a morning in Old Town San Diego historic park.
The park is wonderful for kids and highly educational: here, you can appreciate how the city of San Diego used to be, you can visit old houses, shops and museums and you can do so while enjoying wonderful Mexican foods and learning the history of the area.
Spend a day or a morning. Find how to include a visit to Old Town in your day in San Diego here.
Explore the California missions, CA
If, like us, you went to school in Europe, you may not have been exposed to the history of the California missions, something we discovered only when visiting the area.
The missions are numerous and, in most cases, very pleasant and beautiful to see and are at the center of the history of the area, something European history books do not cover.
With the children, we visited the mission San Francisco Solano in Sonoma, the most northern of all, and that of San Luis Rey in Oceanside, different from each other yet both worth seeing.
If in the Sonoma area, spend at least a weekend exploring. Find our guide to visiting Sonoma with kids here.
Learn about geology and the power of nature in Grand Canyon National Park, AZ
National parks are among our favorite educational destinations in the US and one of our most favorite of all is the Grand Canyon.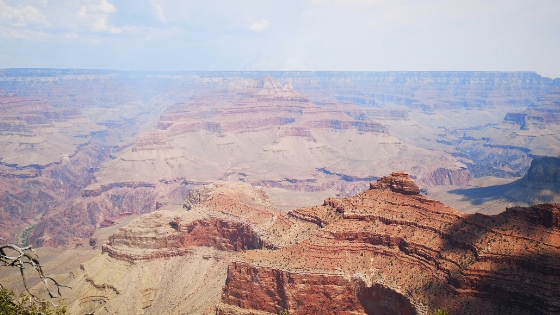 Mighty, beautiful and so unique to know be UNESCO World Heritage Site as place of outstanding natural beauty, the Grand Canyon is highly enjoyable as a destination for outdoorsy families but it is also a great place to learn about geology, erosion, animals and the nations that call this palce home.
Find our guide to visiting the Grand Canyon with kids here
Learn about deserts and the challenges they face in Joshua Tree National Park, CA
The first desert our kids ever experiences was the dessert of Joshua Tree, in California, or I should probably say the deserts of Joshua Tree, plural, since this National Park is the place where towo different desert systems meet, the Mjabe and the Colorado desert!
Thanks to the excellent Junior Ranger program in the park, this wonderful desert is a fabulous outdoor classroom to learn about deserts in general and the conservation challenges they face.
This is a wonderful educational trip from LA or San Diego. Find our guide to Joshua Tree with kids here.
Admire human ingenuity at the incredible Hoover Dam, NV
if you ever want to get your kids to fully appreciate the scale of some human intervention in nature, then you should bring them to the Hoover Dam, the dam blocking the Colorado rivers and providing energy to the entire South West of the USA, up to Southern California!
The dam is absolutely breathtaking and while it is currently close to visitors, should be high on the list of educational trips for kids and is out of this world interesting.
You can find our guide to visiting the Hoover Dam with kids here.
Explore New York City, NY
The city of New York is a wold of wonders for kids and adults and a place so full of educational activities, you can spend a lifetime here and not run out of things to do!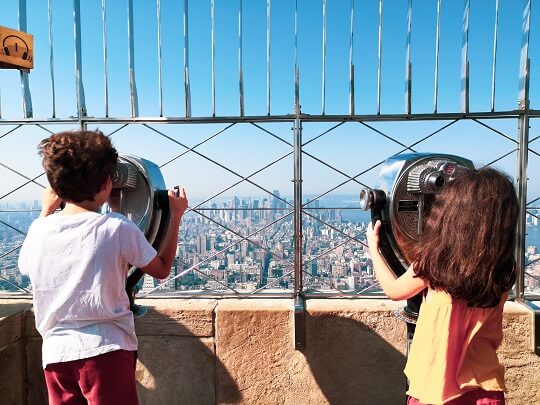 Out of the very many, we adore visiting the Met, especially the Cloisters that are fabulous for kids too and, of course, visit the Statue of Liberty and Ellis Island, a place where immigration, with the hope and tragedies connected to it, truly comes to life.
You can find our guide to one day in NYC during our last visit here.
Mix learning and beach time in stunning Mexico
Mexico is another fantastic destination for families who love culture.
It is also a marvellous place for families who want to spend time on the beach so if you want to hit that full family vacation mood and also get some learning done, Mexico is just the spot!
Our favorite area for a learning trip to Mexico is Yucatan. This is the Mexican peninsula that stretched into the Gulf of Mexico and a place with interesting Mayan Ruins worth seeing.
Here the kids can learn about the Mayans, have a taste for the jungle, and also relax and feel adventurous snorkeling in cenotes (freshwater, naturally occurring sinkholes) and the many beaches of the area.
You can find our favorite places to visit in Yucatan with kids here
Explore family-friendly Bali
Bali is one of the most family friendly destinations in Asia and a wonderfl place for culturally curious families.
Blessed with stunning nature and beaches, Bali has wonderful cultural traditions that the locals are happy to showcase and partake with visitors old and young!
This is one of the best learning and educational vacations you can take with children of any age.
You can find a list of the best cultural activities to do in Bali with kids here.
Visit Cuba with kids
Depending where you are from, a visit to Cuba could be easy or impossible at present however, if you have the chance, I highly recommend you go!
As well as being a place with wonderful white sandy beaches and the deepest blue waters, Cuba is an island with aculture so unique, it simply needs to be experienced, somehting that is easy to do thanks to the family friendly attitude of teh Cubans.
if you can, spend several days in Havana, see the museums, the cars, listen to the music and taste all the food.
Then take a drive and explore the rest of the island including Trinidad and the area of Vinales, two of the several Unesco work heritage sites on the island.
With a unique history and wonderful nature, educational vacations don't get much better than this!
Learn why we would love to go back to Cuba with the kids here
Listen to the Dalai Lama in Dharamshala with kids, India 
One of the most powerful experiences I have ever had as an adult was listening to the Dalai Lama speak in Daramshala, the mountain station him and his people now call home.
A visit to the Himalaya may seem daunting with kids but is actually not hard to plan and enjoy and can stay as an educational experience like no other.
Dharamshala is welcoming, well organized and culturally very interesting and it is a fantastic place to experience Tibetan culture with ease, at any age. You can read about our experience in Dharamshala here.
Learn about Emirati Culture in the glitzy UAE
The United Arab Emirates may strike you as a modern, fun place for a family winter sun holiday more than one to experience culture but, actually, they are a wonderful place to get a taste of Middle Eastern Culture.
Read our guide to Dubai with kids and Abu Dhabi with kids and let these cities surprise you with its interesting historical district and museums!
I hope you enjoyed this selection of educational vacations for families and educational trip ideas for kids. Safe travel planning!