All you need to know to plan a trip to Italy with a baby: best places to visit in Italy with baby, where to buy baby gear in Italy and practical tips for a baby friendly Italy vacation.
Italy is a wonderful destination for a young family.
The country is famous for having a family first approach and indeed, moms and babies in Italy are treated like royalty, people falling over themselves to accommodate you.
I have witness this several times myself.
I am Italian, but I live in Ireland now and visited Italy as a tourist when my first born was just 6 weeks old and then again when my second baby was 5 months old.
We have also been to Italy with the kids many other times but that first experience stayed with me: that first vacation in Italy with my baby was relaxing, easy and magical and sealed Italy as one of our favorite destinations of all.
This doesn't mean there are no challenges: some aspects of Italy are not baby friendly (facilities, mostly!). However, all you need is to be prepared, know what to expect and be equipped with practical travel tips.
This is my best advice to plan a first trip to Italy with a baby.
Please note: this post contains affiliate links and, should you make a purchase through them, we might make a small commission at no extra cost to you.
Please note: as an Amazon Associate, I earn from qualifying purchases
The best places to visit in Italy with baby
You can visit anywhere in Italy with a baby in tow but some areas are more baby friendly than others. Some of our favorite baby friendly destinations in Italy are the following.
The Italian Dolomites – the best baby friendly destination in Italy for outdoorsy families
The Dolomites are a stretch of mountains in the easter part of the Italian Alps, in the region of Trentino Alto Adige and Veneto.
This is an area of exceptional natural beauty and natural Unesco World Heritage Site and they are wonderful for families with babies and toddlers.

The Dolomites have tall peaks but also very accessible nature, which is perfect to enjoy with little ones. Some of the elements that make the Dolomites so baby and toddler friendly are:
Large selection of family hotels, offering accommodation ranging from self catering apartments to all inclusive formulas, perfect for all types of family vacations
Lots of outdoor playing opportunities such as nature playgrounds, sensory paths, petting farms
Plenty of family hikes, many toddler and stroller friendly
Beautiful scenery for the whole family even at lower altitudes
Clean air, perfect for keeping your baby and toddler away from busy city streets
You can find our full guide to the Dolomites with small kids here
Lake Garda
Lake Garda is the largest lake in Italy and a wonderful baby and toddler friendly destination in Italy.
The place is stunning and easy for families: the scenery is beautiful, the tows well equipped, access to the water is easy and you have very many family hotels that cater to kids with excellent outdoor areas and facilities.
On Lake Garda, you can be as active or as quiet as you want to be: opportunities for cycling and hiking abound however, it is also a great place to just take it easy.
We were there when my son was 1 year old and I was 3 months pregnant with my daughter so you can trust me when I say it was easy: anything less than super easy would have been impossible for me at the time!
You can find our guide to Lake Garda with kids here.
Tuscany – perfect country retreat for families with babies and toddlers who love the countryside

Tuscany is one of the most visited and famous areas of Italy and also one of the most baby friendly ones!
The region is blessed with stunning countryside, lovely small villages and a wonderful kid friendly coastline with sandy beaches and clean waters and it is also very easy to visit thanks to well served towns and a great transport system.
Tuscany is the perfect place if you are planning a family vacation in a villa, with options to day trips.
Some of the things that make Tuscany so amazing with toddlers and small kids are:
Great selection of landscapes, all within short distances: you can decide on the day if you feel like the sea, sightseeing or the country, a sure way to keep meltdowns to a minimum!
Cool theme parks for those days when nothing but playing can do. My children adored Cavallino Matto in Marina di Castagneto Carducci!
Plenty of petting farms and agriturismo for toddlers to be in youch with nature – have a look at our review of Maiano, near Florence, to get a sense of how amazing they can be
We have traveled to Tuscany extensively and we have several travel guides just for families. You may want to check out:
Puglia – baby friendly destination in Italy for families who love the beach and sightseeing

Puglia is the heel of the Italian boot and one of the most baby friendly in Italy.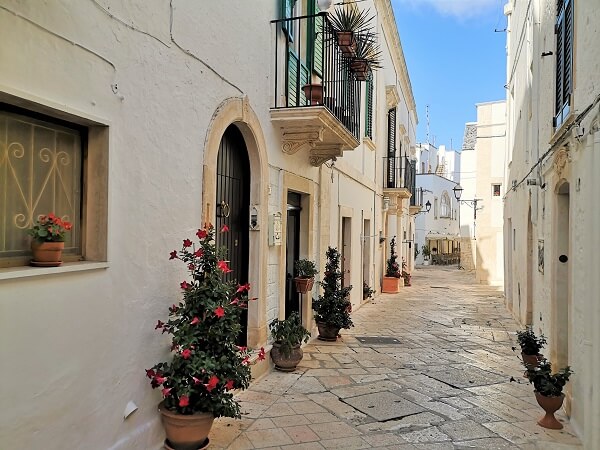 The region is stunning: the coastline here is wonderful and has many clean, sandy beaches that are perfect to splash around and toddler swimming and the area also has lovely towns that are great for sigthseeing.
If you are looking for a baby fiednly destination in Italy that gives you good weather, beaches and small town charm, Puglia is just perfect!
Puglia is best explored by car and you can explore with a kid-friendly road trip, since the distances are rather small, or you can select a place to stay and simply relax there.
Our travel resources about visiting Puglia with small kids are here:
Rome – the best city break in Italy with baby

Rome is my hometown and one of the best places for a city break with kids.
Rome is huge and crowded so plannin ga visit here with a baby or toddler does require some planning however, there are so many things that make Rome kid friendly, they will compensate the challenges big times.

The main things that make Rome baby friendly are:
Stunning parks, perfect for long days in nature and at the playground, even if in the middle of the city
Many outdoor, free attractions you can visit in your own time, respecting baby nap time and toddler needs
A plethora of accommodaiton options to suit all budgets and needs, from all inclusive hotels with pool to smaller apartments for city center living.
Excellent access to shops, facilities and health professionals, even in English, should you need any help
You can find my full guide to visiting Rome with a baby or toddler here.
More challenging destinations to visit in Italy with baby and toddlers
Venice with babies and toddlers
Venice is one of the most beautiful cities in Europe and the world and a wonderful place to visit with small kids however, it is a city on water and this does pose concerns to families with toddlers especially.
Canals in Venice are dirty and not fenced, and while they are so unappealing toddlers are not likely to want to jump in, accidents can happen so being careful and alert at all times is paramount.
On top of this, Venice is a city that requires a lot of walking and that is not always stroller friendly so again, some planning is needed to make sure your Venice trips doesn't become an exhausting exercise.
All that said, Venice is so beautiful, I believe you should absolutely add it to your Italy itinerary and all you need are some tips to tackle it at best.
You can find our tips for visiting Venice as a family following the links below:
Amalfi Coast with a baby
The Amalfi Coast is a very scenic, very beautiful stretch of coast in the South of Italy, famous for beautiful towns perched on cliffs and a scenic drive between them.
The area is one of the most beautiful in Italy but as the description above shows, it is not the most conducive to a relaxing Italy vacation with baby or, should I say, a toddler.
The main issues you will face here have to do with mobility: the towns are mostly steep and stroller unfriendly and driving between one and the other often a bit of a nightmare because of traffic.
The towns also tend to be busy and they don't all have good playgrounds or areas for kids.

However, this does not mean you cannot enjoy the Amalfli Coast with little kids! All you need is to be prepared and we can help!
Cinque Terre with babies and toddlers
Cinque Terre is an coastal area in the north of Italy famous for having colorful villages perfeched on high cliffs plunging into the Mediterranean.
The place is so beautiful and peculiar that Unesco listed as World Heritage site and indeed, it is a wonderful part of the country and one that should not be missed.
Here you can enjoy pretty, colorful towns, stunning sea views, good hiking and some sea and sun relaxation.
Steep cliffs however do not make a place toddler friendly and indeed this is not the most baby friendly area of Italy.
However, like for the Amalfi Coast, we have tips that I believe will help you enjoy Cinque Terre with small kids in town.
Using a stroller in Italy: what you need to know
I highly recommend you bring a stroller when visiting Italy with a baby or toddler.
The country is famous for having cobbled streets and you may worry that hopping on and off trains with a stroller in Italy can be hard however, I believe that the advantages of having one with you compensate big time the challenges.
The key to successful stroller use in Italy is to know what to expect and have the right model.
Some important things you should know:
You are likely to have to fold the stroller when using public transport and trains
You are likely to have to fold the stroller in restaurants
Cobbled streets are awful for small wheels and may break them
Some area of the country namely Cinque terre and Amalfi coast mentioned above are stroller unfriendly
Many areas have streets that are either less than smooth or see cars parked in such as way you need to walk on and off the road to avoid them
The solution to all of this is a mix of patience and the right gear. You can find strollers that worked for us in Italy at the following links:
Bring a carrier
While I believe a stroller in Italy is a great piece of gear to have, I also recommend you bring a baby carrier for all those times when a stroller is simply not an option.
If you go to the Dolomites or Cinque Terre I recommend you for for a structured hiking carriers such as this one
If you are planning city trips and museum visits, I recommend a soft semi structured carrier such as this one.
You can find the full list of baby carriers for travel that worked for us here.
Where to buy diapers in Italy and other baby and toddler essentials
In Italy you buy baby diapers and essentials in grocery stores (alimentari) supermarkets and pharmacies.
Supermarkets come in all sizes and they stock diaper, baby wipes, essential baby toiletries, formula and baby food (weaning essentials).
Find here >>> our complete guide to supermarkets in Italy
Depending on the location they may have longer or shorter opening hours but please be advised that usually they do not operate 24/4.
To be on the safe side, try not to run out of supplies out of hours as this can pose difficulties.
Pharmacies are one of the best places in Italy to get baby gear. They sell diapers, baby essentials and also baby medications as well as high end products such as baby sun screen.
Breastfeeding in Italy and feeding your baby
Breastfeeding is very common in Italy and you usually have no problems doing it in public spaces such as a café or a restaurant.
This is excellent if you feel comfortable with it but less than great if you prefer a private setting: Italy is not great in terms of breastfeeding rooms and they are the exception more than the rule.
Usually your best bet is a large department store: those usually have the best baby changing facilities and baby rooms (La Rinascente is usually a good one, you find it in many cities across Italy).
If you have a bottle, cafes are usually happy to heat it up for you. Please be advised that milk if cafes tend to be very fatty as this is the best type for foam on cappuccinos etc.
If you ask for milk for your toddler, make sure this is ok for you – if you don't do dairy, bigger cafes now offer other types of milk however, this is not the norm yet especially in smaller centers.
Good to know: if you need to carry expressed milk, we have found some good cooler bags for traveling with breast milk here.
Eating out in Italy with a toddler
Italian food has many toddler friendly option but often you do not find them presented as such on the menu.
Italian restaurants tend to not have kids menus however, they are always happy to make a simple plate of pasta with tomato sauce for your toddler or make a toddler sized portion of anything on the menu.
This is good to know as it means you can eat with a toddler in Italy pretty much anywhere, even if the places is not marketed as 'family friendly'.
What you do not always find in Italy however is highchairs. For easy meals out, I recommend you bring your own. You can find our favorite travel high chairs for toddlers here.
Meal times in Italy
Another issue you may find eating out with a baby or toddler in Italy is mealtimes.
Italian restaurants rarely open for dinner between 7pm (7.30 is the most common time for a first serving) and this can be a problem if you have a toddler with a different meal schedule.
My best tip is to embrace snacks.
Italy has many reasonably healthy snacks for toddlers, ranging from supermarket snacks to lovely freshly bakes bread, and you can lengthen the time between meals stocking up on those and handing them out when needed.
My other tip to deal with later mealtimes in Italy it to go for aperitivo.
Aperitivo is the tradition of going for pre dinner drinks and snacks to a local café and it is not for adults only.
While many embrace it as an opportunity for a heavier drink, it is perfectly acceptable to have a juice or non alcoholic beverage for aperitivo and toddler can tuck into the food offered, usually ranging from crackers to vegetables and crisps!
Baby friendly accommodation in Italy

In Italy you find any type of family accommodation you can dream of such as:
Hotel / Albergo: this is the standard name for a hotel, the two words being used interchangeably. Hotels come in all style and sizes and some also have apartments attached should you want a self catering option.
Need to know: hotels in Italy have strict occupancy rules and these apply to babies as well. Make sure you always inform them you have a baby with you when booking, even if planning on co-sleeping.
B&B/Pensione/Guesthouse: usually these describe smaller hotels, with or without a breakfast option onsite or, sometimes, offered in a nearby café
Villas – staying in a villa is a popular way to spent a holiday in Italy with a baby or toddler. The best areas to do so are Tuscany, Umbria, Veneto
Agristurismo – this defines country homes with, usually, large estates now turned into welcoming accommodation for guests.
Agriturismo are everywhere in Italy and depending on the specific establishment you can find a full on working farm or an elegant estate.
They usually offer wither rooms or self catering apartment and they may or may not have a restaurant on site.
Masseria – Masseria is a name given to country estates in the south of Italy especially. Masserie come in all shapes and sizes and can be as rural and as luxurious as you want.
They can be a lovely place to stay in Italy with a baby or toddler if you want a mix of resort style accommodation but don't want to go the all inclusive way.
Good to know: if you prefer to bring your own baby bed, you can find here a list of good baby beds for travel and good toddler travel cribs.
Best time to go to Italy with a baby or toddler
You can visit Italy all year round however, some seasons are better than others.
The best time to visit Italy with a baby are the spring and the autumn, so you can avoid the extremes of temperatures.
The best time to visit Italy with a toddler also are the spring and the autumn as you can maximize the time outside and at the playground
The winter can be an ok time to visit Italy with a toddler however, you need to make sure you wrap them up well as Italy can get seriously cold, especially inland and on the mountains.
You can find our month by month guide to Italy here.
Driving in Italy with baby
By law, babies and toddlers must be secured in an approved car seat in private cars so you need to make sure you have a safe one with you if driving anywhere.
Usually you can book them with your car rental however, you can never know how they have been kept so I highly recommend you bring your own.
If you are traveling to Italy by plane, you may find this list of plane approved car seats handy (please also always double check with your airline as rules change often).
More family travel resources for visiting Italy with a baby or toddler
You can find our list of baby travel essentials here
You can find a list of our recommended toddler travel essentials here
You can find our tips for flying with a toddler here
You can find our full guide to planning a trip to Italy with kids here
You can find out tips for traveling with young kids here
Planning a trip to Italy with kids? Then consider joining my FREE Facebook group 'Travel Italy with kids' HERE, where we can chat all things about family travel in Italy!
I hope you found this guide to Italy with a baby or toddler handy. Safe travel planning!