Best family vacation destinations in the world: a roundup of the best vacation spots for families and best family holiday ideas! Updated November 2021.
What does your dream family vacation look like?
Googling 'the best family vacation destinations in the world' is my addiction and the result of these web wanderings is a list of family travel dreams and family vacation ideas that are guaranteed to inspire your wanderlust – and that of your kids!
These are my top picks of great places for family vacations around the world.
They are based on our own trips which we now recommend to others and real family vacations fellow travelers and friends have actually taken and loved.
I hope it will inspire you and help your family travel plans!
Need to know! Make sure you check official sources for current travel rules and restrictions that may affect your ability to enter and visit each country. Useful resources are your own country Government Travel Advisory Page and the consulate/embassy of you the country you want to visit.
On the fence about taking the kids on international travels? Read these family travel quotes and find all the encouragement and inspiration to pack up and go!
Best family vacation destinations and trip ideas
Italy – perfect vacation destination for all types of families
Italy is one of the most family-friendly destinations in the world and the perfect spot for a family vacation for pretty much all types of families!
In Italy, you can have a sea and sun holiday, you can have a hiking adventure, you can binge on city exploring or you can do a bit of everything, all without taking off work more than a couple of weeks!
Even better, you can keep your Italy family adventure eco-friendly if you use the excellent train system that criss-crosses the country.
You can find tips and suggestions on what to see in Italy with kids in the following article: How to plan a family trip to Italy – step by step guide
Top tip: for first-hand, personalized tips for visiting Italy with kids, join my Facebook group about Italy with Kids Travel Tips and Ideas – it is free, super friendly and packed with info. I would love to see you there!
Croatia with kids
If you are looking for a family destination that mixes sightseeing with lots of time on stunning beaches, then you should look no further than Croatia!
Croatia is a stunning and super welcoming destinations for families.
Easy to reach by ferry or flights, Croatia is perfect for a relaxed stay or a road trip.
Our favorite way to visit is by renting a car. Driving in Croatia is easy and this is by far the best way to cover a lot of ground, as buses exist but tends to make for long journeys.
Places not to be missed in Croatia are Dubrovnik, stunning Split (must for families and history lovers) and the stunning and kid-friendly beaches of Brac and Hvar.
You can find here >>> our complete guide to visiting Croatia with kids.
Ireland – the perfect family road trip destination
If you are looking for a road trip destination that stunning, easy and not too tiring for kids, then look no farther than Ireland.
Small, English speaking and so beautiful you will have to pinch yourself to make sure you are not dreaming, Ireland is an exceptionally family-friendly destination and a great place for a family vacation both for experience travelers and families at their first international travel experience.
We have been living in Ireland for the last 15 years, and these are our guides to visit Ireland with kids.
Ireland is so child-friendly and easy to explore, it is our top pick as best destination to travel with family for first-time family travelers.
California – the destination travel dreams are made
California steals everyone's heart and how could it be otherwise?
This gorgeous US sate is breathtakingly beautiful, varied, interesting, family-friendly and easy to explore: what is not to love?
There are many ways to visit California but the quintessential California adventure takes you on the road and there are plenty of family road trip itineraries around California to choose from!
Short on time? Take a few days to discover the San Francisco area and stretch to wonderful Yosemite.
Prefer a sea and sun option peppered with desert adventures? Head to Southern California and road trip along Pacific Coast Highway or head east to Joshua Tree National Park
Want to add a special treat for the kids? This is the home of Disneyland, family days out don't get much better than that!
We have been going on a family holiday to California for the last 4 years in a row. These are our family travel guides to the area.
Utah with kids
Utah is one of the most scenic states in the USA and a fantastic place to visit with kids.
A road trip through the stunning scenery of the Southwest of the US may well be the most beautiful family adventure you will ever take.
Here, you will find stunning rocky deserts, red rocks, hiking opportunities and beautiful forested and mountain areas perfect for outdoorsy families.
Our favorite places in Utah for families are Zion National Park, Bryce Canyon and the nearby Kodachrome Basin.
Our favorite way to explore the area is by taking a family road trip: you can read about our fantastic Utah itinerary here.
Arizona
Another fantastic family vacation destination in the US is beautiful Airzona, where you find some of the most impressive landscapes in North America.
The Grand Canyon is here, which is simply breathtaking at any age, Page and its slot canyons are here and also the pleasant and outdoorsy localities of Sedona and Flagstaff, both super family-friendly.
The Hoover Dam is also here, which is such an engineering achievement, it should not be missed!
The best way to explore Arizona with kids is by car. This will allow you to cover the long distances in this state and also to stretch to remote yet stunning Monument Valley: maybe my favorite place in the whole State!
You can follow our Southwest itinerary here.
West Coast National Parks
The West Coast has some wonderful National Parks that are perfect for an outdoorsy vacation with the kids.
Depending on the type of climate and experience you want to find, you can choose between mountain landscapes (Yosemite, Olympic), desert (Joshua Tree, Death Valley) or even beautiful marine destinations (Channel Islands NP).
You can find our favorite West Coast National Parks for kids here.
USA East Coast National Parks
The USA East Coast is also rich in beautiful and family friendly national parks.
In the north, you find rugged coastline and stunning forested areas, while in the South, you get unique landscapes such as swamps in the Everglade and Coral reefs in Dry Tortuga!
East Coast national parks can be wonderful for a family getaway and make lovely stops along an East Coast family road trip.
You can find our favorite East Coast National Parks for families here.
USA beaches
If you are looking for a sea and sun vacation in the US, you are spoilt for choice!
You can find our selection of the best family beach destinations in the USA here.
Yucatan, Mexico
Yucatan, the Mexican peninsula stretching into the Gulf of Mexico, is a wonderful vacation destination for curious families.
Blessed with white beaches and blue waters, Yucatan is often mentioned as a place with big resorts and all inclusive packages and indeed, it has that but it also has much more!
If you leave the built up area of Cancun, Yucatan has some of the best tropical beaches we have ever seen and a plethora of incredible archaeological ruins to discovers and water adventures to be experiences.
For a sea and sun vacation, stay in Isla Mujeres and enjoy the opportunities to swim and snorkel.
For beach and Mayan ruins, choose wonderful Tulum and do not forget to also explore inland and sightsee in beautiful Chichen Itza and Merida.
You can find the list of our favorite places to visit in Mexico with kids here.
Curacao with kids
It is hard to beat the Caribbean when it comes to sea and sun vacation but this is not always the easiest destination for families with school age children.
Hurricane season happens just when the schools are off, threatening rain or worse. However, there is a solution and the solution is going to Curacao!
Curacao is a wonderful island right in front of Venezuela.
Located immediately below the hurricane belt, it is safe to visit even in summer, when kids are off school, and it has wonderful beaches as well as Unesco World Heritage Site city: Willemstadt.
Well connected to Europe with directs flights to the Netherlands (Curacao is Dutch) this is a great vacation destination for families with kids who want a sea and sun Caribbean holiday during the long school summer break
Read more about Curacao with kids here.
Good to know. If planning a sea and sun vacation, you can use our family beach vacation packing list to make sure you have all you need.
Cuba
If you can travel to Cuba, I highly recommend you do as it si simply perfect for kids!
Cuba has all a family vacation destination can offer: the beaches here are sandy and wonderful, the cities are historical and beautiful (Havana is magnificent), the people super friendly and the history unique.
You can red why we adored our time in Cuba here.
Quebec, Canada
Quebec was our first overseas destination with the kids and one we adored!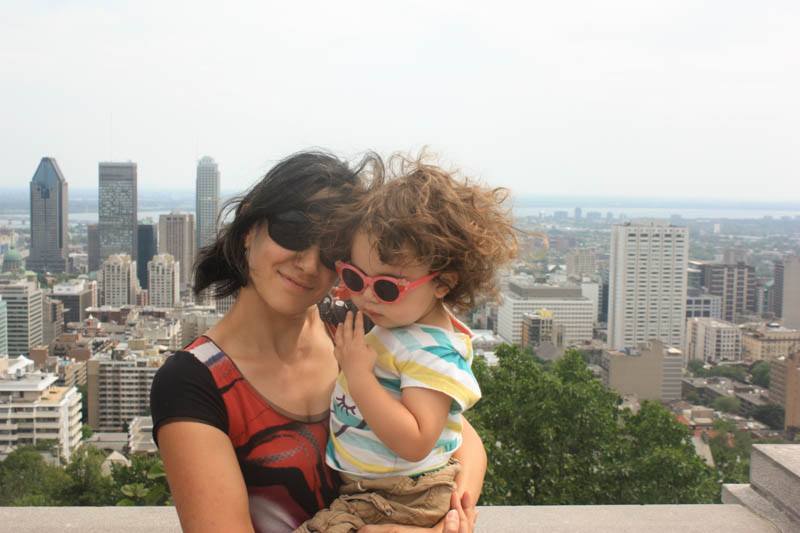 Kid friendly, beautiful and varied, Quebec has plenty to offer to familes with kids.
Our recommendation is to base your self in family friendly Montreal and explore from there. the city itself has plenty for kids and nearby you have lovely Mont Tremblant national park, perfect for a getaway in nature camping (or in one of the great park resorts!)
United Arab Emirates – perfect for sun and theme park lovers
The United Arab Emirates are one of the best family vacation destinations for families looking to mix theme parks fun for the kids without renouncing a taste for the exotic.
Safe, easy for families and close enough to Europe to be a great family destination even for a short school break, the Emirates is a great place for winter sun and for families who enjoy good hotels and resort facilities.
I hear the theme parks (Ferrari world! Legoland! Yas Waterworld!) and the hotel pools are out of this world!
I am myself planning a trip to the Emirates for the coming spring and these are the best resources I have come across.
Bali – for a sea, smiles and cultural family vacation
Bali entered my list of best family vacations in the world thanks to the website 'Rolling Along with kids' which is entirely dedicated to the island of Bali and how to enjoy it as a family.
The more I read about it, the most I am convinced this is one of the best spots for a family vacation if you are looking to mix time at the beach with cultural exploration and family-friendly fun.
The Balinese are known for being exceptionally welcoming to kids!
My go-to resources for a family trip to Bali are:
Australia
Far, beautiful, English speaking and the home of koala and kangaroos: Australia simply had to feature among as one the best family travel destinations in the world!
There is a lot to see and do in Australia with kids so much, actually, that the problem is not much what to see in Australia but rather: how to see it all!
The distances here are immense and I don't just mean the time needed to get there: the country itself is huge!
Depending on the time you have, you can see it all or break it down into more manageable chunks.
These are the best resources for planning a family trip to Australia:
Spain and Portugal
If you dream of a family holiday in Europe that mixes city sightseeing, time at the beach and a little bit of adventure, then a rail trip through Spain and Portugal may just be the ticket!
Blessed with beautiful weather, great scenery and some of the best European cities to visit with kids, Spain and Portugal are super family-friendly and easy to explore by train.
They are the perfect destination for great family vacations for families based in Europe who do not want to fly and or families coming from overseas looking for a low impact and fun way to travel once in Europe.
Family travel resources for Spain and Portugal are here:
Greece
Greece is a very popular family travel destination and with that stunning blue sea, gorgeous waters and out-of-this-world beautiful archaeological sites, it is easy to see why.
There are many ways to enjoy Greece with kids.
If you want an island vacation, spend time on the beach and soak into the Greek azure colors, then you can opt for a Greek island vacation.
You can choose between big islands, small islands, resort-style stays and more off-the-beaten-track locations – we can help you pick the best place to go with this guide to the best Greek islands for families, with picks for all travel styles!
If you prefer a road trip with the kids and stay on the Greece peninsula, then you should opt for a family road trip in the Greece mainland and Peloponnese.
Compact, beautiful and a fraction of the price compared with busy Santonrini or Mikonos, the Peloponnese has stunning sea, world-famous archaeological sites and is within easy reach from Athens.
This is the best family vacation destination for families who want to mix cultural adventures and time at the beach.
Good family resources for a family trip to Greece:
Benelux
If you want to show your kids some of the most beautiful European capitals without driving or covering excessively long distances, then this train journey in the Netherlands, Belgium and Luxemburg is just what you need.
You can also stretch as far as Paris, for a true European adventure!
With an itinerary in this area, you can easily visit Amsterdam, Brussels, Luxembourg and Paris all in the space of a few days and you can also add many shorter day trips to explore the fabulous countryside of this part of Europe.
Each of these destinations has plenty to offer to kids and their parents and know it well since we go often and can personally vouch for it!
You can find family city guides for this area here:
Switzerland – one of the best family vacation destinations for mountain lovers
Families who love outdoor pursuits should put one place on their family vacation list: Switzerland!
Located in the heart of Europe and blessed with some of the most beautiful mountain scenery you can dream of, Switzerland is the perfect family destination for sporty kids, both in summer and winter!
Some of our favorite resources for family travel in Switzerland are:
France
France is a wonderful destination to visit with kids and a very east to one to explore by car, train and bikes!
Depending on the time you have and the type of experience you are after, you can have a lovely sea and sun vacation in the French Riviera, perfect to relax on beautiful beaches and go sightseeing with the kids.
If you prefer discovering small villages and take in the charming colors of some of the best lavender flower fields in the world, you will be happy to know that Provence is a light with kids and if you love castles, then a road trip to the Loire Valley with kids will be fun for the whole family!
If you have enough time, you can even see them all planning a full family road trip around France.
Find our guide to the best places to visit in France with kids
United Kingdom
The United Kingdom is a lovely place to discover with kids. Easy, safe and varied, it is one of the best family vacation destinations in Europe and has many areas and attractions that will please adults and kids alike.
London is a fantastic city to visit with kids and you can easily spend your whole vacations here.
if you prefer more natural environment, you can explore lovey Cornwall and Devon, with their pretty beaches, stunning Wales and of course the beautiful castles and windswept landscapes of Scotland.
Even better, you can do it all in just one trip by car train, or a mix of both! You can find our favorite places to visit inn the UK with kids here.
I hope you enjoyed this list of great family vacation destinations and ideas around the world and it inspired your 2022 family travels. Safe travels!
Best family vacation destinations: pin this!