Tomorrow we are going to Rome! And the excitement in our house is sky high: the kids are on a sugar rush induced by the mere thought of all the gelato they are going to have and I have spent the day with the 'onerous' task of figuring out how to see all the friends I want to see in our limited time there.
Having more friends than time is NOT something I am going to complain about!
But before we can indulge in our Roman holiday, we need to pack and this is our task for tonight. I have already shared my tips for packing light when travelling with children, but with this post, I want to go a step further and share our actual children packing lists: one for my boy (5 years old) and one for my girl (who just turned 4).
I have packed children carry on only bags more times than I can count: our very first one-bag-only trip, as a family,  happened when my son was only 2 months old and when we realised that we had not only survived but even enjoyed the trip, we were hooked. Since then, we have travelled short and long haul and we have of course also added an extra traveller to the group: my daughter.
We loved all our family trips and thanks to sometimes funny mistakes, we are slowly but surely perfecting our technique for no stress, no hassle family packing and travelling. So today is the day when I share with you one of our biggest stress busting tricks: our tried and tested kids' packing list for Europe in the spring/autumn, good for trips of any length.
Carry on only packing list for children: details
Length of stay: 1 week + (if you stay longer, I strongly advise to do laundry on the road)
Type of holiday: city break/ cultural tourism
Season: Spring
Children bags: Trunki children luggage (if you are unsure about it, read my full Trunki review here) + Kikki Deuter daypacks (review here)
To make every item work hard, I make sure the kids wear sensible clothing for the journey, that is suitable for both departure and arrival cities.
Travel they will be wearing: Jumper, long sleeved cotton top, short sleeve t-shirt, trousers (leggings for my girl), socks and underwear, mid-season jacket (hence the layering of the two tops), runners
Great jackets for this season are the ones by Patagonia such as  Girl's Down Sweater Ultramarine XS
which is warm but not excessively so.
And in the bags we are going to have (each):
2 pairs of trousers
5 t-shirts
1 long sleeved top
1 jumper
Underwear and socks (7 pairs of each)
bathing suit/goggles/crocs/swimming hat (because you never know, there might be a pool!)
1 pyjama each
1 teddy
1 sticker book
Toiletries and medicines: kids shampoo, hairbrush, toothbrush, toothpaste and basic medicines (we normally bring paracetamol, antihistamine cream + syrup and disinfectant wipes only, but this list does get revised every time and depending on our destination).  Toiletries and medicines are  usually in my carry on with the rest, to avoid opening too many bags at airport security, but I list them here as toothbrushes are something we always tend to forget!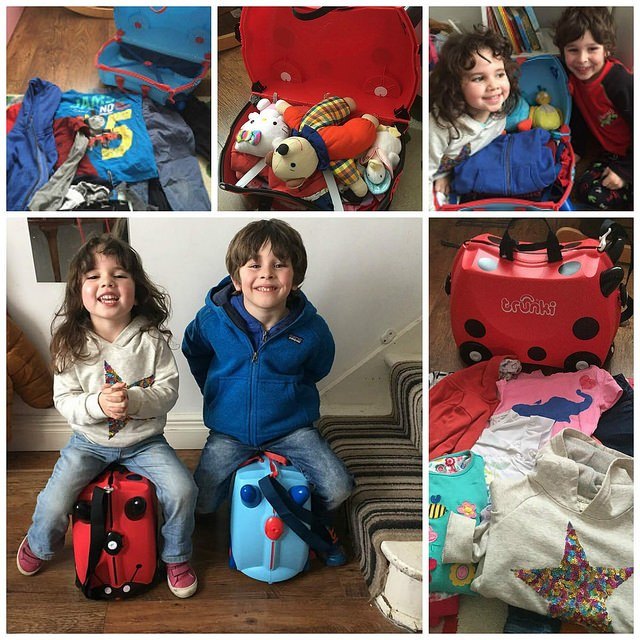 As you can see from the photos, the kids are a boy and a girl and the colours of what they are gong to wear are very different (they like it this way) but in both cases, all pieces can be worn together in different combinations.
Packing items you can mix and match is the number 1 rule of travelling light with kids
Also, you might have noticed that I don't pack jeans as such: they are my favourite item of clothing, for me, but for children I don't find them great: unless they have good elasticity and a very soft waistband,  they tend to be uncomfortable on the plane, they take forever to dry and they are just not very versatile.
Instead, I prefer proper trousers that can be worn both as a play in the park outfit and as a slightly more 'together' kind of look (you never know!). In terms of brands, I like the ones by H&M that are not expensive, decent quality and quite durable.
Finally, a word about swimwear. When I first started travelling with children, crocs and bathing suits were the things I tended to leave home: unless we were going on a beach holiday, I just didn't see the point in bringing them and thought they were a pointless waste of space.
Turned out, I was wrong! crocs
(or similar) do not take up much space and are super versatile: they can be worn as house shoes, they are of course great if you find a pool and in case the weather treats you to a very hot day, they can be used a children sandals (please, don't commit the style crime of wearing as an adult!). The same goes for my boy' swimsuit: it takes up no space and can be used as shorts.
So, this is my master packing list: what's yours?
Disclaimer, please note: this post contains affiliate links, which means that if you click on them and make a purchase, I will receive a small commission at no extra cost to you. We are participant in the Amazon Services LLC Associates Program, an affiliate advertising program designed to provide a means for sites to earn advertising fees by advertising and linking to amazon. com