You have seen them in airports and train stations, you have admired their cute shapes and the little tots pulling them. They are the trunki ride on suitcases, one of the most popular pieces of children luggage and one that divides the opinion of parents like no other!
I love trunki. We have two of them, one for each child and we find them handy, cute, practical and great fun for the kids. However, I know that many parents disagree and the debate between trunki lovers and detractors is real!
Hence, this trunki review, where I will try outline all you need to know when considering to purchase a trunki suitcase.
Looking at investing into new luggage? Then you may find our kids luggage buying guide useful too.
Why I bought trunki luggage: trunki review
It took me a long time to decide to buy a trunki ride on suitcase. I had seen them in the house of a friend, used as a storage box for toys, and questioned how handy they would be on a plane.
Would the fit under the seat in front of you (surely not, I thought)? How much do they contain? And would my kids actually ride on them, or would we end up with a child in one arm and the trunki under the other?
Turns out, I questioned too much. From our first trip trunki proved to be excellent luggage for toddlers, even for people like us who travel carry on only and are therefore extremely fussy about the functionality of our gear.
We got them where the kids were 3 and 5, so arguably a  little late, but now that my two are 4 and 6 they are still our favourite piece of luggage and I know for a fact my son will refuse to grow out of them for a lot longer!
Trunki for plane travel
My biggest doubts, before purchasing trunki luggage, was their suitability for air travel and if I could use trunki as carry-on luggage.
Is trunki cabin luggage? Do trunkis fit in hand luggage compartments?
Trunki is 46 x 21 x 31 cm and is normally allowed as carry-on luggage. I say 'normally' not because I have heard of instances when it was refused (I haven't), but because I know that rules and regulations vary from airline to airline and from one year to the other, so I don't want to offer reassurance I cannot give.
We have travelled with trunki as a carry on many times, low-cost airlines included, and we usually store it under the seat in front of our children'. Yes, trunki fits under the seat in front of you (just about!) and since it is big enough to hold a few toys as well as clothes, it comes in as a very handy luggage/storage solution especially during long-haul flight.
TRUNKI IS  46 x 21 x 31 CM AND HAS AN 18 LITRE CAPACITY THAT MAKES IT PERFECT AS CARRY-ON LUGGAGE
Also, trunki s made of plastic so you can easily clean it in the case of spillages that, let's be honest, do happen when flying with toddlers and young kids (and they make for good family travel mishap stories)!
How easy is it to open trunki on a plane?
As I mentioned above, trunki is just about the right size to fit under a plane seat. This means that little kids may need help in getting it out and back again: it is not hard, by any means, but the solid plastic makes the trunki rigid and therefore the help of an adult is sometimes needed.
When we travel, we usually get out of the trunki the toys we are most likely to use during the flight and then leave the trunki itself stored under the seat.
What does trunki contain?
Trunki has a capacity of 18 litres and we use it as the main carry on luggage for the kids. You can find here our full packing list, but, to give you an idea, it contains 3 changes of clothes, spare shoes, pyjamas, underwear and toys.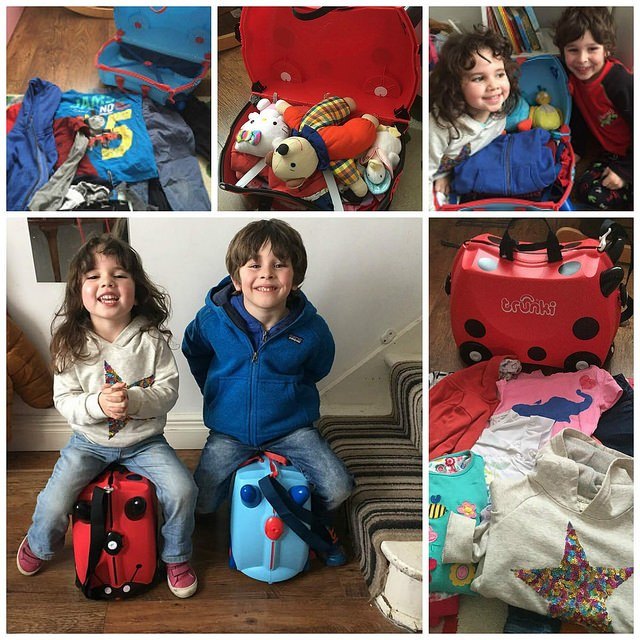 Is trunki easy to pull around?
The main characteristic of trunki is that it looks like a little pet that kids pull around on a lead.
Pulling trunki is very easy and the length of the lead/strap can be adjusted to suit most ages. My son loves to have the strap really long but does watch out to make sure your child is able for it as it is easy to get people tripping on it, especially in busy airports!
Trunki is light and never really gets too heavy to pull, but the same cannot be said if you lift it: a full trunki can be very heavy, despite the light shell – they do contain a lot!
Our kids are happy enough to pull their trunkis themselves but even when they get tired, I find it easy to attach trunki to my own backpack and carry it around this way. I may look funny, but it works!
Is trunki practical to ride on?
Trunki is a toddler ride on suitcase, meaning small kids can sit on it and ride it as if it was a little wheeled horse (or ladybird, or tiger!).
Our kids love doing it and it is a surprisingly effective way to move around especially in airports. Our kids also love to ride it on the pavements but personally, I discourage them: while the smooth surface of airport corridors do not damage the wheels, I do find that the weight of my children on more rugged terrains might put the wheels under too much stress.
Can trunki substitute a stroller?
Honest truth? No
We do occasionally use trunki to pull our kids around while they sit and push with their legs, but it is most definitely not a substitute for a stroller.
First of all, the manufacturer doesn't recommend prolonged use of them this way, so the risk of breaking it is high.
Also, the kids cannot rest their back so it is more a substitute for a piggy bag than a stroller. When my kids were still about stroller age, we always brought both the umbrella stroller and trunki, latching the bag to the stroller handle when needed.
Trunki suitcase colours and animals
Trunki comes in many colours and patterns resembling different animals. Little Ms E loves her ladybird trunki, Mr M adores his light blue and red trunki (I believe this model is called 'George') and I must admit I am partial to the tiger trunki which I find just adorable
Are you in Italy? Check out prices and colours for of Trunki here.
Are you thinking of buying trunki, is there any special doubts or worry you have I haven't covered in this trunki review?
Disclaimer: Learning Escapes is a participant in the Amazon Services LLC Associates Program, an affiliate advertising program designed to provide a means for sites to earn advertising fees by advertising and linking to amazon.com