Our family guide to visiting Hamburg with kids, packed with information on what to see, where to stay and how to get around Germany's second-largest city – Updated 2020
Hamburg is one of the most family-friendly cities in Europe we have ever visited and a very beautiful one too.
Green, safe and with interesting history and architecture, it is a city with something for all ages and the perfect destination for a multigenerational trip.
To grown ups, Hamburg offers many sightseeing opportunities, outdoor terraces and cool food joints, perfect for a relaxed city break.
To children, the city offers many parks, several opportunities for outdoor activities (in summer) and many fun kid-friends indoor attractions that will keep them busy whatever the weather.
To top it all, the city is very well organised and has a compact city center than makes it easy to see many interesting sights even if you only have a limited amount of time.
If that is the case, I highly recommend you check out this itinerary for one day in Hamburg, so you can make the most of your time there.
This is our guide to show you why and we believe you will love visiting Hamburg with kids!
Planning a city break with kids in tow? You may also like our recommendations:
Please note: this post contains affiliate links and if you make a purchase through them, we might make a small commission at no extra cost to you.
Top things to do in Hamburg with kids: Hamburg family highlights
Hamburg is a city full of kid-friendly attractions: some are specifically for kids and others are not geared towards them but nevertheless easy to enjoy as a family.
These are our favourites.
Marvel at Miniatur Wunderland
The highlight of our kids' trip to Hamburg and a place that I bet most kids will love, is Miniatur Wunderland aka the world's largest model railway.
Hosted in one of Hamburg's historical port warehouses, now fully converted, this place is a vast, indoor area where model enthusiasts created a 'mini-world' crissed-crossed by miniature trains.
It is an unbelievable place!
As you walk in, you see a mini reconstruction of the city of Hamburg complete with roads, houses, main sites and public transport vehicles.
The size of each building goes from about 20cm for the smaller houses to about twice the size for main landmarks and the attention to detail is incredible.
Each building has windows, people, indoor scenes and the roads are crossed by cars, buses and of course trams and trains, the real star of the show.
You can spend hours in Miniatur wonderland and you don't have to be a kid to love it. I was myself so taken by it I could have spent days inside!
Miniatur Wunderland is a fantastic place, not to be missed, and our favourite among the many things to do in Hamburg with kids. It also has a fun restaurant onsite with kids meals which makes this an all round handy place to visit to join fun and convenience.
The line to Miniature Wunderland can be brutal but you can get skip the line tickets here
Explore in Kids at work
Another fantastic children's attraction in Hamburg is the children's museum /playspace 'Kids at Work'.
Located outside of the city centre, well connected by the excellent Hamburg public transport system, this place is a small kids museum encouraging creative play, role play and discovery.
My kids loved the mini supermarket and the construction area, spent ages in the mini kitchen and had a blast wearing their hard hats and high-vis jacket when building a wall of foam bricks!
The museum caters for kids of all ages but unless you join the structured workshop, I reckon it is mostly suitable for toddlers and younger children.
There is a lovely under-3 area and the facilities, including cafe and changing areas, are all for families, making this a good address for safe fun (and a rainy day!)
Stroll around Hamburg parks
Hamburg is an exceptionally green city. Parks are everywhere and kids are well catered for with large, well-kept playgrounds.
The biggest one and a fantastic place to spend time in Hamburg with kids when you want to chill out is Planten un Blomen.
Located just in the city centre, this park is vast and historical in nature: the first seed was planted in 1821 and the park is now much loved by kids and adults who come here for the playground and the open air concerts respectively.
Enjoy Hamburg's rivers
As well as parks, Hamburg has several green areas, some of them right in the centre of the city.
One we loved was along the banks of the Alster, one of the rivers crossing Hamburg and one of the main water features of the city.
Close to the Rathouse, right in the heart of the city, the river expands to form small lakes and they are a paradise for water activities such as boating, stand up paddle and kayaking.
The only thing you cannot do here is swim and that is because of the many boats around!
It is a very popular place and a great place to explore when in Hamburg with kids to get some fresh air and watch local life go by.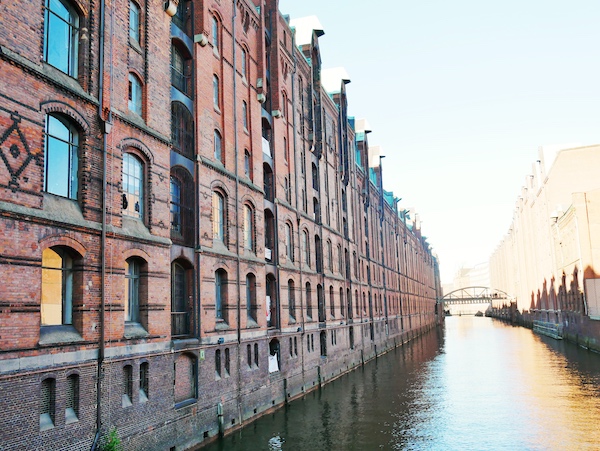 Discover Hafen City
Hamburg is a historical city but also a very modern one and there is no better place to see its modern side than heading to Hafen city, Hamburg's newest neighbourhood.
This area is located just beside the UNESCO port warehouses (also not to be missed), in the port area of the city, and has been recently developed to host both international corporate offices and housing.
Described this way you may not think this place is not very suitable for kids but actually, it is great.
The area is well served with shops and restaurants for terrace eating and has a large playground with sand, climbing frames and a splash pad.
We spent an inordinate amount of time here, enjoying a family picnic at the playground with food from the nearby Italian supermarket. An easy family day out.
You can explore this area on your own or following a tour (recommended, because of the historical facts connected with it) which you can book in advance here
Take a family friendly cycling tour
Hamburg is a very bike-friendly city and if the weather cooperates there is no better way to explore it than by bike.
We had never tried a cycling tour with kids before (we usually rent bikes and make our own way around) but this time we gave it a shot and joined a 3 hour city tour with Hamburg City Cycles, which offers family-friendly tours.
It was a fantastic way to explore the city. The kids could choose between a kids bike or a trailer attached to an adult bike and while the explanations were not gear towards them, it was easy for them to keep up.
Just one word of warning: the tour starts with a glimpse of Hamburg's red light district.
You don't see anything 'kid- unfriendly' on the tour but there is a mention of the area and its history, so if you have older kids who may pick up on that are you are not ready to have that conversation, just be aware it may come up!
Go on a port cruise
Hamburg is famous for its incredible port, one of the biggest in Europe and one of the best way to get to know the city is to take a cruise around it.
Cruises depart on the hour from the main boat terminal, close to Hafen city, and they follow several routes depending on your choice and tidal patterns (Hamburg port is subject o strong tides and not all routes are accessible all the time).
The cruise we took brought us to the area of the port with container ships and it is an experience I highly recommend.
While not for kids as such, it is easy for them to enjoy the sight of the massive ships and cranes and the drinks served on board help keep them occupied.
If going on a hot day, make sure you bring a sun hat and sun cream as out on the water the sun hits really strong!
Make sure you book your cruise in advance here
Spend a day at the zoo
Hamburg zoo occupies a special place in zoos history because it was the first one in the world to use used open enclosures instead of cages.
The zoo has thousands of animals, including the biggest elephant herd in Europe and has a petting farm for smaller kids and is adjacent to the Tropical World Adventure Aquarium, which makes for a fun addition to an animal-themes day out with the kids.
Go to the pool
Hamburg is not famous for good weather but in summer you do get some glorious sunny days and in that case, the pool is your best friend.
The city is well equipped with pools.
Some to check out are the pool in Stadtpark, with sand and play area, and Festland which has the largest water play area in Germany!
Where to stay in Hamburg with kids
Hamburg has an excellent public transport system and this means you can take into consideration several areas when picking a place to stay with family.
However, finding larger rooms can prove difficult as not all hotels are able to cater for 4 people or more in one room
Our shortlist of favourite family-friendly hotels in Hamburg is:
Appartello Smart Time Living (3 star). A lovely residence with great services apartments excellent for families (find our full Appartello review here)
Located between the airport and the city centre, with easy connections to both, the apartments have a fully equipped kitchen, one or multiple bedroom, the option of breakfast buffet, common area with TV, toys, laundry and gym and are perfectly located 2 minutes away from Lidl supermarket. An excellent place for families.
NH Collection Hamburg City (4 star hotel) Another good hotel suitable for families thanks to the large family rooms equipped with double bed and sofa bed as well and the option of asking for a baby cot. The hotel offers free Wi-Fi, breakfast room and lobby bar.
Radisson Blu Hotel Hamburg (5 stars): The Radisson blue caters for families with specific family rooms offering a king bed and a sofa bed in a secluded area. the hotel has free wi-fi, panoramic view over Hamburg from the family room, restaurant and wellness centre on site.
How to get around Hamburg with kids
Hamburg has an extensive public transport network made or trains, buses and ferries.
It is an incredibly easy city to navigate, even with kids in tow and I can tell from experience.
I arrived in Hamburg for the very first time alone with my kids and managed to get around by bus like a pro in a matter of minutes: fabulous!
The public transport system in Hamburg is clean and efficient, it arrives pretty much anywhere and has very clear indications that allow you to find your way around even without previous knowledge of the city or any German.
There are several ticket types available, from single hop to day and weekly tickets or you can get the (cheap and) incredibly useful Hamburg card that gives you and your family the ability to use the whole public transport network without worry.
I highly recommend it and you can get it online before arrival here
The best time to go to Hamburg
Hamburg lies in the very north of Germany, on the estuary of the big river Elbe, and this position comes with a continental climate moderated by the presence of the water.
In general, Hamburg has 4 seasons: a warm summer, a cold winter and moderate spring and autumn months with a pretty constant breeze which is a pleasure in summer and a lot less of a pleasure in winter!
The best time to visit Hamburg with kids are the months outside the winter and in particular:
Spring in Hamburg is lovely
The city wakes up after the long winter and you start getting a glimpse of the outdoor terraces and water activities that are so popular with locals and tourists alike.
This is the best time to go to Hamburg for sightseeing since you can get good weather and a good feel for local life. It can still get chilly so make sure you bring layers!
Summer in Hamburg
Summer in Hamburg is not excessively hot and a great time to visit the city to enjoy outdoor life and the many water activities available.
The city is full of terraces this time of the year and has many festivals that make this dynamic city even more lively than normal.
Visiting Hamburg with kids in summer, you want to be ready with sunscreen and layers to be ready for all eventuality, especially the frequent breeze.
Tip: if you find yourself in Hamburg in summer, consider catching the train and visit Berlin too: we did it and loved it!
Autumn in Hamburg
Autumn sees temperatures dropping in Hamburg but the green areas of the city dress up in beautiful foliage so if you don't mind less predictable weather and cooler days, this can be a good time to visit.
Since the weather is pretty temperamental in Hamburg, planning some indoor activities for this time of the year is a good idea.
Winter in Hamburg
Winter in Hamburg is cold and not a great time to visit the city with kids, unless you come for the city's Christmas markets.
The biggest and most scenic one happens in front of the beautiful and historical Rathouse right in the centre of town and packs that very special Christmas magic German Christmas markets do so well.
I hope you enjoyed my introduction to Hamburg with kids. Safe family travels!