All you need to know to visit Italy in May: what the weather is like in May in Italy, important dates and festivities, the best places to see in Italy in May and recommended booking timeline for accommodation, tours and attractions.
May is one of my favorite months of all to travel to Italy, so much so that I elected it as the perfect month for my Italian wedding, which we celebrated on a glorious, summer feeling day in May 2009
Many things make May a wonderful month to visit Italy.
Very much a spring month, May in Italy is a time of blossoms, sunny days and sparkling seas, a time of spring produce and flowery dresses.
It is also a time of high crowds and depending where you are, also a time of potential rainy days so some planning is needed. This guide aims to help you do just that!
Disclaimer: this is a seasonal travel guide about Italy in May meant to help you decide the best time of the year for your visit. It does not address the current state of travel. For official information please always refer to official info before making any plans.
Please note: this post contains affiliate links and, should you make a purchase through them, we might make a small commission at no extra cost to you.
This post contains affiliate links. Should you make a purchase through them, we might make a small commission.
What to expect from the weather in Italy in May
What is the temperature in Italy in May? The weather in Italy in May.
May is the heart of spring in Italy and a season that, on most years, gives a first real taste of summer, especially in the center and the south of the Italian peninsula.
I say 'in most years' because in 2019 May unexpectedly acted up and brought winter temperatures that stunned locals and tourists alike!
That event is, at present, unprecedented, and Italians tend to chalk it down to a freaking climate change related event, so for the moment, I am writing this guide on the basis of the average May.
As always, with the weather, I include links to the official source and I invite you to check the specific forecast for your dates of travel when packing your bags!
This is an overview of what to expect from a normal month of May in Italy.
The North of Italy in May: Milan, Venice, Cinque Terre
Venice, Milan and Cinque Terre are in the North of Italy (Venice in the East, Cinque Terre in the West) and usually experience nice weather in May.
The average temperature in Venice in May is 16.5C/62 F and you can expect 11 days of rain.
The average temperature in Milan in May is 18.5C/ 65F with 13 days of rain
Cinque Terre usually sees an average temperature of 18C/64F in May and about 7 days of rain. 
The temperature in May is on an upwards trajectory, getting warmer as the month gets closer to its ends.
This is a wonderful time to explore the area's cities and small towns and to take a trip to the lakes (Maggiore, Como, Garda) as well as the coast but as you can see from the number of rainy days, it is still a time when having alternative plans is recommended!
Need to know: the lakes and the beach are favorite destinations for day trips from Milan and Venice for locals as well as tourists. Try to go on a weekday, when the locals are I work, for a chance of lower crowds.
May in Florence and Tuscany
May is a wonderful time to visit Tuscany as it is a month that allows you to enjoy all the different landscapes the region has to offer.
The hills are glorious at this time, the towns pleasant and you can even go to the beach, especially towards the ends of the moment (more for sunbathing than swimming, but this may depend on what type of temperature you are used to!)
The average temperature in Florence in April is 18C/64F and you can expect 9 days of rain. 
This is a great time to visit some of Florence's main museums such as Uffizi and Accademia and a lovely time for day trips in the countryside.
May in Rome
I got married in May in Rome so, as you can guess, I am a fan!
Rome is absolutely wonderful in May.
Temperatures are summery but not scorching hot, rain is rare and while the tourism is usually intense at this time, you can also easily lose the crowds taking a day trip to the beach, the lakes or the countryside, both east to reach from Rome and glorious at this time.
I go every year and love it! You can see what to expect in Rome in May in our full guide.
Need to know: the beautiful weather attracts many tourists to Rome at this time and prices soar accordingly, while availability falls fast. Advance booking of accommodation and main attractions is a must. Find below my recommended providers
May weather in the South of Italy: Amalfi Coast, Puglia, Sicily
The south of Italy tends to have warmer temperatures than anywhere else in Italy and this means that May here often already feels like the summer, without however the most oppressive heat;
May is the best month to visit the Amalfi Coast and Capri: you know those wonderful images of blossoms dancing in a gentle breeze over breathtaking coastal views?
Those are taken in May!
The average temperature in Pompeii in May is 15C/59F and the chance of rain is very low.
In Catania (Sicily), the average temperature in May is 18C/64F and you can expect about 6 days of rain.
What to pack for Italy in May
When packing for Italy in May, I recommend you think spring/summer clothing with an extra layer for evenings and early mornings and a light jacket, if used to very hot climates.
You can find our full packing list from spring in Italy here.
Make sure you include your Italy travel essentials:
All your travel documents
Broken in walking shoes (find my shoe recommendations here)
Walking sandals
Phone/Camera
Toiletries/ prescriptions /medications as needed
Dates of notice for your trip to Italy in May
1st of May, May Day / Labor day (festa del lavoro). This is a National holiday and celebrated in Italy with a day off and public concerts and events.
Some attractions stay open on this day but many close.
Double-check your specific plans if in Italy on this day.
Colosseum, Rome: usually open
Pompeii: usually closed
Doge's palace: usually open
Cenacolo, Milan (last supper): usually closed
Vatican Museums: usually closed
What there is to do in Italy in May?
May is a great month for most of Italy, but these are our favorite places for an Italy spring trip.
Discover beautiful Lombardy
Lombardy, the region of Milan, is rich in beautiful towns and May is a wonderful time to discover them.
The excellent local train system makes traveling this area easy and the variety of landscapes makes it possible to mix small-town exploration and some downtime at the lakes.
Lake Maggiore, Lake Como and Lake Iseo are all nearby and May is a lovely time for quiet lakeside walks and relaxing aperitivo in the area's elegant terraces.
See Venice before the heat
May is also a good time to visit Venice.
The city gets oppressively hot and humid in summer, but May in Venice is wonderful.
At this time, you can easily stroll around the city streets without melting under the summer sun, you can enjoy time on the water and explore the small islands around the Venice lagoon, whose colors come to life under the spring sun.
Venice is also a great place to visit in Italy in May if you like local celebrations.
This is the month of the so-called 'sposalizio del mare' (marriage of the sea ceremony), a big celebration with traditional regattas symbolizing the power of Venice over the sea – a huge event worth witnessing!
Enjoy the paths and beaches of Cinque Terre, Liguria
May is also a wonderful time to explore Cinque Terre and its famous hiking paths.
In May, the weather tends to be warm but not excessively so for hiking and you can also enjoy the 'terre' and the Ligurian coast from the water, thanks to the ever-increasing number of ferries serving the area in the good season.
May is usually a good month for sunbathing on the beach but for swimming, you may need to wait month the end of the month.
You can find our recommended itinerary and travel tips for Cinque Terre here
Go on a road trip in Tuscany and Umbria
May is a wonderful time for visiting central Italy and the areas of Tuscany and Umbria in particular.
At this time, the famous countryside of these regions gets covered in flowers (the hills around Volterra are a palette of yellow shades!) and so do the many wonderful gardens in the area.
The Boboli Gardens in Florence, the Giardino dei Tarocchi, Palazzo Piccolomini in Pienza and Horti Leonini in San Quirico D'Orcia just to name a few of the most impressive.
You can find our tips for planning a great Tuscany itinerary here.
May is also a special time in Umbria, which in May witnesses a unique event: the flowering of the 'piana di Castelluccio', lentils fields that at this time come to blossom creating a landscape that seems out of an impressionist painting!
Among the best things to do in Tuscany in May, I recommend:
A trip to stunning Val D'Orcia and the lovely towns of Montepulciano and Monticchiello, to see the famous Tuscan rolling hills and taste some its famous food and wine
Bathing at the wonderful thermal baths of Bagno Vignoni or the hot springs of Saturnia, perfect in this season
A visit to Assisi and Orvieto, in stunning Umbria
An off the beaten track tour of the region of le Marche, often ignored by visitors but full of stunning towns and landscapes (Urbino is wonderful!)
Discover the marvels of Emilia Romagna
Emilia Romagna is the food powerhouse of Italy, the area that gave the world, among other things, parma ham and parmesan.
May is a wonderful time to visit Emilia Romagna and taste all the lovely food it has to offer but also a time to discover other aspects of the region, sometimes forgotten.
Emilia Romagna has beautiful historical towns and some of the most incredible Bizantine mosaics in Italy (In Ravenna): a trip around this area in spring is the perfect escape if you want to mix sightseeing and a foodies break.
You can learn all there is to see in the area and travel tips in this comprehensive guide to Emilia Romagna
Enjoy the beauty of Rome
Rome is absolutely marvelous in May however, the city does get busy!
If visiting at this time, I highly recommend you book both your accommodation and tickets for the Colosseum and the Vatican in advance
You can find my tips on how to get the best tickets for Rome attractions here.
If visiting Rome in May, it is also paramount to book your accommodation in advance.
Some of the addresses I recommend you look up are:
Otivm Hotel, 4-star romantic hotel in the city center with a wonderful rooftop terrace perfect for spring
Le Clarisse al Pantheon, clean, beautiful and well-priced hotel a trone throw from the Pantheon
Hotel de Russie, gorgeous 5-star hotel in the heart of Rome perfect for couples, solo travelers and families alike.
Explore Campania (Pompeii, Amalfi Coast, Ischia)
May is one of the best months of the year also to explore Campania, the region of Naples, Pompeii and the Amalfi Coast.
You can find my guide to the best towns to see on the Amalfi Coast here.
My favorite way to enjoy this area in spring is mixing up sightseeing, dining (this is a good month for food tours) and pampering: if you fancy a thermal baths break, the island of Ischia in May is simply unbeatable.
If you opt for visiting Pompeii, I recommend you get a guide to make this vast site easier to navigate and understand.
If you prefer a quieter site, I also highly recommend a trip to Paestum and its Greek temples, one of the most beautiful sites in the whole of Italy.
Relax in wonderful Capri
We chose Capri in May for our honeymoon and it was the perfect time.
In Capri in May you can go to the beach and swim but the weather is also perfect for walking.
I highly recommend the long route up the Villa Jovis: in May, he views and the smell of flowers on the way up are unforgettable.
Discover the marvels of Puglia and Basilicata
May is also a lovely time to visit the South of Italy.
This is a great time for sightseeing and one of the best months to explore Matera and its cave dwellings, Alberobello and its Unesco protected trulli and all of Puglia's amazing beaches.
You can find my recommended itinerary for a road trip in the South of Italy here.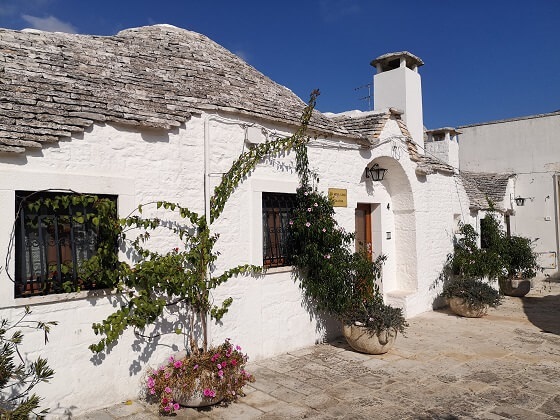 Visit Noto (and the rest of Sicily)
May is also a wonderful month to visit Sicily and in particular the area around Noto, which at this time hosts an event called 'Baroque spring'.
At this time, this gem of Sicilian architecture becomes even more beautiful thanks to decoration of flower displays and carpets and offers architectural evening walks to discover its churches and palazzi.
You can find our recommended Sicily itinerary here, perfect for this season!
What to book in advance if planning on visiting Italy in May
May can be very busy and early booking of accommodation and attractions is a must.
These, in particular, sell out fast:
Last supper, Milan: often booked out weeks in advance, book as soon as your trip is confirmed via their official site here or via GetYourGuide here, which offers excellent cancellation options
Colosseum, Rome: the official site gets booked out months in advance (although you may be in luck if only looking for one or two tickets). However, guided tours are usually available on GetYourGuide here
Vatican, Vatican City, Rome: tickets sell out fast and operate on a time slot system. You can get them on the official site of the museums or choose a guided tour via GetYourGuide here: I highly recommend them as the museums are vast and easily overwhelming, without a guide.
Galleria Borghese, Rome: I recommend you book with at least a couple of weeks' notice to get a decent time slot. The official website is here.
May in Italy with kids
May is a good time to visit Italy with kids.
The mild weather is perfect for gelato but not hot enough yet pose a problem to the youngest member of the family and their delicate skin.
At this time, you may have sunny days to lounge on the beach but you are unlikely to have warm enough weather for the kids to swim.
I do however recommend you bring a sunhat and sunscreen: when the sun comes out, it can be pretty strong.
Among the many things to do in Italy with kids in May, I recommend:
A family tour of the Colosseum: this one is super fun for school-age kids as it operated as a treasure hunt around the Forum too (many skip the forum, which is a terrible shame). You can find all my favorite things to do in Rome with kids here.
A visit to Villa D'Este, a stunning villa near Rome with stunning gardens and fountains
A kids' cooking class: we took a pizza making in Rome and we have been hooked to kids' cooking classes ever seen!
You have several options all over Italy, including this 3-hour group cooking experience in Florence which sounds great fun dor all ages
A treasure hunt: treasure hunts can be a great way to let the kids explore a new city while having fun.
The first one we ever took was with Macaco Tour in Venice and it was excellent and Livitaly also has excellent ones in several locations including Rome and Florence.
A day on the beach of the lake: May can be a lovely day for an excursion to the coast or the lakes.
Places we love at this time are the coast on the south of Rome (Sperlonga and Gaeta in particular), the wonderful beaches of Puglia and also the Tuscan Etruscan Coast, perfect for sandcastle making!
Some useful resources in panning a trip to Italy with kids are:
I hope you enjoyed this overview of Italy in May and it helped you plan your spring trip to Italy. Safe travels!
About the author: Marta Correale is an Italian mama of 2, born and bred in Rome. Avid traveler, Marta graduated in Classics at the University of Rome and married her love for history and travel in a career as a travel writer. She is the writer and editor behind Learning Escapes, a successful travel blog about cultural travel with kids, the creator of the successful Mama Loves Rome, an in-depth travel site about her native city of Rome and co-editor of the global family travel site Little City Trips.