Wondering what to wear in Amsterdam in spring to be comfortable and stylish? Find out in our complete packing list for spring in Amsterdam!
Packing for spring and its swinging temperatures is often a bit of a headache. But packing for spring in Amsterdam, a city known for its temperamental weather, can be a real pain.
How can you pack light and be comfortable (and stylish) when you need to be ready for lovely warm sunny days, rainy mild ones and chilly ones, without guarantee for any and the chance of experiencing them all in the space of 24 hours?
The answer is: you bring versatile clothing and make the most of the stylish yet relaxed fashion sense of the Dutch.
In this packing list for Amsterdam in spring, I share my top picks for being stylish and comfortable when vising Amsterdam, may you be museum-hopping of tulip chasing. 
This post contains affiliate links. Should you make a purchase through them, we might make a small commission. As Amazon Associates, we earn from qualifying purchases.
This post contains affiliate links. Should you make a purchase through them, we might make a small commission.
As Amazon associates, we earn from qualifying purchases
What is the weather like in Amsterdam in April, May and June?
Spring comes to Amsterdam in the months of April May and June and is a time of year with significant weather contrasts and temperature swings.
The Dutch say that Amsterdam in April 'does whatever it wants to do' and indeed this is very much the impression you get if you spend even just one day in the city (if that's the plan, check out our one day itinerary here!).
April in Amsterdam may bring lovely warm days with strong sun, calling for short sleeves and sunglasses.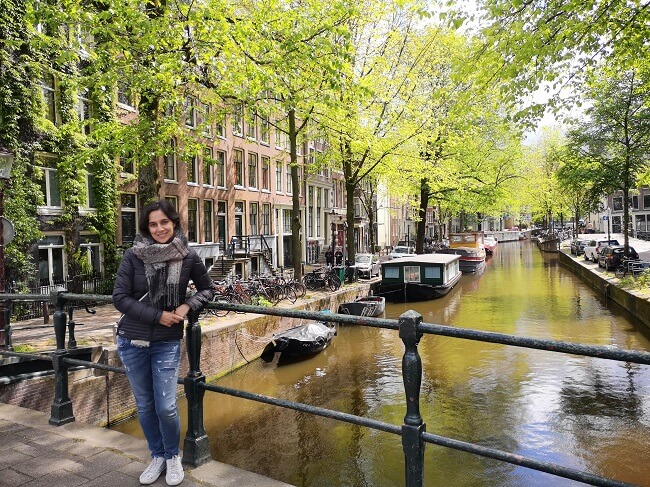 April in Amsterdam may mean a grey day with rain showers and a need for a light jacket.
Amsterdam in April may also mean a mix of the two, meaning shouldn't really trust the sun shining in the morning to stay nor despair if you wake up to a wet day.
Overall, if going to Amsterdam in April it is wise to expect mild temperatures in the range of 4 -13 C degrees and the occasional rain shower.
May and June in Amsterdam see similar weather patterns but temperatures tend to climb as the year advances towards summer and become properly summery and warm as you hit June.
Rain is frequent but tends to come in showers rather than solid downpours.
In general, the weather in Amsterdam in May and June is mild and sunny, with the occasional rainy day, and with temperatures in the range of 8-17 C (May) and 11-20 (June).
Always take into account the fact this this is the North of Europe and summer can be can anything from a really hot time (like last year with a heat wave) or grey and not-that-warm miserable one. Y
ou can learn more about weather in Amsterdam and the best time to go here
Please note:this post contains affiliate links and, should you make a purchase thought them, we might make a small commission, at no extra cost to you
What to pack for Amsterdam in spring: must have items
1. A light jacket
An item you always need with you Amsterdam in spring is a light jacket.
Depending on the time of day and your luck with the weather, you may find wrapping yourself up in it or wishing you had left it behind in your hotel room but chances are that, at least in the evening, you will want to have it with you.
I love faux leather jackets and Puffa-style jackets which occupy very little space when packing.
If you feel this may not be enough as you are usually cold, you can check what we recommend to pack for Amsterdam in winter instead.
2. A light scarf
You usually do not need a full scarf for spring in Amsterdam but a light one is handy to have.
I usually go for colorful one that I can use not just to keep myself warm but also to dress up a simple top and feel more 'together' when going out in the evening.
3. A cardigan
My go-to item for changeable weather is a good quality cardigan.
They are versatile enough to go from day to evening wear and can be easily put on or taken off when temperature requires.
They are also a common choice in Amsterdam so you will not feel out of place when wearing one
4. Short sleeve + long sleeve tops for layering
Short sleeve tops. In the warmest parts of the day, especially from the end of April onward, Amsterdam tends to see short sleeve weather.
If you like shirts, they are also a good option: opt for casual ones you can wear with sleeve rolled up.
For this time of the year, I also recommend to bring one long sleeve top.
You can wear it with a cardigan or use it for layering: in this case, choose a color that matches a short sleeve top so you know they won't clash.
5. Trousers
Spring in Amsterdam is not usually warm enough for shorts and I my preferred item at this time are jeans.
Stretchy ones can be comfortable and versatile and if you pick a light enough material, will be perfect for the season.
I find skirts harder to wear at this time as tights can make you feel too hot at certain times of day but it is likely to be too cold for bare legs.
6. Underwear and socks
Added to the list more for completeness and for those of us who somehow always find themselves short of a pair of socks when traveling!
The choice of what type of socks to bring goes hand in hand with the choice of shoes, which is our next item.
7. Comfortable walking shoes
You will find yourself walking a lot in Amsterdam so picking pair of comfortable shoes is paramount.
The best shoes for Amsterdam in spring have rubber, rubber soles and can take the occasional bout of rain.
For spring in Amsterdam you usually do not have to rely on heavy boots and I find fashion and lifestyle sneakers are versatile enough to bring you from day to night.
At the beginning of the season a pair of ankle boots can come in handy and I also really like to have with me a pair of ballerina flats for when I want to feel more dressed up.
8. Sunglasses
Amsterdam is not the sunniest of cities but when the sun is out it is strong and gorgeous. A pair or fashion sunglasses will protect your eyes and make a good fashion accessory
9. A cross-body bag
Cross-body bags are great for city travel and come in many shapes and colors that make some of them comfortable and stylish.
If planning on cycling, make sure you get one with not too long a strap or consider one that changes into a backpack
: a cross body bag hanging over your bike wheels is a pain and can be properly dangerous!
If you don't intend on cycling, then a crossbody bag is perfect: they are my favorite type of bag for city travel as they look stylish but still hold all you need for the day.
You can find my favorite crossbody bag for Europe travel here.
10. Phone / camera / tech charger
Amsterdam uses standard European 2 pin sockets.
If you bring your tech with you, make sure you have the correct plug/adapter.
I find the easiest way to recharge my tech is to bring one adapter and multiple chargers so I can take care of all my items at once.

11. Sun screen and lip balm
The combination of sun and changeable weather can be hard on the skin and lips. I always find myself packing an extra stick of lip balm and a good hydrating cream with mild sunscreen when visiting Amsterdam.
It may not seem like strong sun but if you get a good day, even my Italian dark skin suffers so it is worth being ready with extra protection!
12. Small umbrella
What is a small umbrella doing on a list after sunscreen?
Well, changeable spring weather in Amsterdam means an umbrella can come in handy: at this time of the year, unlike in winter, the wind is usually mild enough to keep your umbrella alone and in one piece.
I love lightweight, travel ones
that can fit in a normal bag most of all.
13. Documents
In Amsterdam, it is compulsory to have an ID document on you at all times and to be ready to show it to an official in case they ask.
Amsterdam is a very safe city but if you are worried about carrying documents on you in case you may lose them, it may be worth investing in a good travel anti-theft bag or FRID blocking wallet you can be sure they do not fall off accidentally.
What to wear in Amsterdam in spring if you want to go see the tulips
If you are going to Amsterdam in spring chances are you are there for tulip season and have a trip planned to the fields.
For such an expedition, you do not need any special gear and once you have comfortable shoes and a good back to carry some water with you and your camera, you are good to go.
However, I feel like adding a small piece of advice.
If you want to take a cute picture of you in the tulips and don't want to go all the length of a full wardrobe change for the sake of Instagram, wear a top in the color of tulips (red, or pink or yellow) or bring a fashion accessory like a scarf to match the fields – it's a small thing but it can truly bring your photo to life!
If you are interested in seeing the tulips, check out our guide to see them in and near Amsterdam here
What to wear in Amsterdam in spring: packing list
Underwear
Socks
Long pants/trousers
Tights and mid season skirt /dress
Long and short tops for layering
Cardigan
Mid-season Jacket
Scarf
Sunglasses
Toiletries
Tech
Documents
Packing for Amsterdam in spring with kids? Add these items
Baby carrier
Baby pushchair
Foldable travel highchair
Travel diaper bag
I hope you found this packing list useful and we helped to answer the question: what to wear in Amsterdam in spring? Safe travels!