How to make the most of one day in Kilkenny, Ireland; essential travel guide. Best things to see, Kilkenny itinerary, travel tips. Updated 2020
Kilkenny is one of the most charming and interesting cities in Ireland.
Located in the region called 'Ireland Ancient East', Kilkenny is famous for its important medieval history, ancient cathedral and castle (two of the most famous landmarks in Ireland) and for adynamic city life that rivals that of Dublin and Galway.
In this guide, I share my favorite itinerary to spend one day in Kilkenny and why I recommend Kilkenny as a perfect first stop on any Ireland itinerary.
Please note: this post contains affiliate links and, should you make a purchase through them, we might make a small commission at no extra cost to you. 
Is Kilkenny worth visiting?
Kilkenny is a lovely city and one worth visiting.
Small, pretty, welcoming and full of things to do, it is a wonderful introduction to Ireland and a place I often recommend as a first stop on a road trip aroun the Emeral Isle.
There are several things that make Kilkenny special.
The first is that Kilkenny is a medieval city.
Its foundation dates back to the 6th century and the city's past is still visible in the many structures from that time, Kilkenny Castle and St Canice's cathedral only being the most famous of them.
The other thing that make Kilkenny special are the city's colorful houses, which make Kilkenny one o the prettiest places in Ireland.
Last but not least, Kilkenny is famous for being a great place for the arts. From music to desing and theater, Kilkenny hosts many festivals and events that make it a unique cultural hub in Ireland, despite its small size!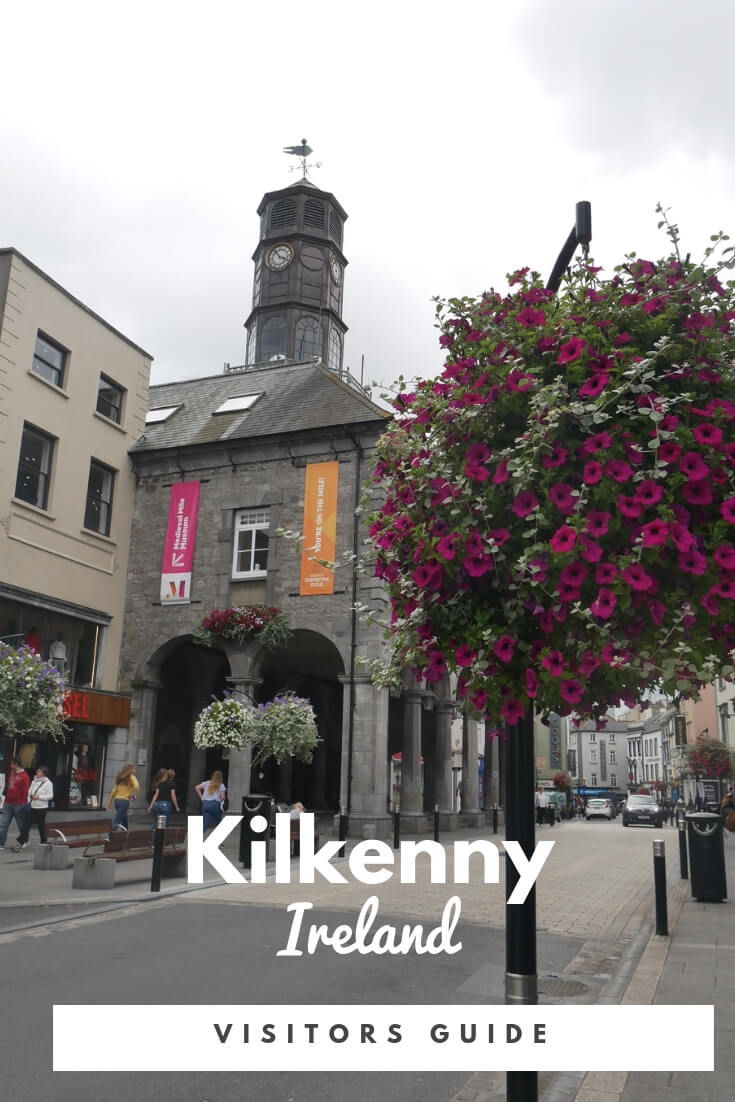 Is one day in Kilkenny enough
Kilkenny is a small city and one day is sufficient to see the city's main landmarks.
If you are in a hurry, you can also tour the city center in half a day however, I do recommend spending the night here to tao into the city's vibrant atmosphere.
Hotels we can recommend in Kilkenny are:
Kilkenny Ormonde Hotel Right in the center of the medieval city, this hotel has beautiful family rooms, a nice restaurant and a heated swimming pool on-site for the use of guests.
Chaplins of Kilkenny A lovely B&B located 15-20 minutes walk from Kilkenny town center, it has lovely rooms, welcoming hosts and a generous breakfast.
Good to know: Kilkenny is easy to reach by car or train and is also a popular destination for organized coach tours from Dublin. Have a look at the best tour options here.
Kilkenny one day itinerary: walking route
This city of Kilkenny itinerary is slow-paced but will allow you to see the best of Kilkenny without the need to use the car.
This Kilkenny itinerary follows the Medieval Mile, which is a mile-long road dating back to medieval times and crossing the center of the city.
Start your morning at the Kilkenny Castle
I love to start my day in Kilkenny from Kilkenny Castle, one of the most beautiful castles in Ireland and an unmissable attraction in Kilkenny City.
Kilkenny Castle is right in the city center and so big and imposing, you cannot miss it.
Access to its grounds is free and I highly recommend a visit, both because of how beautfu the castle it is but also to learn about its interesting history.
Kilkenny Castle dates back to 1172 AD and it is said to have been built by Strongbow.
The original structure was most likely in wood and was replaced one century after construction by a stronger one, in stone.
This reconstruction is what gave to the castle the distinctive look we see today, with the imposing greay walls and the impressive 4 turrets!
In the 14th century, it became the property of the Butler family, rulers of Kilkenny and despite the many historical vicissitudes the castle and the country went through, the Butler family kept living there until the 1930s!
Fun fact: Despite being in the hands of the same families for many centuries, the castle suffered bad damages and in 1967 was eventually sold to the castle restoration committee for 50 Pounds!
Good to know: the castle has a lovely coffee shop with snacks and cakes, for a quick pick me up before resuming sightseeing.
There is also a lovely playground for kids just on its grounds (free access even without a castle visit)
Visit Kilkenny's Medieval Museum at St Mary's Church
After a castle visit, I recommend heading towards the medieval mile, just across the road and head to the Kilkenny Medieval Museum, hosted in St Mary's church.
The museum is small but interesting.
The space itself is imposing, and you can find artifacts helping you dig deep into the history of Kilkenny.
The Celtic crosses and the remains of a local family are probably the most attention-grabbing but I personally loved the exhibition upstairs with ancient local manuscripts.
Interesting fact: what used to be the lateral chapel of the church now hosts an interesting light and sound display explaining the vision of the afterlife in medieval Kilkenny.
Have lunch on the Medieval Mile
There are plenty of restaurants and cafes on the medieval mile, so finding something yo suit you taste and budget will be easy, and you will also find yourself in the ebsy plact for your afternoon visits, all along this city streets.
After lunch stroll along the Medieval Mile
After lunch, I recommend you go for a leisurely stroll along the medieval Mile, in the direction of St Canice's cathedra.
The stroll only takes a few minutes but I recommend you take your time to see some of its more interesting buildings and corners.
I recommend you seek out:
Graces courthouse, originally erected as a fortress in 1210, then converted into a prison in 1568 and then in a courthouse in 1792.
Rothe House, a gorgeous building with an amazing garden stretching back to the city walls
The Smithwick's Experience, a fun and interactive tour teaching you about the making of Kilkenny's famous Smitwiock's ale.
Fun fact: in Kilkenny, you will find several small alleys called 'slip'. They date back to medieval times and some were used to store trading goods. The most famous if the 'butter slip', whose cooler temperature made it perfect for preserving butter!
End your afternoon visiting St Canice's cathedral
If you came to Ireland looking for mystical atmospheres, ancient graveyards and mysterious round towers overlooking windswept green lawns, you will love the monumental complex of St Canice's.
This is our last stop on this Kilkenny one day itinerary but we can really say we have left the best for last as truly, the St Canice's truly is incredible.
Dating back to the 6th century, this Gothic cathedral sits on the top of a small hill overlooking Kilkenny city.
The church itself is Gothic in style and has large and elaborate stained glass windows and arched naves.
It sits beside a small cemetery with huge Celtic crosses and side by side with one of the most impressive round towers in the whole of Ireland.
The round tower is the oldest standing building in Kilkenny and one of the only two towers of this kind open to tourists.
If you are not scared of heights and your legs can take the steps, you will be rewarded with a beautiful view of the city and the river below!
Need to know: height restrictions apply and small children are not allowed on the tower.
Whether you decide to climb up or not, a visit to St Canice and its round tower is worth it: I believe this is one of the most beautiful landmarks in Ireland.
Have dinner in one of Kilkenny's famous restaurants
Kilkenny is famous for its nice restaurants, worth a meal both if you are staying the night or if you want something to eat before gitting the road again.
Restaurants tend to be clustered between High Street and St Kieran's street and you can choose between traditional pub food, warm and filling, modern Irish, Italian and more.
One day in Kilkenny with kids
The day in Kilkenny described do far is suitable also for families with kids.
However, if you are visiting Kilkenny with young children, there are a couple of additional things worth knowing.
Kilkenny Castle has a wonderful playground with climbing frames and lots of local kids playing.
The playground is free to access, even without a castle visit. Spending time at the playground s by far the best thing to do in Kilkenny with kids!
Kilkenny city center has a road train that can be fun for kids. It crosses the city and shows you all the main sites: this is a great thing to do in Kilkenny with small kids.
I hope your found my guide to one day in Kilkenny useful and it helped you to plan your day. Happy travel planning!