Best Italian souvenirs you can bring home from Italy and Italian gifts from Italy: from food to artisan crafts, find the best Italy souvenirs to bring home to offer as a present to loved ones abroad.
Locally made crafts and food make wonderful souvenirs of a trip to Italy.
Easy to pack, they are one of the best way to bring home a little bit of Italy and, if you but from local producers, they can also be a lovely way to support to the local shops and economy, while sending home a lovely memento of your trip.
Deciding what to buy in Italy and where, however, is not always straight forwards.
The richness of regional variations in Italy means you don't find everything everywhere so today I have put together this guide, hoping to help you pick the best made in italy items to bring home from Italy, no matter where in Italy you are.
These are my tops tips for choosing the best Italian souvenirs and Italian gift ideas.
Not in Italy right now? Then you may like these gift ideas for Italy lovers that you can get online instead.
Please note: this post contains affiliate links and, should you make a purchase through them, we might make a small commission at no extra cost to you. 
Best Italian souvenirs by region chart
| | |
| --- | --- |
| Region | Most popular local souvenir |
| Veneto region | Artisan masks, Murano Glass, lace, biscuits, wine, ceramics |
| Emilia Romagna | Parma ham, Parmesan, Balsamic Vinegar, food products in general |
| Lombardy | Food products |
| Piedmont | Chocolate, truffles, wine |
| Liguria | Pesto and food products |
| Trentino Alto Adige, Valle D'Aosta | Wood carvings, cheese, wine |
| Friuli Venezia Giulia | Grappa and food products |
| Tuscany | Wine, oil, food products, leather, fashion |
| Umbria | Oil, ceramics, chocolate |
| Lazio | Mosaics, oil |
| Campania | Limoncello, digestive drinks, ceramics |
| Puglia | Ceramics, oil, specialty pasta |
| Calabria, Molise, Basilicata, Marche, Abruzzo | Food products |
| Sicily | Food products, wine, ceramics, chocolate |
| Sardegna | Wine, Mirto digestif, food products |
The best food souvenirs from Italy: food from Italy you can bring or ship home
Italian food is a wonderful souvenir to bring and ship home.
Italy has a strong tradition of food production and while some of the best meals you will have it Italy will be made with fresh produce, you may be surprised nay the amount to dry and cured food items you can safely bring home from Italy.
The best food souvenirs from Italy are:
Extra Virgin Olive Oil
Italian Extra virgin olive oil is one of the food excellences of Italy and it is a product that can be a easily shipped home.
The biggest olive oil producing regions in Italy are Puglia, Calabria and Sicily, the together hold the lion share of the production, and then the regions of central Italy: Tuscany, Umbria and Lazio.
Buying extra virgin olive oil in Italy is as easy or as elaborate as you wish it to be.
At the simplest level, you can walk into a local shop and follow the advise of the merchant.
If you, however, want to learn the many layers and interesting facts behind this product, I highly recommend you take an olive oil, tour with tasting and get the type you like the most.
You can check what an olive oil tour and tasting experience in Italy looks like here.
If you love your food facts, you may enjoy our fun facts about Italian food here!
Balsamic vinegar from Modena
Balsamic vinegar is typical of Modena so if you want to buy the real thing, Emilia Romagna is the area to look for.
Like olive oil or wine, balsamic vinegar comes in several forms and you can simply buy it in a supermarket (look for the 'acute balsamico di Modena' label) or go all out and get an artisan product from the makers themselves.
Like for olive oil, a fun way to pick the best balsamic to send home is to get a tasting tour first. You can find more info here.
Italian wine
Italian wine is world famous so if you like a good glass, there is not better wait to enjoy one that opening a perfectly chosen bottle that you brought back from Italy!
The main wine-producing regions of Italy are:
Veneto and Trentino Alto Adige (Venice, Verona, Lake Garda, Dolomites): Valpolicella wines, Prosecco, Traminer
Piedmont (Turin, Langhe): Barolo wine
Tuscany (Chianti, Val di Chiana, Val d'Orcia): Chianti wines, Rosso and Brunello di Montalcino, Morellino di Scansano, Vino nobile di Montepulciano, Vernaccia di San Gimignano
Puglia: Primitivo
Sicily: Nero d'Avola, Marsala dessert wine
Specialty pasta (dry)
Pasta is an Italian food staple and the Italian food item most widely present on all tables in Italy, from North to South.
Pasta in Italy comes in more shapes and sizes we can think of and many are dry types of pasta, therefore can be easily brought home and eaten at a later stage.
You can find the most basic and least expensive types in all supermarkets (Brands such as Barilla, Voiello, De Cecco are all available in big distribution shops) or you can go to specialty shops and get pasta that is typical of a certain region.
Good dry pasta shapes you may want to buy are:
Orecchiette and cavatelli from Puglia
Trofie from Liguria (excellent with pesto genovese!)
Bigoli from Veneto
Cavatelli from Molise
Other types of pasta such as spaghetti, tagliatelle etc can be bought almost anywhere in Italy.
Parma Ham
Parma Ham is one of the most famous Italian foods abroad and one of the country's most successful food exports.
The name gives aways to provenance: Parma Ham is made in the region of Parma and it is a product protected by special status, so if you get ham with the 'Consorzio di Parma' stamp, you know you have the real thing.
Parma Ham is a form of cured meat and it is sold in slices or larger pieces. The safest and best way to bring it home is to buy a larger piece that you can slice yourself, so that it doesn't dry out.
Make sure you mention the ham needs to travel at the time of buying as they will be able to package it for you the correct way to preserve freshness and pass security controls if flying.
You can buy straight at the source if taking a Parma Ham factory tour such as this one.
Parmesan Cheese
Parmesan is another food excellent from the Parma and Emilia Romagna region and, like Parma Ham, is a protected denomination product.
the one you want is that with the Consorzio Parmigiano Reggiano and you can buy it in shops or straight from the makers (some even offer factory tours!)
Parmigiano is best eaten in bites or grated last minute. Like Parma Ham, the best way to buy Parmigiano is to get it in a large-is piece and get the seller to package it for you in protected atmosphere for travel, so you know it will keep.
Other Italian cheeses and cured meats
Parma Ham and parmesan are only two of the most famous cured meats and cheeses of Italy.
Others worth bringing home as souvenirs are:
Pecorino or cacio (from Pienza but also with variations from Lazio and Sardinia), Fontina (val D'Aosta), Caciotta (Marche), Caciocavallo (Abruzzo, Calabria).
These are all dry cheeses that tend to travel well. Mozzarella and Buffalo Mozzarella (Bufala) on the other hand, will only keep a few days.
Need to know: fresh cheeses can be tricky to bring on a plane. Make sure you ask the seller the best way to bring it/ send it home.
Italian biscotti (Italian biscuits)
Biscotti is the generic Italian word for biscuit covers a large variety of cookies shapes and types
Standard supermarkets sell all the best commercial Italian Biscotti Brands such as Gentilini, Mulino Bianco, Galbusera etc but you can also find specialty biscuits in local bakeries and gourmet shops.
Italian biscuits you may want to bring home from Italy are:
Canestrelli – small, butter biscuits in the shape of a flower with a hole in the center and dusted with powdered sugar.
They are exceptionally popular in Liguria and Piedmont but can be found in most parts of Italy wither fresh in bakeries or in supermarkets
Cantucci – Cantucci or Canticcini are biscuits with almonds you usually dunk in Vin Santo.
They are a specialty of Tuscany and they are usually served at the end of the meal with a small glass of dessert wine but they are also popular in other parts of Italy where they are often called 'tozzetti'.
Baci di Dama – delightful Italian biscuits from Piedmont, with two halves of airy biscuit dough and a thin layer or hazelnut cream in the center
Buranelli – butter biscuits from Burano, perfect for dunking in tea or coffee
Ricciarelli – typical biscuit from Siena made with sugar, almonds and butter
Italian Chocolate
If you love chocolate, then you will be delighted to know that Italy has a strong chocolate making tradition.
You can find good chocolatiers such as Venchi almost everywhere in Italy however, you can also dig into local chocolate specialties in certain areas.
You can get great chocolate souvenirs from Italy in the following areas
Torino and Piedmont, famous especially for the sweet and nutty chocolate confection called 'gianduia'
Cremona, Lombardy – famous for torrone, a chocolate, honey and nuts Christmas confection
Perugi, Umbria – home of the famous Perugina chocolate house
Modica, Sicily – famous for artisan chocolate, especially spiced and handmade ones (amazing, this is one of the best food souvenirs from Italy for real chocolate lovers)
Limoncello, grappa and other Italian digestifs
While in Italy, you may have enjoyed the tradition of having an Italian digestive drink after dinner.
If you want to keep this habit alive, you can easily do it at home since Italian digestif preserve well and are therefore perfect to send home.
Some you may have enjoyed are:
Limoncello, from the Amalfi Coast
Grappa, from Northern Italy, especially Veneto and Friuli
Mirto from Sardinia
Sambuca from Campania
Amaro, several regions
Pistacchio products
A wonderful food souvenir from Italy for real foodies are Pistacchio products from Sicily.
While Pistacchio nuts may not be to everyone's liking, it is incredible what Sicily can do with this product and you will be hard pressed not to find some form of it that suit your taste!
Pistacchio spread, nuts, biscuits, pesto: you name it, they have it! the best Pistacchio to get is Pistacchio di Bronte.
Did you know Sicily was famous for Pistacchio nuts? You can find more fun facts about Sicily here.
Pesto
Pesto, especially in in its green form, is one of the most popular Italian foods abroad but nothing beats the real thing!
The best green pesto in Italy is from Genova and, if well packaged, can last a long time and even be frozen.
Ask carefully how to keep it safe and how long it lasts depends on the packaging: fresh pesto does not keep and pesto, once opened, most be consumed quickly.
Make sure you tell the pesto needs to travel so they can give you the most suitable package.
Fun fact: the airport of Genova has a special machine to scan your pesto! if you have your jar in your carry on bag, they will ask you to get it scanned there. As fas as I know, this is unique in Italy and a testament to the important of this local product!
Best Italian souvenirs for craft lovers: handmade Italy souvenirs and made in Italy items
Italy has wonderful artisan traditions and if you love crafts or are buying for someone who does, you can choose from quite a variety of made in Italy items.
Italian glass artefacts from Murano
If you love glass artefacts, may they be vases or jewellery or lamps, then the place to be is Murano
Murano is a small island in the lagoon of Venice famous for artisan glass workshop producing 'Murano Glass' an Italian artisan excellency.
The workshops are open to visitors so you can see how the glass items are made.
This is a wonderful way not just to learn about the craft but to help support a local and authentic tradition.
Find Murano Glass workshop tours here
Italian Ceramics
Italy has a strong tradition for artisan ceramics and there are several areas in Italy that stand our for the value of their creations:
Deruta, in Umbria
Orvieto, in Umbria
Vietri, on the Amalfi Coast
Grottaglie, in Puglia
Nove, in Veneto
Caltagirone, Sicily 
The types of ceramic you find in these areas vary and you will be able to find items small and big, from keyring to home decor items!
Like for other artisan made in Italy items in this list, visiting a workshop and learning about the craft before making your choice is the best way to be sure you have the real thing in your hand.
Italian Lace from Burano
if you love lace, then the place to get it is Burano, one of the small islands in the Venice Lagoon.
Burano has an interesting lace museum but also very many shops where you can how it is made and it a delightful place to visit.
As well as the lace shops, Burano has bright coloured houses that make it one of the most colorful towns in Italy: it is a lovely place for an afternoon of sightseeing and artisan shopping!
Handmade carnival mask from Venice
Another great souvenir to bring home form Italy are Venice carnival masks, a craft that recalls Venice's biggest event: the elaborate city carnival.
Carnival masks are easy to find in Venice shops and they can be as simple and as elaborate as they want and even work as home decor.
They are a unique and asy to transport souvenir that will last a long time. You can turn this into an activity and attend a workshop to make your very own mask! Read about this option here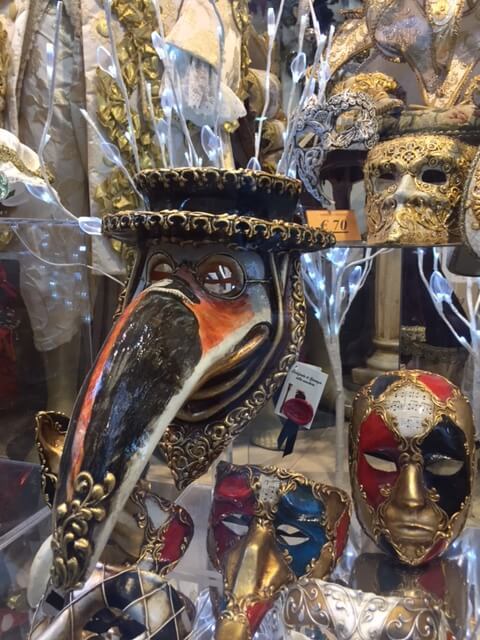 Wood carvings and wooden toys
If you find yourself in Alto Adige and the area of the Dolomites, then you will come across lovely wood carvings.
These are a local art form and can be wonderful, raging from figurines to kitchen ware and garden decor.
A different type of wood artifacts are wooden figurines of Pinocchio: these are very popular in Italy and they make lovely wooden toys for kids too.
You can find them in many 'Pinocchio shops' that are lovely to visit with kids or without!
Italian mosaics
The art of mosaic is ancient and there are several places in Italy where you can admire wonderful mosaics however, you an also get a little mosaic to bring home yourself in pone of the workshops still nurturing this art.
One of the best places to buy mosaic art in Italy is Rome: you can read more about mosaics in Rome here.
Marbled paper from Florence
If you love beautiful writing gear or know someone who loves stationery, then marble paper and a quill with ink may be the best Italy souvenir of all.
The place to get marbles paper in Italy is Florence and surrounding area.
Here, you can find lovely shops and workshops selling lovely paper, pens, ink, quills and wonderful notebooks in different sizes, perfect for journaling or seeing back home a letter that will leave an impression!
You can join an artisan shop walking tour of Florence like this one if you want to tap into this and other local Florentine crafts.
Table cloths and kitchen utensils
Table cloths, tea towels and kitchen ware can be found n the whole of Italy and are especially popular in central Italy, in the area of Tuscany and Umbria.
Here, you will find many shops selling textiles, usually decorated with olives and leaves or country inspired motifs, and wooden kitchen utensils, carved from local wood.
We have a lovely olive oil jar from tuscany and every time we use it, bring back the memories of that amazing land!
Italian gift ideas for fashion lovers
Made in Italy leather goods from Tuscany
Italian leather goods are famous for their quality and the best place to get them is Tuscany.
This is the area of Italy with the longest leather tradition and where you can most easily find a good variety of goods ranging from leather shoes, gloves, jackets and the most most popular leather goods of all: bags and wallets.
Italian designer clothes and jewellery
If you love high fashion, there is goes without saying that Italy can be one of the best place in the wold to get designer clothing.
There are many ways to go about it, that go from attending a fashion show in Milan to go shopping in the main streets of any Italian town to going to an outlet.
Good fashion outlets in Italy are in Tuscany and they are so popular, they have shuttles to bring you: have a look here and how it works if you don't have a car.
Gatteria products – best Italy souvenir for cat lovers
This may come across as an unexpected one but Italy is obsessed with cats and you will find cat inspired things everywhere!
A brand that you find in several locations and has pretty much anything cat-inspired you can dream of is Gatteria – you ca check heir style here.
I hope you enjoyed this quick overview of the best souvenirs from Italy and it gave you good ideas on what what to buy in Italy. Safe travel planning!